BIRMINGHAM, Ala. — On a cool October evening, two weeks before the midterm election, some 18 volunteers, nearly all of them women, gathered hopefully at a cozy home in Mountain Brook, an affluent suburb of Birmingham. Over glasses of wine and soft drinks, they diligently wrote postcards they would later mail to neighbors, requesting support for Felicia Stewart. Stewart, 41, is a businesswoman and a married lesbian mom of two working doggedly to unseat Republican incumbent David Faulkner, who represents the wealthiest state legislative district in Alabama.
Fifty-eight-year-old Barbara Saurer, who had just come in from an afternoon canvassing for Stewart, stood in the kitchen, recounting conversations she'd had with residents, and talking about new friends she'd made.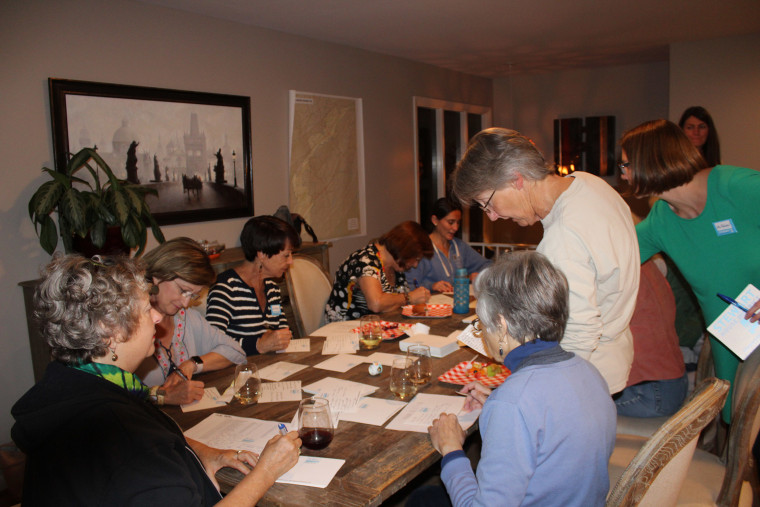 "Hi, Felicia!" was the sassy slogan sported on Saurer's grey and blue T-shirt, the same catchphrase that appears on the countless yard signs that now blanket House District 46. Stewart's grassroots campaign has logged incalculable hours of canvassing, phone banking and letter-writing by a remarkably committed group of volunteers.
Such visible and enthusiastic support for a Democratic candidate is a new and astonishing phenomenon in this district, which winds through some of the most moneyed suburbs of Birmingham. It's been at least 16 years since a Democrat has run for this seat, and Donald Trump won the district's precincts by a margin of some 37 points. The prevalent conservative culture has long led progressives and moderates living here to keep their politics to themselves, often out of fear of social stigma.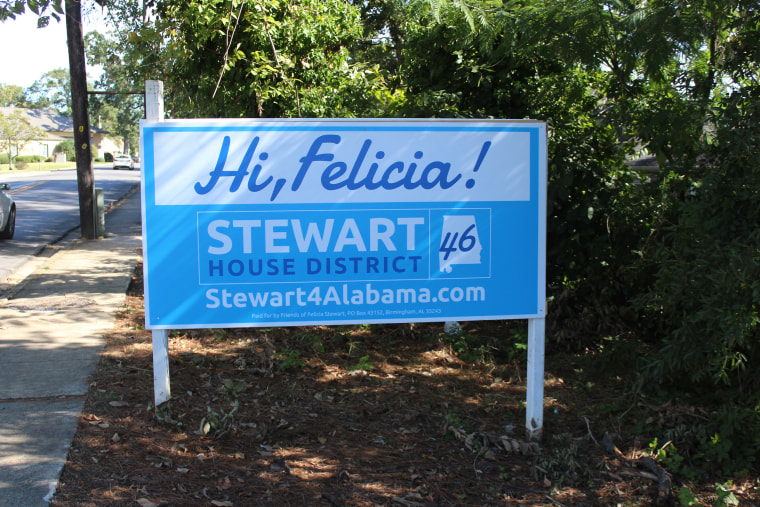 But something has changed recently in these well-to-do suburbs. Since the 2016 election, large numbers of Democrats, independents and moderate Republicans have been coming out of the political closet to support Stewart and other Democratic candidates in a highly visible way. The forces behind this trend are varied, and locals report that this new visibility has raised the profiles of insurgent candidates in a manner that often makes them appealing to voters across the political aisle.
TIPPING POINT
Many observers point to Alabama's 2017 special election as the event that triggered this unusually visible and eager support for Democratic candidates. In the contest to fill the U.S. Senate seat vacated by Jeff Sessions upon his elevation to attorney general, Roy Moore won the GOP primary to become the Republican nominee.
Long before the multiple accusations of sexual misconduct were leveled against him, Moore had been an unpopular figure among many Birmingham Republicans, who viewed him as a demagogue whose self-serving antics were harmful to the state's business interests and global image. By the time he ran for Senate, Moore had been twice removed from his position as chief justice of the Alabama Supreme Court. The first time was in in 2003, for his refusal to comply with a federal court order to remove a monument to the Ten Commandments from his courtroom. The second was in 2016, for ordering probate judges not to issue marriage licenses to same-sex couples following the U.S. Supreme Court's landmark Obergefell decision.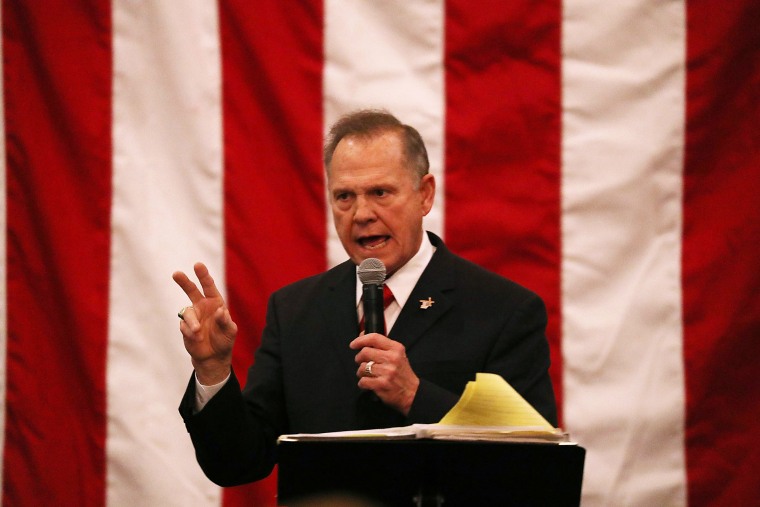 Alabamians of all political stripes were aghast at the prospect of Moore representing them in Washington and sought to elect his Democratic opponent, Doug Jones, a former federal attorney, who had prosecuted two of the Klansmen responsible for the bombing at Sixteenth Street Baptist Church, which killed four black girls.
Some citizens regarded a public rejection of Moore as being on the right side of history, a position they sought to prove personally by placing Doug Jones signs in their yards.
Jones' campaign manager, Doug Turner, said his office had trouble keeping up with the demand for yard signs. He received reports that signs were being stolen from yards, not by the opposition, but by other Jones supporters eager to display them in their own yards.
This fervor was reflected in the vote totals, as Jones became the first Alabama Democrat elected to the U.S. Senate in 25 years. Jones carried the precincts in District 46 by about 15 points.
STEWART'S HOMECOMING
Three years ago, Felicia Stewart moved back to her home state of Alabama with her wife of 16 years, Christy, and their 7-year-old twin daughters, Harper and Helen. Stewart, who holds an MBA and worked in the corporate world for many years, was intent on making positive change in the state, and believed nonprofit work would be the best avenue. Entering politics hadn't crossed her mind, but she was interested in certain issues such as education, poverty and health care, so she went to the state's capital, Montgomery, to observe how the political process affected them.
Because the Republican leaders of all three branches of state government were in varying degrees of trouble — Governor Robert Bentley was beginning to deal with a sex scandal that would ultimately lead to his resignation, House Speaker Mike Hubbard was facing jail for ethics violations, and Roy Moore was set to be removed from the bench for the second time — Stewart did not set high expectations for the state government.
Even so, what she found disturbed her deeply. She claimed that several elected officials were absent from key information sessions and votes on important legislation. And she said many of the legislators who were present didn't seem well-informed or even inclined to be.
"I was just incensed by what was and was not happening in Montgomery, and how those activities were perpetuating all the things that are wrong here — and doing precious little to grow the things that are right," she said.
Stewart said she felt she could do better for her state and began discussing the possibility of running for office.
She launched her campaign at the same time as Doug Jones, and she was quickly swept up in the enthusiasm by citizens to support Democratic candidates publicly. Her supporters were energized and demanded she get them signs for their yards as soon as possible.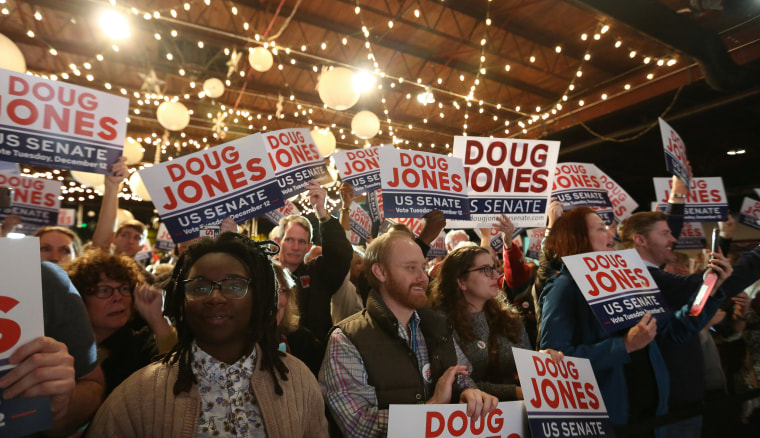 Stewart, who had no opponent in the primary, said even though she was advised not to spend money on signs before the primaries, her campaign got them out in March.
"We knew that it would take more time to make necessary connections and to build a viable brand," she said. "Even if you're a good candidate, in some of these tight-knit communities, if they don't know you, regardless of your qualifications, you're not an option."
In the last two months, Stewart's campaign has held events nearly every day. Between meet and greets, canvassing, phone banking, postcard writing and yard sign placement, her volunteers have succeeded in elevating the profile of a candidacy that would have been unimaginable only a few years ago.
While Stewart has told local news outlets that's she's "proud" of who she is, she has stressed that she's "not running as a 'gay candidate'" or even a "female candidate" but as a "native Alabamian who expects more for her state." And while her sexuality has not been an issue in her quest to represent the 46th District, a 2017 Public Religion Research Institute (PRRI) poll revealed Alabama to be the only state in the U.S. where a majority of residents opposed same-sex marriage. If she pulls off an election victory on Nov. 6, she will be just the second or third openly LGBTQ lawmaker in the state, behind state Rep. Patricia Todd (openly gay former Marine Neil Rafferty is running for the seat Todd is leaving).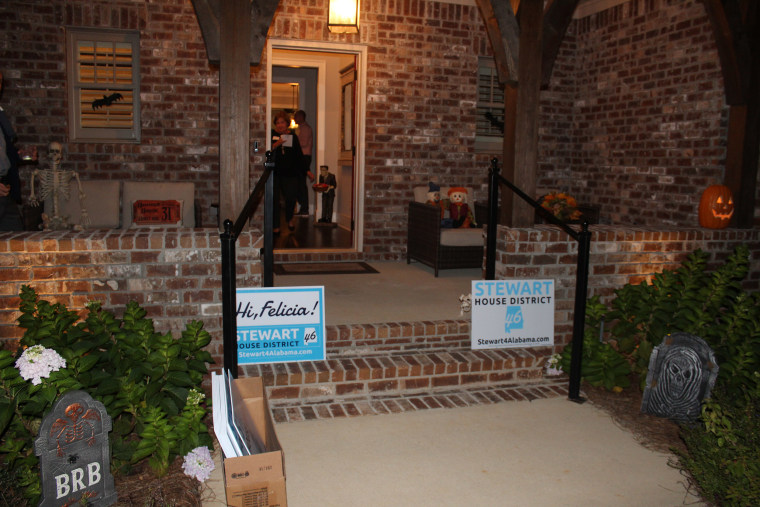 One of Stewart's more ardent supporters is Laura Williams, a 57-year-old Homewood resident and the former campaign press secretary to longtime Alabama Senator Richard Shelby, who in 1994 switched to the Republican party after initially serving in the Senate as a Democrat. Williams hosted a meet and greet for Stewart in May. She said she assumed 90 percent of her neighbors were Republicans and was determined to have them meet the Democratic hopeful.
"From the moment I met her, I honestly believed if you meet Felicia, and you talk with Felicia, you walk away voting for Felicia," Williams said. "You walk away thinking, 'How could I not vote for her?'"
One of the neighbors in attendance was 73-year-old Kyle DeLoach, a retired auditor who considers himself a conservative. DeLoach said he was impressed by Stewart's engagement with the community and her handling of voters' questions.
"It was nice meeting a candidate face to face for a change," he said. "Felicia has gone out and made herself known and is willing to do the hard work."
"She's voiced her concerns with the state of Alabama and its political problems, of which we have many," he added. "I definitely plan on voting for her."
CROSSING THE AISLE
While last year's special election may have served as the catalyst that allowed candidates like Stewart to make inroads in this deep-red state, Roy Moore is not on the ballot this time around. However, Democrats hope that voters will remain energized against the party that backed him.
If their energy is indeed sustainable, another candidate who may benefit is Judge Bob Vance, a Democrat running for Roy Moore's old job as chief justice of the Alabama Supreme Court. Vance nearly defeated Moore in the 2012 contest for that seat and has received bipartisan support this time around, which includes endorsements from Republican judges.
Natalie Davis, professor emerita of political science at Birmingham Southern College, said last year's special election "may have loosened some votes that otherwise would go Republican." However, she cautioned Democrats to temper their enthusiasm.
"I really don't have a sense that people all of a sudden in Mountain Brook are going to vote Democratic because they voted for Doug Jones," she said. "But, on the other hand, appeals to women — to educated women, to young women — may very well help [Stewart]."
One of those educated, young women is Annie Damsky, a 38-year-old Mountain Brook resident who hosted an event at her yoga studio earlier this year for Stewart and two other women running to unseat incumbent Republicans in adjacent districts.
"A lot of women crossed the aisle in the special election," Damsky told NBC News. "And they probably aren't going back."