LOS ANGELES — This Wednesday's "Modern Family" will include the first openly transgender child actor on TV.
In the upcoming episode — entitled "A Stereotypical Day" — parents Cameron "Cam" (Eric Stonestreet) and Mitchell (Jesse Tyler Ferguson) permit their daughter Lily (Aubrey Anderson-Emmons) to have her transgender friend Tom over for a play-date.
Both parents are filled with pride that they have done well in raising an accepting and open-minded child. But that pride quickly diminishes when Lily insults her friend, which they use as a teachable moment.
Lily's playmate Tom will be played by 8-year-old transgender actor Jackson Millarker.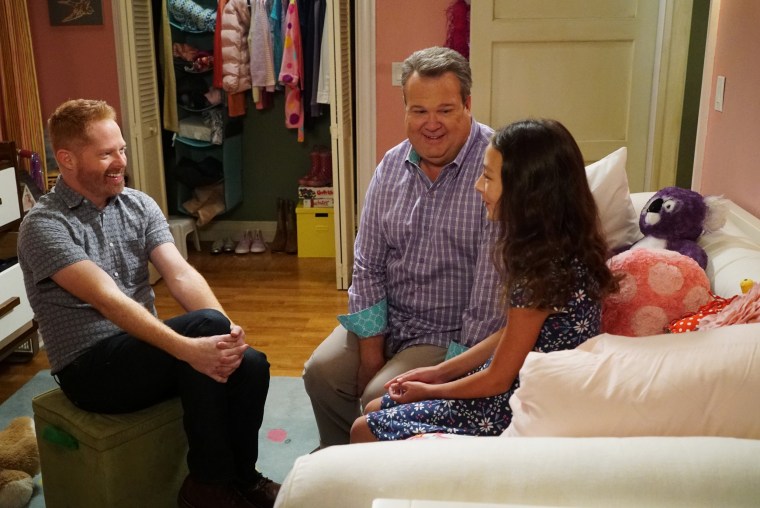 Other shows that have featured transgender characters played by transgender actors include "Orange Is The New Black" and "Nashville," but none have featured transgender children.
Related: Jeffrey Tambor: 'Give Transgender Talent a Chance'
At this year's Emmy's actor Jeffrey Tambor used his acceptance speech to advocate for more trans actors in trans roles.
"Give them their story," he said. "I would not be unhappy if I were the last cisgender male to play a female transgender on television."
Tambour took home the Emmy for Lead Actor in a Comedy Series for his role as a transgender woman in the Amazon series, "Transparent."
Modern Family's "A Stereotypical Day" will air on Wednesday at 9/8c on ABC.