On Tuesday morning, the Senate Judiciary Committee will meet to vote on the confirmation of Attorney General nominee Jeff Sessions. Protests took place around the country on Monday and Tuesday, with groups like the NAACP and Women's March holding rallies to protest the nominee they see as unfit for the job.
Among the issues inspiring protest are allegations of racism, support for the controversial First Amendment Defense Act and a suspicion that Sessions influenced President Trump's controversial immigration ban. But there's one issue that takes precedence for Casper, Wyoming mom Judy Shepard — and it's a deeply personal story.
In 1998, Judy's son Matthew Shepard was brutally beaten and left tied to a fence to die. Matthew, just 21-years-old at the time, was killed because he was gay. The crime made headlines worldwide, highlighting the then-underreported problem of violent hate crimes against LGBTQ people. Judy and her husband Dennis, while still mourning their son, created the Matthew Shepard Foundation. In 2007, the family helped introduce the Matthew Shepard and James Byrd, Jr., Hate Crimes Prevention Act — designed to add sexual orientation to existing federal hate crime law.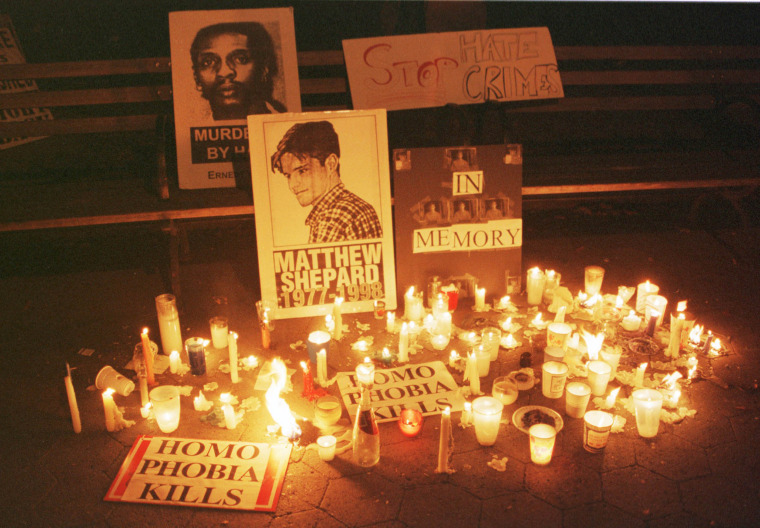 But as Judy Shepard told NBC News, the non-partisan bill expansion met with harsh opposition in Congress. The Matthew Shepard Act failed to pass that first year, and then-President George W. Bush vowed to veto it anyway. It wasn't until 2009, when President Obama took office, that the bill was debated in the House — to surprisingly vicious resistance. Rep. Virginia Foxx, R-N.C., famously referred to Matthew's murder as a "hoax," while Judy sat in the House chamber, shocked. But it was the response of Jeff Sessions, Shepard says, that disturbs her today.
"Sessions said that hate crimes were mere 'thought crimes.' But Matthew was not killed by thoughts," Shepard told NBC News. "He was not murdered because the two men who killed him said hateful things. He was brutally beaten with the butt of a .357 magnum pistol, tied to a fence, and was left to die because he was gay."
"I would say that crime was more than a thought," Shepard said, adding that Sessions' response to her son's murder "horrified" her.
Sessions spoke against the Matthew Shepard and James Byrd, Jr., Hate Crimes Prevention Act on the House floor in July 2009. The transcript of his public speech is still available on his website. He questioned whether prosecuting hate crimes based on sexual orientation was "in the federal interest," and referred to the expansion of the existing bill as offering LGBTQ people "special protections."
"This bill creates a new system of justice for individuals because of their sexual orientation or gender identity, providing them with a special protection, while excluding vulnerable individuals, such as the elderly or police officers or soldiers, from such special protections. I don't think we can justify that," Sessions said at the time.
Sessions compared the plight of LGBTQ people to African-Americans, saying that while there was ample evidence that African-American people had been denied equality—there was no evidence that LGBTQ people had suffered similarly.
"Gays and lesbians have not been denied basic access to things such as health or schooling or to the ballot box," Sessions said. He went on to speak at length about why sexual orientation should not be added to existing hate crimes law. Shepard remembers it vividly.
"As a parent who knows the true ramifications of hate, Sessions' repeated efforts to diminish the life-changing acts of violence that are now covered in the Hate Crimes Prevention Act horrified me then," Shepard said. "And now, this same person is being nominated as the country's highest authority to represent justice and equal protection under the law for all Americans?"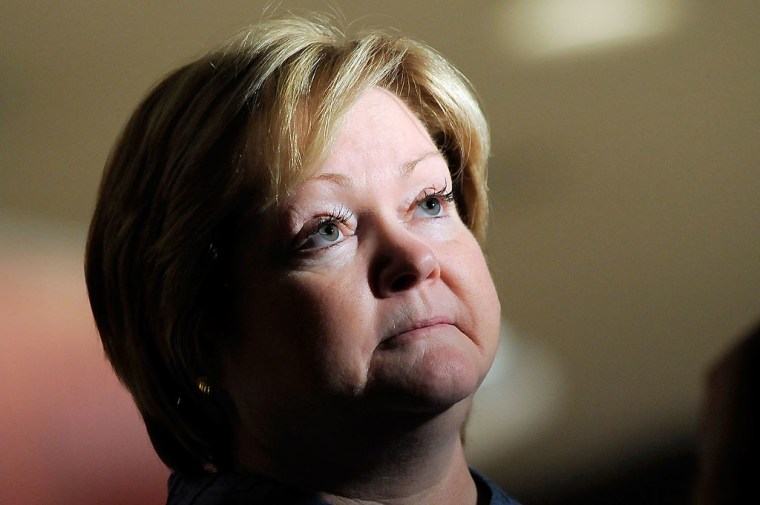 Shepard wrote an introduction to the Human Rights Campaign's January report titled "Jeff Sessions: A history of anti-LGBTQ actions." In the report, she said the Sessions nomination for Attorney General "terrifies" her, and that over the course of his career Sessions has "consistently referred to same-sex relationships and LGBTQ people like Matt as 'dangerous,' or as a 'threat' to our American way of life and our so called 'traditional' moral beliefs."
In the HRC report on Jeff Sessions, his record on LGBTQ policy is raked through. He sponsored the First Amendment Defense Act, a bill that will be re-introduced this Congress to prevent the government from taking punitive action against anyone who refuses to serve LGBTQ people. He argued passionately against Lawrence v. Texas, advocating for anti-sodomy laws long used to arrest gay men. Sessions also opposed repealing the military's "don't ask, don't tell" policy that kept LGBTQ service members in the closet, has long opposed same-sex marriage at every turn, sought to terminate National Endowment for the Arts funding because it went to black lesbian filmmaker Cheryl Dunye in 1997 and has tried to block federal funding for HIV-prevention programs if they appear to "promote sexual activity and behavior" among "homosexual men and women."
For the mother of Matthew Shepard, a Sessions confirmation would be unacceptable. She wonders if he's capable of defending laws like the Hate Crimes Prevention Act, she said, and wonders if his appointment could inspire more discrimination.
"[Sessions] has used his position of power to target certain Americans and set them up to be discriminated against and marginalized," Shepard said. "This has only led to more violence and hate crimes."