Ruby Rose made television history Sunday with the premiere of The CW's highly anticipated "Batwoman" series. The lesbian and gender-fluid actor was front and center as the first LGBTQ superhero to lead a network TV show.
The pilot stars Rose as Batwoman/Kate Kane, an out lesbian determined to save the city of Gotham, which is in a state of crisis following the disappearance of Batman/Bruce Wayne, who happens to be Kate's cousin.
Kate, who was sent away by her father (Dougray Scott) after the death of her mother and sister, returns to the city ready to wear her cousin's bat suit — after some minor sartorial adjustments — and save her kidnapped ex-girlfriend, Sophie, and the city's other residents from the mask-wearing Wonderland Gang.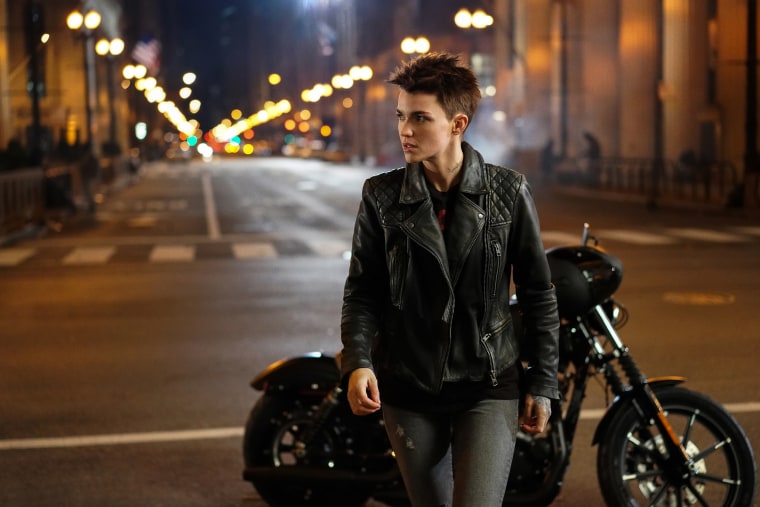 The tension between Kate and Sophie (Meagan Tandy), who is now married to a man, is evident. The pair met at a military academy, and after getting caught kissing by an administrator, were instructed to sign paperwork denouncing "homosexual conduct" in order to stay enrolled. Sophie signed, but Kate opted to leave.
"You lied," Kate told Sophie in a flashback of their breakup.
"I told them what they wanted to hear," Sophie replied. "I don't have the luxury of being offended."
While speaking with a small group of reporters at the 2019 Television Critics Association summer press tour in August, "Batwoman" Executive Producer Caroline Dries told Entertainment Weekly that while the series will explore Kate's and Sophie's complicated relationship, Kate will have many romantic relationships throughout the course of the series.
"We didn't want to neuter Kate," Dries explained. "She's in this complicated relationship with Sophie because it's an intellectual past relationship, but to me what makes part of her character is that she has girlfriends. She goes on dates."
Rose, who recently revealed she had emergency surgery after injuring herself doing superhero stunts on set, appeared on a recent episode of Buzzfeed's AM2DM to discuss the historic nature of the role.
"Kate Kane's story is unique, but it's not unheard of. One of the things that happened to her was her getting kicked out of the military for being gay, and that was awful for her and awful for a lot of people that that really happened to," Rose said. "It's amazing to see her go through that and have to find another purpose in her life, and she turned into Batwoman."
MSNBC host Rachel Maddow, also an out lesbian, had a role in the "Batwoman" pilot as Vesper Fairchild, a television and radio personality who once dated Bruce Wayne. Maddow will not actually appear on-camera throughout the series as the role of Vesper is a voiceover one.
While "Batwoman" is the first television show to feature an LGBTQ superhero lead, it is not the only CW show to include an LGBTQ superhero. Transgender activist and actress Nicole Maines plays trans character Nia Nal on The CW series "Supergirl," and Wentworth Miller and Russell Tovey, both openly gay actors, played a same-sex couple in "The Flash." Their characters, Citizen Cold and The Ray, kissed in The CW's 2017 crossover event, "Crisis on Earth-X." Afterward, in "The Flash" series, Citizen Cold announced that he wanted to marry The Ray. On "Legends of Tomorrow," Sarah Lance (Caity Lotz) and Ava Sharpe (Jes Macallan) grow from nemeses to friends to eventual love interests.
Last year, GLAAD's "Where We Are on TV" report found the percentage of LGBTQ characters on broadcast primetime television reached an unprecedented level with 1 in 11 characters identifying as lesbian, gay, bisexual, transgender or queer.