U.S. Senator Ben Cardin is hoping to remedy past anti-LGBTQ discrimination with an act of "LOVE." The Maryland Democrat recently introduced a bill that would, among other things, expunge the records of State Department personnel who were fired during the so-called "Lavender Scare" of the 1950s and '60s.
"The Lavender Scare is a painful but little-known chapter in American history. Though times have thankfully changed in so many ways for the LGBT community, we must have the courage of our conviction to recognize wrong, apologize and move forward with common-sense and compassion whenever it is required," Sen. Cardin said in a statement.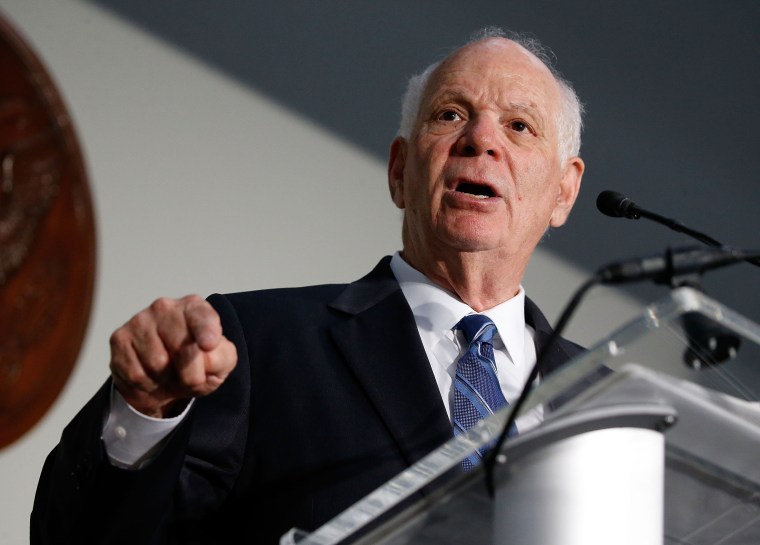 The Lavender Offense Victim Exoneration Act of 2017, or the LOVE Act, addresses an issue with roots in the Cold War-era. During the Lavender Scare, federal employees who were thought to be gay were fired for fear that they'd be vulnerable to blackmail due to their sexuality and could pose a security risk. A statement issued by the Senate Committee on Foreign relations estimates that during this time approximately 1,000 people were fired from the State Department alone due to their perceived sexual orientation.
This mass-termination of gay employees was first publicly recognized by the State Department last year, after Sen. Cardin called on then-Secretary of State John F. Kerry to issue a formal apology, which he did.
"On behalf of the department, I apologize to those who were impacted by the practices of the past and reaffirm the department's steadfast commitment to diversity and inclusion for all our employees, including members of the LGBTI community," Kerry stated in the official apology. Kerry's statement has since been removed from the State Department's website.
Related: Supreme Court Agrees to Hear Appeal in Gay Wedding Cake Case
Sen. Cardin has been critical of the Trump administration's commitment to LGBTQ rights and its "attempt to erase LGBT individuals from government." In a recent statement he released in recognition of Pride Month, Sen. Cardin mentioned reports that the Trump administration "scrubbed LGBT content from various federal government websites," and he seemed to make comparisons between the Trump era and the McCarthy era.
"It's important that we learn from our nation's past and use it as a source of strength and a teachable moment for those unaware of the history [of] the LGBT community and what our nation has been through. It is my firm hope that we are not seeing a redux of a McCarthy-like rise in political-driven discrimination," Cardin's statement said.
The Human Rights Campaign (HRC), a national LGBTQ advocacy group, applauded Sen. Cardin's introduction of the Love Act, which has 18 other cosponsors in the senate, all Democrats.
"HRC thanks Sen. Cardin for his steadfast leadership on this issue and looks forward to working with him to pass this legislation and other initiatives to protect and advance the human rights of LGBTQ people, both here in the U.S. and around the globe," the statement read.
In addition to rectifying past discrimination against LGBTQ State Department employees, the LOVE Act would also establish a permanent exhibit on the "Lavender Scare" in the State Department's National Museum of American Diplomacy and provide guidance for the State Department on issues of assuring visas for same-sex spouses of personnel posted overseas.