Gilead Sciences Inc has begun marketing its HIV treatment Truvada in a way thousands of consumers already use it – to prevent infection with the virus that causes AIDS.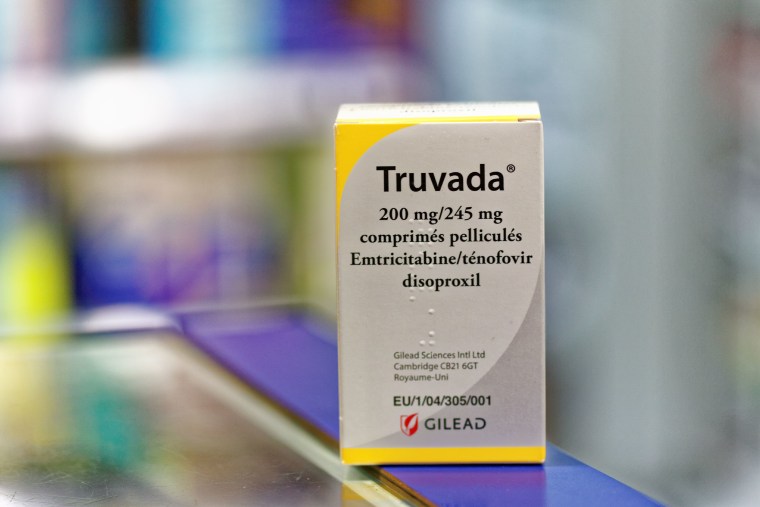 The company introduced Truvada to the U.S. market in 2004 for HIV treatment. In 2012, Gilead won approval to market it for prevention after two large, peer-reviewed studies showed it also was effective at preventing infections in healthy people.
But the company decided against promoting the drug as a preventative treatment, deferring to patient advocates who feared it could encourage promiscuity and unsafe practices, such as having sex without condoms.
Even without Gilead's help, many consumers learned Truvada was more than 90 percent effective in tests at preventing HIV infection. In 2014, the U.S. Centers for Disease Control and Prevention recommended it as an option for people at high risk for HIV infection.
As many as 90,000 people in the United States used the drug for prevention, or pre-exposure prophylaxis (PrEP), last quarter. That's up from 60,000 to 70,000 earlier this year, the company said. Usage also is growing in France, where about 2,000 people have been prescribed Truvada for prevention since January.
In July, the drugmaker began marketing Truvada for PrEP to doctors through professional publications, digital advertising and other channels, including the website PreventHIV.com.
And this fall, the drugmaker began marketing directly to consumers with print advertisements in publications geared toward the lesbian, gay, bisexual and transgender community, including OUT, Advocate and SWERV. It plans soon to expand to social media and digital.
Gilead said it wants to reach people whose doctors are either unaware or reluctant to prescribe Truvada for prevention.
The marketing "is primarily driven by demand by patients," said David Piontkowsky, Gilead's vice president of HIV Medical Affairs, in an interview.
Attitudes toward Truvada started to change a couple years ago as doctors, AIDS activists and potential users saw its effectiveness, he said. The "criticism now is we're not saying enough."
Truvada is helping bolster Gilead's profits as sales of its biggest moneymakers – treatments for hepatitis C – decline.
U.S. net product sales of Truvada for the first nine months of 2016 were $1.8 billion compared with $1.5 billion for the same period in 2015. The company said in its earnings report that the gain was driven by price increases as well as "increased usage of Truvada for PrEP."
"We expect PrEP to continue to be a significant part of Gilead's growth in HIV going forward, particularly in the U.S.," Gilead Chief Operating Officer Kevin Young recently told investors.
The new Truvada campaign has been well received, even by those who once opposed promoting the drug for prevention. They include David Duran, a writer and HIV advocate, who helped popularize the term "Truvada Whore" in a 2012 article describing his fear that it would encourage people to have sex without condoms.
Duran began rethinking that concern about a year later in light of newer research showing that PrEP helped prevent more cases of HIV, without a rise in other sexually transmitted disease, which suggested people were using condoms.
"I'm thrilled they are starting to pump some money into marketing and awareness," Duran said. "There is a solid base of folks who know about PrEP, but it's still not a topic the country as a whole knows about."
Growth Potential
As a preventive measure, the blue Truvada pill is taken once daily. Some people experience nausea, vomiting or headaches during the first few weeks on the drug.
Users must be tested every three months to ensure they don't have HIV or other sexually transmitted diseases and to monitor kidney function and bone density.
Some Medicaid programs and most private insurance cover the treatment, which lists for $1,500 a month before any negotiated discounts. With greater awareness and favorable coverage for preventative treatments, the number of Americans using Truvada could rise, said the company and healthcare providers.
An estimated 50,000 new U.S. HIV infections are diagnosed each year.
The CDC estimated in 2015 that about 1.2 million Americans were at substantial risk of HIV infection and could benefit from PrEP.
That includes men who have sex with men, transgender women who have sex with men, partners of people who are HIV-positive and intravenous drug users who share needles.
The number of high risk groups "is much broader than one might think," said Dr. Jennifer Childs-Roshak, president and CEO of Planned Parenthood League of Massachusetts. "It is not just men with multiple partners. There are a whole host of folks who could benefit."
At least 15 patients have gone on Truvada for prevention since Planned Parenthood's six Massachusetts clinics began offering it this fall. Planned Parenthood of New York City plans to offer the treatment to all of its 50,000 patients, said Julia Sullivan, associate director of quality management.
Wider use also could buffer Gilead when Truvada, the only drug currently approved in the United States for PrEP, loses patent protection in 2021. Gilead has a successor treatment in the works. The once-daily F/TAF (emtricitabine/tenofovir alafenamide) has been approved for HIV treatment and is under study as a preventative.
"PrEP is indeed a significant part of Truvada," said Leerink Partners analyst Geoffrey Porges. "It can certainly keep Truvada relatively flat but the key question is, when will they show that TAF works for PrEP?"
In the meantime, the concept of taking an HIV drug to prevent infection is making inroads in popular U.S. culture. It came up in an episode of "Transparent," the Emmy award-winning Amazon series about a family with a transgender parent, when a character was contemplating sex with an HIV-positive partner.
"We were trying to make the conversation reflect what happens in real life," said a writer on the show who works under the name Our Lady J. "PrEP is a big part of that conversation. As an HIV positive person, I'm struck with the level of ignorance around PrEP."