Today in Kiev, a gay pride parade began an entirely new chapter in the history of the Ukraine.
"Let her in, she's a lesbian, don't you get it?" says a policeman to his colleague before checking the documents of a journalist getting screened for "The March of Equality."
According to local police, on hand to limit any disruptions, the over 1500 LGBT community marchers were not harmed - joining 5500 police officers as they walked together in the center of the Ukrainian capital, Kiev.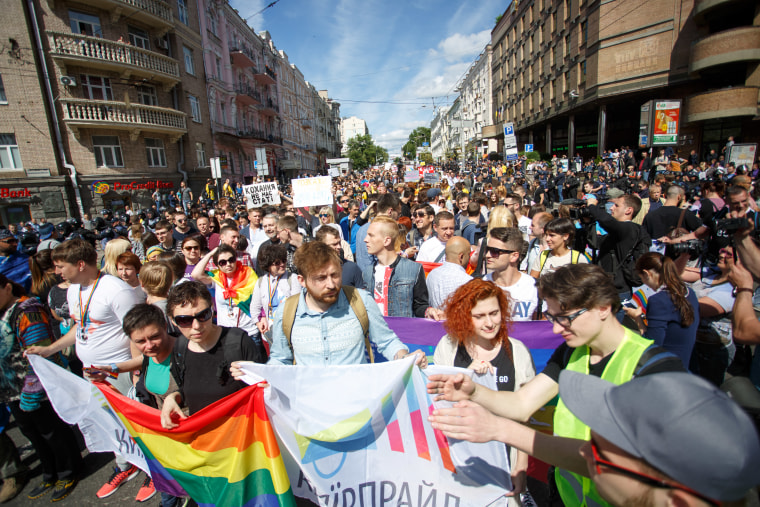 A stark contrast to one year ago, when participants and were attacked by far-right activists, wounding two police officers. The security for today's parade had been carefully planned in advance, including a protective barrier around the marchers. Several officers could be seen dancing along with the parade route.
Close to 57 people were detained and later released for aggressive behavior, and protesters who came to express their disagreement, did so peacefully and without interruption.
A reminder of the continuing influence of Russia on Ukraine, passers-by were heard to shout "I'm against gay propaganda" while observing the parade.
"Happiness", reads a banner observed at the parade, "is more important than tradition".
A law forbidding the dissemination of so-called "gay propaganda" passed in Russia in 2012. "I am against the propaganda of gay and lesbians because these people have no future, they cannot multiply so it leads to the death of the nation" says anti-LGBT activist simply known as Vitaly.
He believes that the march is the wrong choice for his country, while Julia Grinvech, a Russian citizen who lives in constant fear of breaking the law, strongly disagrees. "It feels much better here, you have no Putin! seriously," says Grinvech.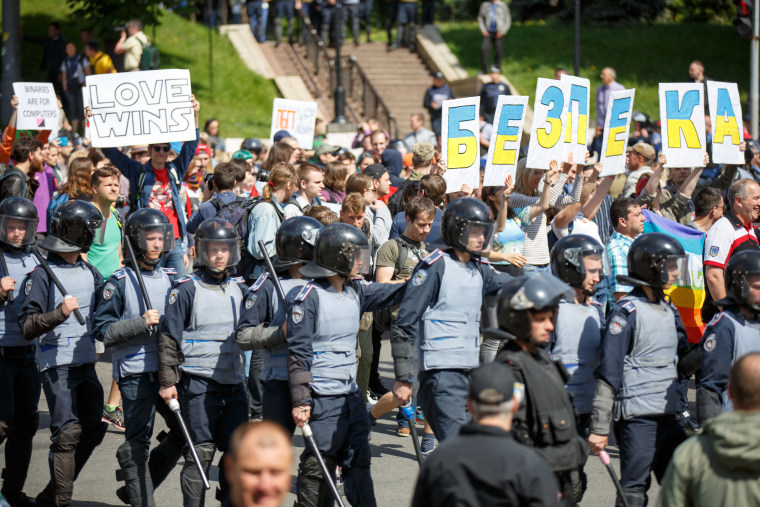 "I hope one day Russian society also reaches the point where change becomes possible". Besides the police, security was provided by a further 1200 soldiers from the National Guard.
In a sign that opinions may be changing among people from groups traditionally more hostile to LGBT rights, off-duty soldiers were also observed participating in the parade.
While the parade itself lasted for no longer than 30 minutes, anti-LGBT activists continued to arrive on the scene long after the marchers had gone home.
Their opinions, proclaimed loudly on banners and posters, closely corresponded with the fixation on "traditional values" that has long been in vogue in post-Soviet countries.
While these attitudes are likely to prove resilient, differences in opinion are not, in themselves, to be feared.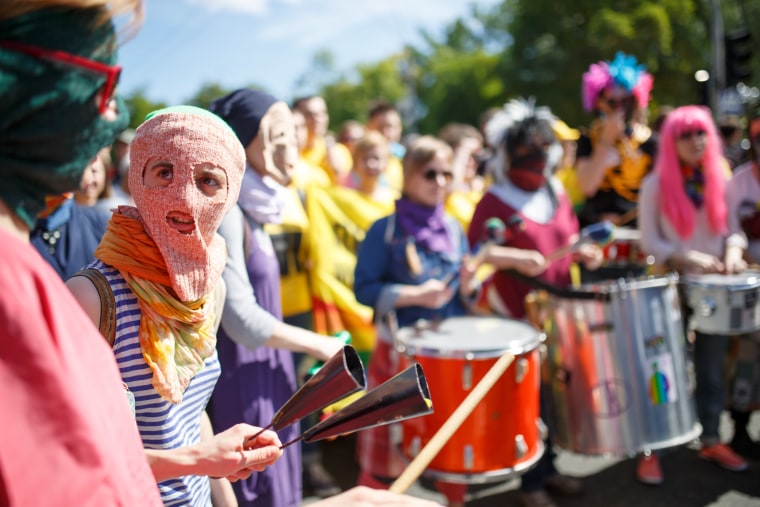 Today's parade represents an important step in the internalization of civic dialogue as a means of resolving social controversy.
To many, the citizens of Kiev have chosen the spirit of law and freedom against power and dictatorship. "Happiness", reads a banner observed at the parade, "is more important than tradition".
For these marchers, this is a slogan for a new Ukraine, escaping from the cynicism and anger so prevalent in the politics of its post-Soviet neighbor.