Flu killed 80,000 people this past season and put 900,000 into the hospital, making it the worst influenza season in decades, the Centers for Disease Control and Prevention said Thursday.
The numbers were shocking. Until now, CDC has said flu kills anywhere between 12,000 and 56,000 people a year, depending on how bad the flu season is, and that it puts between 250,000 and 700,000 into the hospital with serious illness. The numbers for the 2017-2018 flu season go far beyond that.
"It's high, but it's consistent with what we had last season," the CDC's flu division director, Dr. Daniel Jernigan, told NBC News.
Other doctors spoke bluntly in saying how so many people got infected and died.
"Those 80,000 people who died from flu last year? Guess what? They got it from someone. Someone gave them the flu," Surgeon General Dr. Jerome Adams said at a news conference.
Those numbers included 180 children. "The majority of them were unvaccinated," Adams said. "It's healthy kids out there that are dying from the flu."
Influenza activity hit a high mark early this year, and the virus was infecting many people across the country all at the same time. Usually, flu hits first in one region and then another, but this past season saw widespread flu activity all at once, for weeks on end.
"That first week in January, I said it was peaking. Then the next week I said it was peaking," Jernigan recalled. Finally, the CDC stopped predicting a peak as the flu season continued worsening.
The CDC had already feared a severe flu season because it was the H3N2 strain that was circulating. H3N2 usually hits people over 65 the hardest. "This virus hit the population in a vulnerable spot," Jernigan said.
"One hundred and eighty families put a child in a grave last year because of a vaccine-preventable infection."
The CDC does not count adult flu deaths directly, but estimates them based on the number of excess deaths during the flu season.
Adams and other leading doctors urged Americans to start getting the annual flu shots now and, as happens every September, rolled up their sleeves to get immunized for the cameras.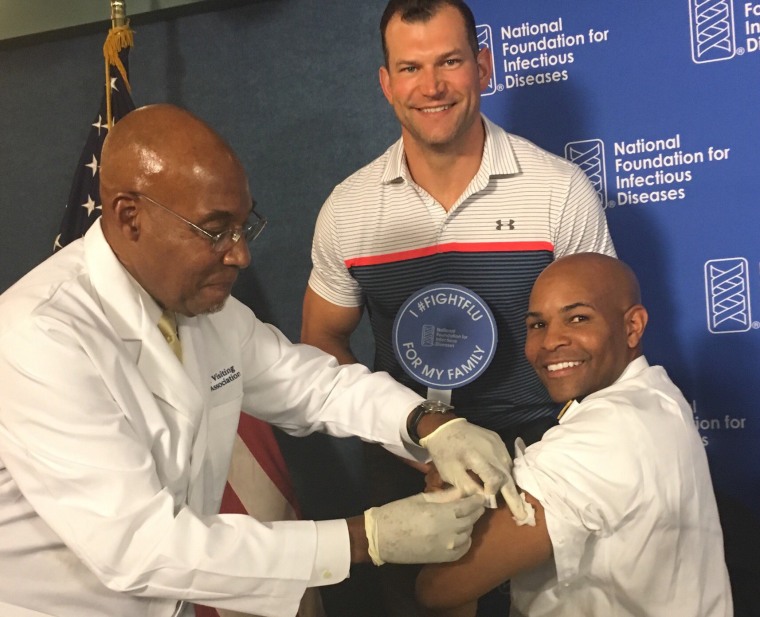 "I'm getting vaccinated, so hang with me because I might cry," Adams joked. But he alternated the jokes with a serious message: people who don't get vaccinated against flu can spread it to others.
"If you're sick, stay home," Adams said. "Employers, tell your employees if they're sick, stay home."
Although the flu shot is not as effective as other vaccines, it still greatly lowers the risk of death, said Dr. William Schaffner, medical director for the National Foundation for Infectious Diseases.
"Even if you get flu after having received the vaccine … you are likely to benefit by having a less severe illness," Schaffner told the news conference. "As a doctor, I love it when my patients don't get pneumonia or have to get admitted to the hospital. No one wants to be what I call the dreaded spreader."
Many people who don't get vaccinated say a big reason is their doubt about its effectiveness. Adams said that's not a good reason to skip the shot. "That old thing, 'I got the flu shot and I still got the flu'? Well you know what? You didn't die," he said.
The CDC recommends that just about everyone over the age of six months get a flu vaccine every year. Just 46.8 percent of the public got one last year, the CDC said in numbers released Thursday. Vaccination rates ranged from 36 percent in Nevada to 55 percent in Rhode Island.
About 58 percent of kids 17 and under were vaccinated. The number of children 4 and under who got a flu shot fell by 2 percent compared to the year before, the CDC said.
These kids are vulnerable and can infect others, too, said Dr. Wendy Sue Swanson, a pediatrician at Seattle Children's Hospital.
"Kids have a lot of snot. They have a lot of drool and they go to school. And when they go to school, they share all those secretions," Swanson said.
But she got serious, too. "One hundred and eighty families put a child in a grave last year because of a vaccine-preventable infection," she said.
The CDC said 80 percent of the children who died of flu last season were not vaccinated.
"Imagine how the parents of those children must feel," Schaffner said.
Influenza can kill the elderly quickly, but it kills more slowly, too. "The damage that flu causes continues long after the acute influenza illness," he said.
"It's why people feel wiped out for two weeks or more after they've stopped coughing."
The virus causes inflammation that affects blood vessels to the heart and brain. "Flu can predispose individuals to heart attack and stroke and can also initiate a progressive slide into disability," Schaffner said.
"When people who are already frail or on the edge get flu, they may never return to their pre-flu functional level."
As many as 168 million flu vaccine doses will be available this year, the CDC said. There are special vaccines for the elderly and for kids; there are formulations that were not made using eggs; and the needle-free FluMist vaccine is back in the mix this year.