Florida schools will no longer ask student-athletes to share their menstrual histories in order to play high school sports — but they will ask for their "sex at birth."
On Thursday, the Florida High School Athletic Association's board of directors voted 14-2 at an emergency meeting to adopt a proposal that removes questions about a student-athlete's menstrual history from the state's pre-participation physical evaluation form, following months of opposition from parents, physicians and advocates.
In the updated form, the athletic association also added a field where students must list their "sex at birth."
Until now, the form — which was last updated in 2016 — asked for students-athletes' sex and included five optional questions about their menstrual history.
Those menstruation questions became the subject of controversy after the association's sports medicine committee last month recommended the questions be made mandatory, according to The Palm Beach Post. Additionally, the Palm Beach County School District announced that student-athletes could submit the form digitally via the sports management software company Aktivate, The Palm Beach Post reported. But the platform's privacy policy, and federal law, could require it to turn data over to legal authorities or other officials if they had a valid subpoena.
Some parents and critics argued that requesting menstrual information from students and storing it digitally would violate their privacy — particularly at a time of increased debate and concern over regulations relating to women's bodies following the overturning of Roe v. Wade.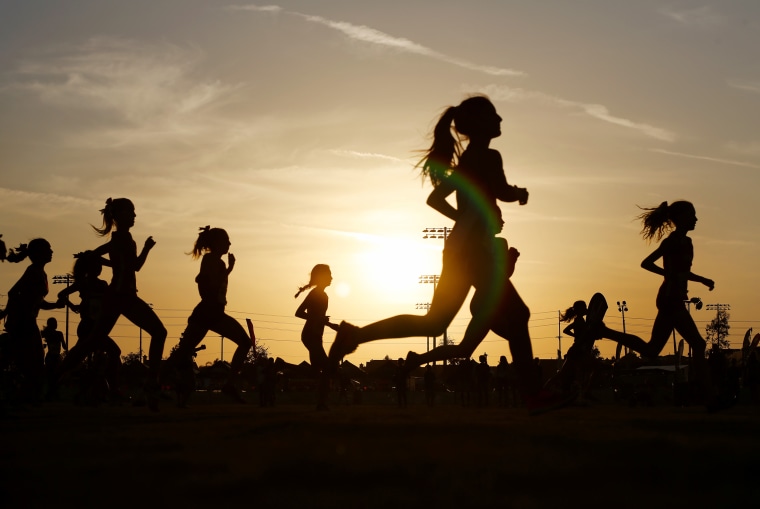 The new form does not ask about gender identity, which may differ from a student's sex assigned at birth, nor did the prior version.
The change to "sex assigned at birth" was not addressed at the Thursday meeting.
How the new form will work
Florida's newly adopted form will take effect this spring, according to Ryan Harrison, the athletic association's public relations specialist. He added that "the conversation around Aktivate remains an active one and will likely be in further discussion."
Instead of asking student-athletes about their menstruation, the new form requires them to fill out questions about their medical, surgical and emotional histories. Those pages will be kept by a health care provider, parent or guardian — not the school.
One page detailing a student's medical eligibility to play sports — also without questions about menstruation, but with the "sex assigned at birth" question — will then be completed by the student-athlete or their parent or guardian and submitted to the school.
That page can also be filled out by a health care provider if a student-athlete gets referred for additional medical evaluation prior to receiving clearance to play sports.
New form only partly aligns with guidelines from pediatricians
Florida's new policy, according to its athletic association board, is intended "to provide an updated PPE form which protects a student-athlete's privacy while including pertinent medical information a health care provider at a member school would need access to."
The new form only partially adheres to the American Academy of Pediatrics' suggested physical evaluation form for student-athletes.
The academy says the answers on the form should not be shared with schools, so Florida's policy now follows that guideline. But the academy's suggested form to be shared with a doctor does include questions about menstruation and also asks both about a student-athlete's gender identity and their sex at birth.
At least 44 states currently require or optionally ask student-athletes about their menstruation, according to an analysis conducted by LGBTQ sports news site Outsports.
Harrison said the "sex at birth" change to Florida's form "aligns" with the state's Fairness in Women's Sports Act, passed in 2021, which bans transgender athletes from playing on sports teams consistent with their gender identity.
Complaints about a 'breach of privacy'
Ahead of the vote at the Thursday meeting, a Florida athletic association official read emails the group had received from the public urging the removal of menstruation-related questions from its form. Some argued the questions were "intrusive" and constituted a "breach of privacy." Other opponents feared the prompts could be used to target trans and nonbinary athletes, though nobody appeared to address the added question about "sex assigned at birth."
Some public comments were hostile to board members, suggesting they wanted to surveil young women's menstruation or prevent some students' participation in sports.
"Nothing could be farther from the truth, that we're trying to curtain girls' participation in schools," said board member John Gerdes, who noted that 129,000 girls participated in high school athletics in the state last year. (The organization did not provide statistics on transgender and nonbinary people's participation in high school sports in Florida.)
Several board members said they did not want their own daughters, who are student-athletes, to have to share their menstrual histories on the forms.
Physicians say that while menstrual history provides important insight for doctors — including, for example, a patient's risk of the female athlete triad, a disorder that can lead to reproductive, bone and cardiovascular issues — it is unnecessary for schools to collect such information.
"Having menstrual history is very important — whether it's very important that it's included in that form is a different question," Dr. Thresia Gambon, president of the Florida Chapter of the American Academy of Pediatrics, previously told NBC News.
Jenn Meale Poggie, a Florida mother of three daughters, said she was happy with Thursday's decision, characterizing the questions about menstrual history as "a complete violation of privacy."