A saline solution shortage worsened by Hurricane Maria has hospitals worried, even as staff turn to creative solutions such as breaking out the Gatorade.
The shortage of the ubiquitous intravenous bags of saline has been going on since 2014, but the supply got hit even further when the hurricane damaged the country's biggest supplier in Puerto Rico last fall.
And as flu season starts to kick into high gear, hospitals and clinics worry the demand will get pushed over the edge.
"This is a serious situation and right now we are at the limits of our conservation and adaptation strategy," said Dr. Paul Biddinger, director of the Center for Disaster Medicine and vice chairman for emergency preparedness at Massachusetts General Hospital in Boston.
"We have seen an increase in the number of flu cases compared to last year. If this continues the current trend, we are worried that this will stress our system and make us run out of IV fluids," added Dr. O'Neill Britton, chief medical officer at Mass General.
"There has been a surge, over the past couple of weeks in the number of patients that we've been seeing with the flu," agreed Dr. Eitan Dickman, vice chair of emergency medicine at Maimonides Medical Center in Brooklyn.
Influenza is widespread in the U.S. but has not quite reached epidemic levels, the Centers for Disease Control and Prevention says. Flu season usually peaks in January and February in the United States. It kills between 2,000 to 56,000 Americans every year, depending on how bad the flu season is, and it puts 140,000 to 710,000 people into the hospital, according to the CDC.
That's a big potential surge in patients in the coming weeks, so staff are being told to think twice about using saline, and if people can drink normally, they are being given fluids by mouth instead of intravenously, Biddinger said.
Related: Flu kills 21-year-old fitness buff
"In the hospital sometimes the default is to give intravenous fluids just because it is something we are used to doing," Biddinger said.
"We are making a much greater effort to give Gatorade, to give Pedialyte, to give rehydration solutions when appropriate," he added. "If someone needs intravenous fluids, they definitely get intravenous fluids."
And those who have feeding tubes are getting more fluids that way, also.
"The Gatorade is going into a feeding tube. This is a tube that patients often have when they can't eat or drink safely and it goes directly into their stomach or small intestine," Biddinger said.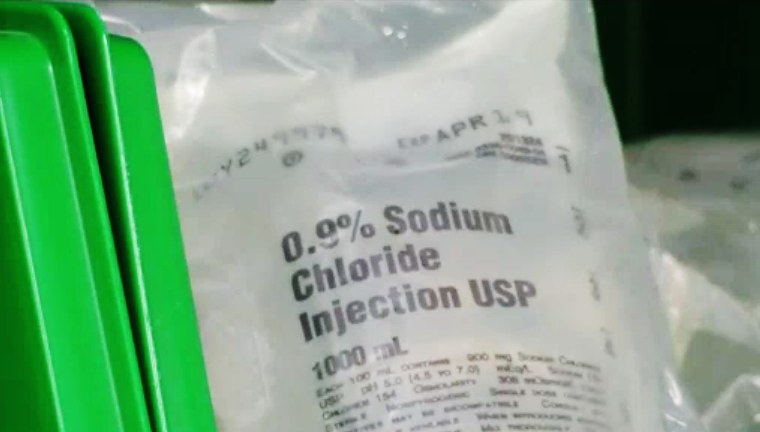 Nurses may "push" drugs and fluids manually instead of delivering them in saline bags, which can be left to do the work on their own, the ER doctors all said.
The Food and Drug Administration says relief is on the way. Baxter, one of the main producers of IV saline fluids, got power back its Puerto Rican plant in later December after weeks of outages.
Related: Hurricane shortage threatens hospitals' tiniest patients
"Based on the information we're receiving from the companies, we expect that the shortage of IV saline fluids will improve in early 2018, with continuing improvements in the weeks ahead," FDA commissioner Dr. Scott Gottlieb said last week.
"Given the improvements we've seen over the last few weeks, I'm optimistic that supplies of IV saline and amino acids will increase over the next few weeks and the stress of the shortage will begin to abate, even if the shortages will not be fully resolved immediately. That said, the production situation in Puerto Rico remains fragile."
"We are making a much greater effort to give Gatorade, to give Pedialyte, to give rehydration solutions when appropriate."
Baxter makes what are called mini-bags of saline in Puerto Rico — smaller 50 ml and 100 ml bags used to dilute and administer cancer chemotherapy drugs, antibiotics and other treatments.
The shortage has forced hospitals to use bigger, less convenient bags.
"The small bags disappeared and we accommodated for that by making things ourselves and doing conservation techniques," said Britton.
"And pretty quickly, we ran through medium-sized bags. Nationally, everybody was doing the same thing, so as soon as we switched it from one product to the next, that quickly became a shortage in its own right," Britton added.
Now even the large bags of saline have sometimes been delivered only intermittently. "That set off red flags like 'what happens if the large bags disappear?'" Britton said.