A 40-year-old Boston film teacher who lost his arms and legs to a ravaging infection will be among the first patients on a national waiting list that changes the way rare face and limb transplants are allocated in the U.S.
Will Lautzenheiser's four limbs were amputated to save his life after he developed sepsis in 2011, following a streptococcus A infection that flared out of nowhere. The former university instructor learned in May that he's been approved for a double-arm transplant to be performed at Brigham and Women's Hospital in Boston — once a donor is found.
"I'm hoping for more function and independence. I just want to have some use again," said Lautzenheiser.
Sign up for health news direct to your inbox.
Starting July 3, the government begins new regulation of the growing field of face and limb transplants, treating those complex structures as organs — like kidneys, lungs or livers — for the first time.
That means that Lautzenheiser and eight others at six transplant centers across the U.S. will become the first on a national Organ Procurement and Transplantation waiting list that could boost efforts to provide life-changing face and limb transplants to victims disabled by injury, illness or war.
"Up until now, it's been our buddies getting together saying, we've got this candidate, could you keep an eye out?" said Dr. Suzanne McDiarmid, a University of California, Los Angeles, transplant expert who chaired the federal OPTN committee behind the change. "This will really make access to these organs easier."
For Lautzenheiser, it might mean that doctors will be aware of potential donors not only from the Boston area, but also from as far as Ohio or Florida, said Dr. Bohdan Pomahac, the Brigham and Women's transplant expert who has performed previous surgeries.
"I'm hoping for more function and independence. I just want to have some use again."
"I think it's fantastic," said Lautzenheiser. "If more people who are in need of these transplants can get them, then great."
For deceased donors and their families, it adds new complexity to a system in which organ donation now means more than simply giving a kidney or a liver — what about the hands or face?
In Marinda Snow Righter's case, she had one important question when New England Organ Bank staff members asked whether she'd donate the face of her mother, Cheryl Denelli-Righter, who was 56 when she died in 2013 of a sudden stroke. "I did finally ask, 'Is it going to look like my mom?'" said Righter.
She got her answer last year, when she met Carmen Blandin Tarleton, 45, of Thetford, Virginia, who received Righter's mother's face transplant. Tarleton, who was disfigured in 2007 when her ex-husband beat her with a baseball bat and poured lye on her face, looks "a lot" like her mother, Righter said.
"It's the same eyebrows, the same lips, the same nose, the markings on her face," said Righter, 31, who has developed a close relationship with Tarleton. "My gosh, to be able to see her face again. Not everyone can kiss the recipient's face, but I'm allowed to."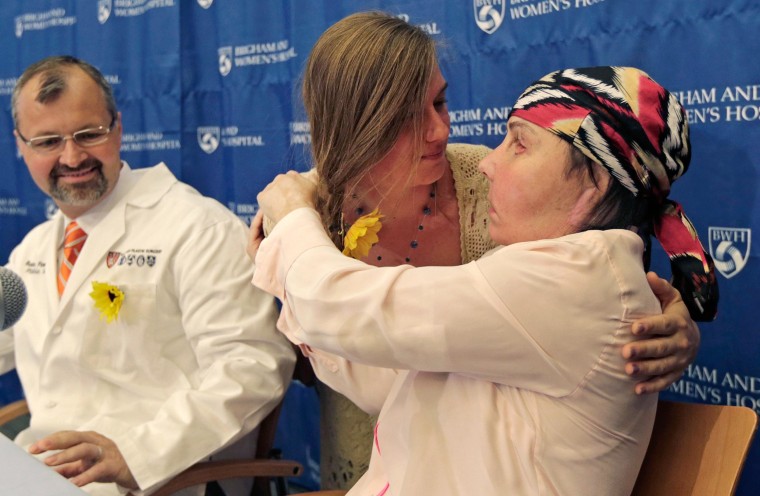 Face and limb transplants are part of a new category of organs called vascularized composite allografts, or VCAs, body parts that are composed of several different kinds of tissue, require working blood supplies and can be donated as a unit from one person to another.
"This a very unique gift," said Helen Nelson, vice president of organ donation services for the New England Organ Bank, which has participated in seven or eight such donations. "It's a new opportunity above and beyond."
Since the late 1990s, there have been 28 such transplants performed at 11 different centers in the U.S., including six face transplants, one face and hand transplant, 14 single-arm transplants and seven double-arm operations, according to OPTN.
Until now, VCAs have been regulated as tissue, said McDiarmid. But last year, after considerable lobbying by transplant experts and others, government officials agreed they should be handled like other organs by OPTN and the United Network for Organ Sharing. The deadline for putting the policies into action is this week.
An OPTN committee spent the past year grappling with thorny issues such as to how to fairly allocate the new organs — by region and by waiting time, they decided — and how donors will consent to provide such intimate and visible transplants.
Under the new rules, donors or their families will have to agree specifically to donate VCAs, and only after they've been informed about what to expect, both practically and emotionally.
"I did finally ask, 'Is it going to look like my mom?'"
The new waiting list includes four people who need face transplants, four who need double-arm transplants and one who needs a single-arm transplant, according to OPTN.
There actually may be dozens more people eligible, said Pomahac, the Brigham and Women's expert. There are 1,200 amputees from the Iraq and Afghanistan wars alone, he said. That includes about 55 soldiers who might need double-arm transplants and a similar number who need multiple limb transplants.
Lower limb transplants have not yet been performed, but they're on the horizon, said Pomahac, noting that the hospital's protocol has been approved. "Just about every week we see a patient or a couple of patients looking at this option," he said.
If Lautzenheiser receives a double-arm transplant and it's successful, he could be a candidate for a double-leg transplant as well, though that's still very tentative.
Future VCA transplants could also include the larynx, knee joints, the uterus, or other single-unit organs that meet the definition, McDiarmid said.
Lautzenheiser said he's eager for a donation, but also uneasy about hoping for it, because he knows that his gain means someone's loss. The idea of receiving another person's hands — or legs — is still a little eerie to the former English major well-versed in Mary Shelley's "Frankenstein."
"It's so personal," he said. "How could I not have emotional thoughts about that?"
Unlike internal organs, donated faces and limbs will be visible, constant reminders of someone else's sacrifice, Lautzenheiser said.
"Am I going to get a tattoo that I didn't chose myself?" he asked. "In a way, it would honor the donor. I'd be totally fine with that."