As the coronavirus grows to more than 191,000 cases across the world and the death toll climbs to 7,800-plus, people are sharing their stories of fear, resiliency and recovery.
NBC News' Social Newsgathering team interviewed people from the United States to the West Bank on how their lives have been disrupted. In firsthand video accounts, they pointed to a new way of living and thinking in the age of a pandemic.
Hyun Park, Busan, South Korea, a professor
Hyun Park is now free from a two-week quarantine. While inside his home in the city of Busan, Park spent those days in isolation recovering from COVID-19 after being hospitalized for nine days at Kosin University Gospel Hospital in South Korea.
The Republic of Korea has a total of 8,320 confirmed cases, including 84 new cases Wednesday, and 81 deaths.
While hospitalized, Park, 47, said he had difficulty breathing that "would come and go" and dealt with side effects from medication, but said the advice from his doctor to stay positive helped him focus on his recovery.
"My body temperature was fluctuating, as well. The doctor told me not to worry about fluctuating too much. It will be like that continuously, so focus on the positive thinking, so I was trying to be positive all of the time," he said.
"I'm very happy that I'm well now," Park said over Skype from Busan. "The situation in Korea is still bad, so I hope that the other people can be ... it works, so they stay positive and strong so that they will be recovered."
Gay and Phil Courter, Crystal River, Florida, Diamond Princess passengers
The Courters are back home in Crystal River, Florida, after being quarantined aboard the Diamond Princess cruise ship off the coast of Yokohama, Japan, and at the Lackland Air Force Base in Texas for 28 days.
Gay Courter said it was difficult going through "the emotional experience that this was the end of people's lives" aboard the cruise ship. A total of 712 COVID-19 cases and seven deaths have been associated with the Diamond Princess, where Courter and her husband, Phil, were confined to their room.
"Just living in that room for all that time, we're both finding that we're off kilter, that our memories aren't as sharp as they used to be, that we're a little off balance, and I physically feel off balance," she said.
Since returning, the Courters have experienced "some touches of [post-traumatic stress disorder]" after being quarantined for so long. People have been asking her on social media about the risks for traveling right now.
Courter said "until things get better," she's not planning any more trips. They had planned a safari in Kenya but have since canceled it. The Department of State has advised Americans not to travel abroad right now.
Roberta Politi, Lecce, Italy, social media consultant
Roberta Politi's family owns a supermarket in a small Italian town. Since the pandemic, the number of shoppers allowed in the store at one time has been reduced to prevent lines.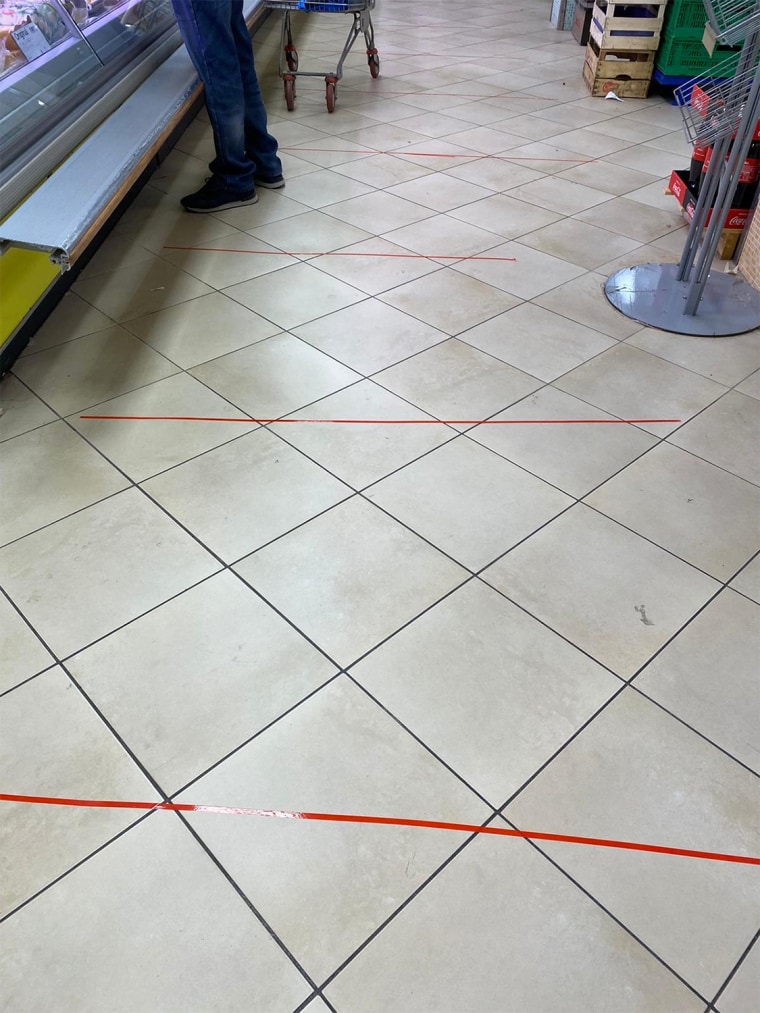 Politi's family has owned the supermarket since the 1970s and opened two ice-cream cafés in Lecce in recent years.
"We put some plastic protections, for example, between the cashiers and the public," she said.
Since the quarantine, Politi and other family members have not been able to hug their grandmother for fear of exposing her. Politi said she is receiving messages from friends overseas who want to know what the situation is like in Italy. The country has now exceeded more COVID-19 deaths than China.
"I'm just saying, stay safe, wash your hands," she said.
Muayad Ali, Tulkarem, West Bank, chef-owner of La Maison
Muayad Ali, the founder of La Maison restaurant, where he has been the chef and owner for four years, said the coronavirus has affected the West Bank town of Tulkarem.
There have been a total of 41 COVID-19 cases in the occupied Palestinian territory, including two new cases reported March 18. In Israel, there have been 304 cases.
Ali said he is spending more time at home with his wife and three children, whose classes have moved online, as coronavirus fears spread. He said few people are out and about.
"At the moment, the restaurant is closed. We're just worried about running out of money," he said, adding he is putting together menus for low-cost meals and posting them to his Instagram account.
"The people here have to help each other," he said.
Dr. Jalal Baig, Chicago, oncologist
Dr. Jalal Baig, an oncologist with the Cancer Treatments of America and the Advocate Condell Medical Center in Libertyville, Illinois, said the list of those most vulnerable to the virus is long.
"Our biggest concern is the COVID, the elderly, those with lung conditions, heart conditions, those who feel compromised and cancer patients," he said by phone from Chicago.
Baig said he's working to ensure that high-risk patients aren't exposed and checking on which appointments can be postponed.
"If it's a 90-year-old who is anemic, we could probably push that back," he said.
He is monitoring himself for signs of symptoms or anything out of the ordinary.
"It's frequent hand washing, wearing a mask, using hand sanitizer," he said.
Baig's wife is also a physician, and they rely on day care for their 18-month-old. He's concerned about how long it will be available.
On top of that, his 60-year-old mother has diabetes and his 70-year-old father has a heart issue.
"Having parents that fall in the high-risk category and being a health provider yourself isn't easy at all, and my wife feels the same way and exposing her parents," Baig said.