Paramount Pictures won praise from analysts Monday for its bold move to acquire DreamWorks SKG over the weekend, snatching the high-profile independent movie studio from the hands of rival NBC Universal.
(MSNBC is a Microsoft-NBC joint venture.)
The $1.6 billion transaction will bring Hollywood superstar director Steven Spielberg into the Paramount fold, turning the studio into a hot property again after years of also-ran status. And the acquisition sends a signal to Hollywood that Paramount executives are still able to pull off deals despite financial restrictions imposed by parent company Viacom Inc. as it prepares to split itself into two companies.
Meanwhile NBC Universal executives had to be embarrassed by detailed news accounts Monday that portrayed them as slow-footed and hampered by the bureaucracy of parent company General Electric as they lost a deal they had all but wrapped up over the summer.
"I think it's a great deal for Paramount," said Dennis McAlpine of McAlpine Associates. "I think (GE) got too comfortable with the idea that they were the only game in town."
In addition to filling a gap in its movie pipeline over the next two years, Paramount acquires a "big talent magnet" in the form of Spielberg and his associate David Geffen, McAlpine said. Under terms of the deal, the two DreamWorks principals will go under contract with Paramount, agreeing to produce four to six live-action films a year or about one-third of Paramount's schedule.
The deal does not include the animated films produced by DreamWorks Animation, which was spun off as a separate public company last year, although Paramount will take over  exclusive distribution rights for those films from DreamWorks and NBC Universal under a new seven-year arrangement. And Paramount will have the right to create television shows out of future DreamWorks animated characters to be broadcast on Viacom television channels such as MTV and Nickelodeon.
Press accounts in several newspapers delivered blow-by-blow accounts of how NBC Universal struck a tentative agreement to buy DreamWorks over the summer but then lowered its offering price after the poor performance of DreamWorks summer films including "The Island," which bombed with only $36 million in U.S. ticket sales.
"Though we had agreed on terms, GE reneged on that deal," Geffen said, according to the Los Angeles Times.
Meanwhile Paramount, under the leadership of new studio chief Brad Grey, put together an offer that reportedly was only modestly higher than the deal from Universal, which was acquired by GE in 2004. Spielberg and Geffen initially preferred the Universal deal, given their longstanding association with the studio, which includes production facilities on the Universal lot.
But in the end they were won over by Grey and Viacom Chairman Sumner Redstone.
"I was saddened that after long negotiations and many compromises we were unable to come to terms with Universal's parent company, GE," Spielberg said in a statement.
Several analysts said NBC was surprised by the strong bid from Paramount and tried to come in with an eleventh-hour offer on Friday, but it was too late.
"The GE people were very book-smart, but they were bean counters," said Harold Vogel of Vogel Capital Management, a longtime industry analyst. "Paramount was street-smart."
Officials of NBC Universal did not immediately return a telephone call seeking comment. "This was about what is right for GE, including getting the right value for our investors, a GE spokesman told The Wall Street Journal.
"GE is not going to be brought down by the loss of this deal, but it leaves a bad taste," Vogel said. "They look as though they are slow to react."
Tuna Amobi, an analyst at Standard & Poor's said he was "cautiously optimistic" about the impact of the deal on DreamWorks Animation and Viacom. To satisfy Viacom investors including its powerful chairman and chief executive Redstone, Paramount is planning to finance the deal in part by immediately selling off the DreamWorks library of 59 live-action films including "Gladiator," "American Beauty" and this summer's hit "War of the Worlds."
Paramount said it is in advanced talks with several prospective buyers for the library, which it valued at $850 million to $1 billion. Analysts said Paramount would retain a revenue stream from the library and possibly an ownership stake as well.
For Spielberg, Geffen and their associate Jeffrey Katzenberg, the deal marks the end of an 11-year dream to create an independent film and television studio that would rival the studios of old Hollywood.
"Sadly, we were never able to (produce) enough films to make that economically sound," Geffen said in a conference call with reporters Sunday. "Together, we will be able to distribute our films at a much lower cost per film, so it's a 'win-win' for both of us."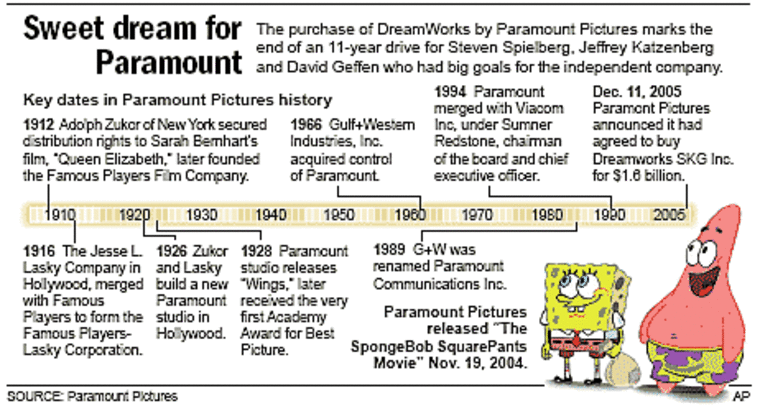 Katzenberg, who is chief executive of the animation company, said in a conference call Monday that the new distribution arrangement with Paramount, which will begin with next year's planned production "Over The Hedge," puts the studio in a "better place" with "more opportunities to be successful."
He said Viacom has agreed to promote DreamWorks Animation films on its television channels and to produce at least one television series every two years based on the company's animated characters.
But he could not offer any specifics on when the initial series would air, or whether the company would produce television spin-offs of past movies like "Shrek" and "Madagascar," saying he had only been working on the new arrangement for seven days.