/ Source: The Associated Press
Yoshinori Umemoto once made a decent living as a writer and assistant TV director — until his freelance jobs dried up and four production companies he worked for closed down.
Now, he's one of a growing number of Japanese on welfare, crammed into a tiny studio apartment and living on a meager budget in one of the most expensive cities in the world.
"I'd never imagined myself being on welfare," said Umemoto, whose economic problems have been compounded by battles with clinical depression and diabetes.
Meanwhile, in another part of Tokyo, Mayumi Honda and Hinako Yamazoe were busy indulging in a favorite hobby: spending money on luxury goods.
The two women, both 44, said they had just spent about $1,700 each on an Emporio Armani jacket, a Bally handbag, Max Mara shoes and other pricey items.
"I just bought a condominium, because I was told it's better to buy now. I had been saving up for it," said Yamazoe, a veterinarian, as they strolled past squeaky clean shops filled with Chanel and Louis Vuitton merchandise.
As the Japanese economy emerges from a decade-long malaise, the nation is confronting a widening gap between haves like Yamazoe and have-nots like Umemoto. The differences are challenging the country's view of itself as solidly middle-class and egalitarian.
More Japanese millionaires
On the upside, conspicuous consumption is in style. Luxury condominiums priced at $850,000 are selling briskly and elegant cruises are growing in popularity. The number of Japanese millionaires rose by 10 percent from 2001 to 2004, to 1.34 million, Merrill Lynch's annual World Wealth Report said.
The poverty rate — the proportion of the population below 50 percent of the national median income — nearly doubled from 8.1 percent in 1994 to 15.3 percent in 2000, the latest figure available. The percentage of households with no savings, once unknown in high-saving Japan, hit 22.8 percent last year, the highest since the national surveys began in 1953.
The percentage of people on welfare has been steadily growing from 0.7 percent in 1995 to 1.11 percent in 2004, according to the Health Ministry. The number of household receiving welfare reached 1 million in October for the first time since the social welfare program began in 1951.
The changes have been a shock to Japan, which since World War II has prided itself on its ability to foster spectacular economic growth without the social ills — rampant homelessness, poverty and economic inequality — common in the West.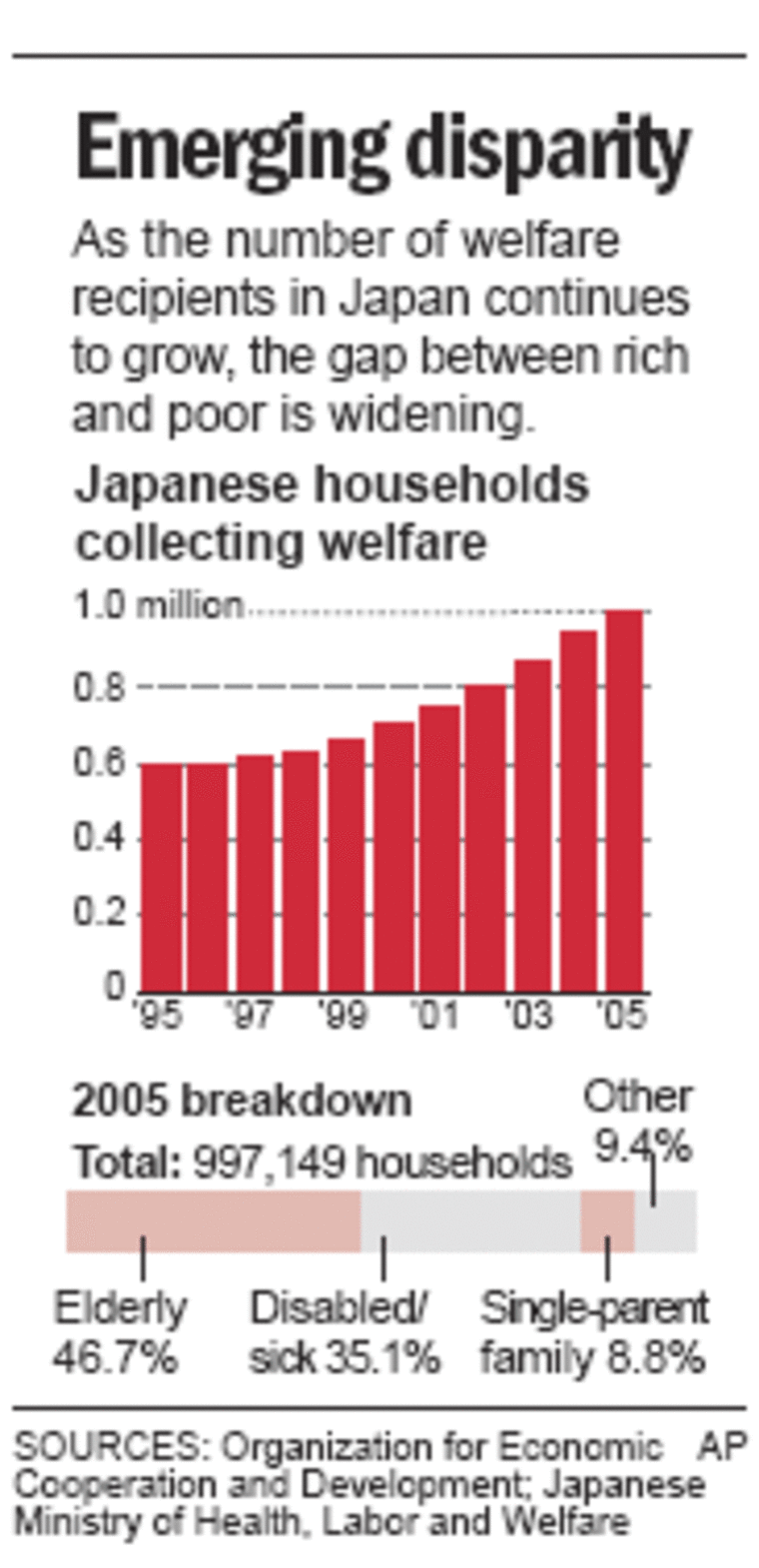 The trend has triggered a string of books on disparity, including the best seller "Lower Class Society," and the topic has become a constant fixture in parliamentary discussions.
Fears are rising that inequality could one day turn Japan into a polarized, high-crime, slum-ridden society. The government on March 30 launched a task force to come up with measures to help jobless workers and bankrupt companies.
"Never has our society been so aware of the gap," said Hajime Ota, an economist at Doshisha University in Kyoto. "More are on welfare and there are increasingly more students who have difficulty paying for school lunch. This is really worrying."
The causes for the widening disparity are various.
Japan's rapidly aging population is more prone to economic problems and the erosion of the lifetime employment system has led to layoffs and labor instability. Government budget reductions have led to cuts in public works projects that once kept many low-skilled laborers on the job.
Changing values
Values are also changing. Workers once proud to toil anonymously for the sake of company profits now are more likely to want to reap the benefits of their hard work and get rich. Companies once willing to carry unproductive or aging workers for the sake of social harmony are more likely to lay them off.
Companies are also turning increasingly to part-time workers, who typically are paid less and are not entitled to the benefits of full-timers. When a business encounters trouble, these workers are the first to be let go.
"What's been the backbone of social stability has changed as the number of part-time and temporary workers goes up," said Jiro Yamaguchi, political scientist at Hokkaido University.
The gulf between rich and poor is expected to expand even further, in part because of a trend among many young people to shun all-consuming career-track employment in favor of less-demanding part-time jobs. Experts worry that those without skills or education will suffer economically later in life.
"They are likely candidates for welfare as they grow older without work experience and find themselves not qualified," said Norihiro Oyama, who heads a support group in the Tokyo suburb of Saitama for those who are on welfare.
Welfare recipients get a certain amount of general allowance depending on the size of the family and it includes money for food. They also get housing and health allowances.
Oyama and others have blamed the government of Prime Minister Junichiro Koizumi for encouraging inequality through spending cuts and deregulation that have exposed companies to more competition and chipped away at seniority-based compensation systems.
Benefits to different classes
But Koizumi said recently in parliament that having a system of winners and losers has its benefits.
"I don't necessarily think having disparity is a bad thing," he said. "We want a society where your hard work is rewarded."
Despite the changes, Japan has a long way to go before it shows the disparities in income of, for example, the United States, said Hiroshi Tanaka, marketing professor of Hosei University in Tokyo.
Even with the increase in welfare cases, Japan is hardly a poverty stricken nation. The standard measure of income disparity, the Gini coefficient, shows Japan still more egalitarian than the United States and Britain, but less egalitarian than Sweden or Germany.
The widening gap between haves and have-nots could also be a measure of the increasing diversity in Japanese society, which has long prided itself on conformity, some say.
"Some people may be content with being a lower class as long as they can enjoy life, while others want to double their 100 million yen," said Tanaka, the marketing professor. "The purpose of life for an individual will become more diverse."