/ Source: The Associated Press
Donald Trump hand picks apprentices on his popular television series, but the true apprentices — the ones destined to lead the Trump Organization — have much closer ties to the boardroom.
They are Donald J. Trump Jr., 28, and Ivanka M. Trump, 24, and they are slowly carving out a role in their famous father's real estate business while fashioning their own identities.
In cramped offices located on the 26th floor of Trump's Fifth Avenue headquarters, Ivanka and Donald Jr. have been learning the art of the deal from their father.
"They are very formidable, very smart," Trump said. "They will promulgate the brand throughout the world. I have no doubt about it."
The siblings are positioning themselves to run the company one day, hoping to build on their father's successes, avoid his failures and bolster the company's fortunes.
"That's the intention," Ivanka says. "Ultimately, it's a family business."
But it hasn't been the straightest of paths to the family business for Donald Jr. and Ivanka.
Donald Jr. graduated from the prestigious Wharton School of the University of Pennsylvania but spent time as a ski bum in Colorado prior to joining his father about five years ago. His father wanted him to focus on his profession, not the slopes.
"He was not happy about it," Donald Jr. recalled.
Ivanka, too, decided to do something a little different after attending Wharton. She worked for New Jersey Nets owner Bruce Ratner on a massive retail development.
Ivanka, who studied real estate and finance, took the suggestion of Peter D. Linneman, a Wharton professor she respected, to go out and prove she could succeed on her own merits.
About a year ago, Ivanka left Ratner. Her father's towering condo-hotel in Chicago beckoned.
Today, she travels the country, inspecting property and sifting through business pitches. At night, she takes classes in construction management at New York University. Paperwork containing potential deals clutters her desk alongside a pamphlet: "A Pocket Guide to Trump: How to Get Rich."
Her title is vice president of development, but she plays it down.
"We're not so big on roles around here," she said. "It's pretty much my father and the rest of the company."
But don't typecast Ivanka, a former model.
"Ivanka was one of the smarter, better students," Linneman said. "She worked hard, did her fair share and then some. She's well-grounded and very genuine. She was not a limelight grabber."
Apparently she and her brother have bought into their father's philosophy that they need to earn their keep.
"If he didn't think we were doing a good job, he would fire us without hesitation," Ivanka said.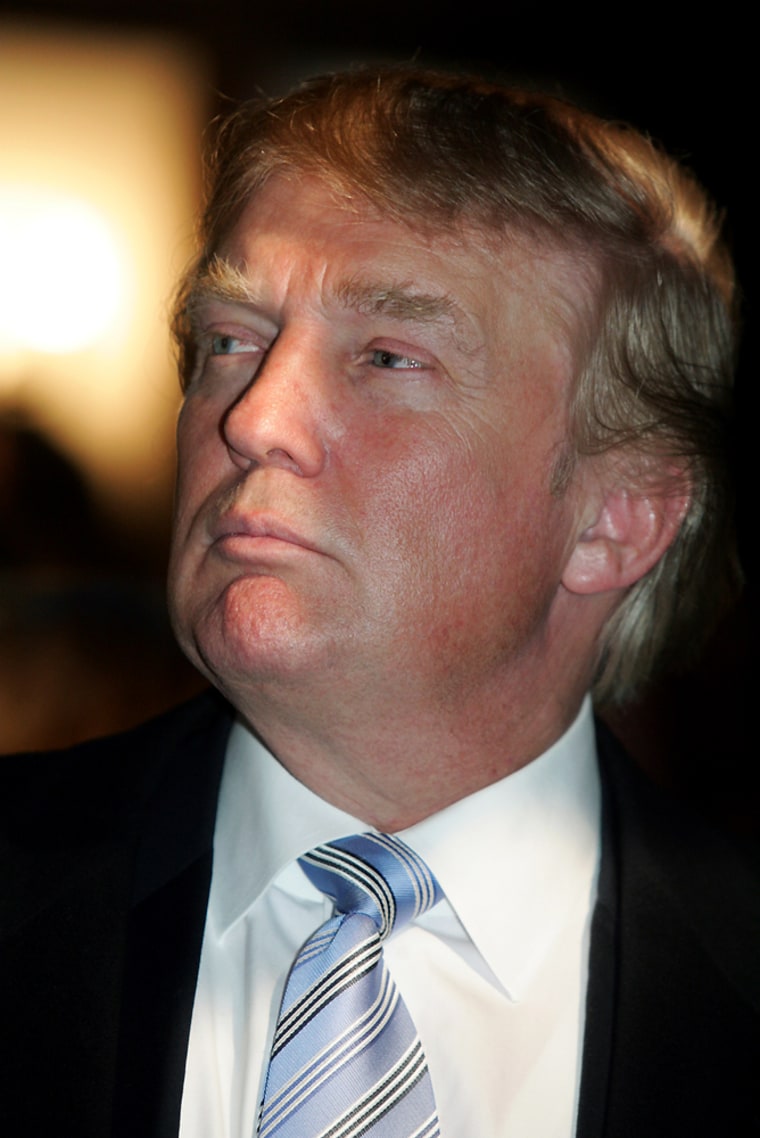 Donald Jr. put it more bluntly: "In my father's own words, he would fire us like dogs."
Donald Jr. has been with the Trump Organization longer than his sister, starting in 2001. Two years later, he began renovating a building, eventually overseeing the project. The condos are almost sold, and he's still with the company as Trump's executive vice president of development and acquisitions.
At the moment, Donald Jr. is running his father's biggest developments in Las Vegas and Chicago, projects worth about $2.2 billion, currently under construction.
His most important moment since taking a job with his father — other than his recent marriage — came when he formed Trump Mortgage LLC.
This was the first deal the son had finally brought to the company from start to finish. Getting his father to sign off wasn't easy.
"You had to have every answer worked out," Donald Jr. said. "The second you start stammering in front of him, he's got you."
Trump, who is not known for lavishing anyone with praise, singled out his son in front of hundreds of people at a news conference earlier this month.
People who have spent time with Trump say he trusts his children and their judgment. When he opened his books to Forbes magazine to prove his wealth, Trump left his lawyers and children to answer questions — important questions.
Despite the pressures of being Trump progeny, Ivanka and Donald Jr. say there are advantages in having the same last name as the boss. When people negotiate with them, they know they're negotiating with a principal. They know the children have Trump's attention.
"They have my ear," Trump says. "I respect them."
They can also challenge their father forcefully at times. They respect him but they're not intimidated by his outsized personality.
"There's an openness we can have with him," Ivanka said.
If their father makes a decision and the children disagree, they can step behind closed doors and make their case again. Sometimes Trump changes his mind; other times he doesn't.
But if Trump takes the advice and it's wrong, "you'll never hear the end of it," Donald Jr. says with a smile.
Soon, another Trump will join the family business. In the fall, Eric, 21, a senior at Georgetown University, will arrive in New York.
Donald Jr. says all three siblings have type A personalities, and all three are ambitious. And all three have the same mother, Ivana, from their father's first marriage. Trump has two other children — Tiffany and Barron William — from his other two marriages. Tiffany is only 12 years old and Barron William was born in March.
Like Ivanka, Donald Jr. was diplomatic when asked to say who will take the helm when the boss steps down.
He downplayed a sibling rivalry as did Ivanka, who described her relationship with Donald Jr. as more camaraderie than competition.
That's probably true. But they're also Trumps.
"When we want something, we go for it," Donald Jr. said.