CORONADO, Calif. — "Hit the surf! Start moving or we're gonna do this all night!" barked a U.S. Navy Sea, Air, Land instructor. "You show me you really want to be here!"
Navy SEALs, counted among the best commando forces in the world, are at the forefront of the Pentagon's war on terror as modern warfare continues to evolve from Cold War-era tactics that use large ground forces to small units that battle insurgents.
But as demand for special operations forces on battlefields from Iraq to Afghanistan has increased, the selection process to become a SEAL is still as rigorous as ever.

Every recruit must still survive "Hell Week," and endure many other weeks of training, in order to earn the highly coveted gold Trident pin.
'Hell Week'
By 10 p.m. on the third day of "Hell Week," only 32 out of the 120 men who began as SEAL candidates for Class 258 remain. They have been up and moving for more than 72 hours, but their spirits remained high. "Hooyah 258 — Hooyah!" the recruits yelled in unison. "Get motivated! Don't quit!"  
The 32 were divided into four teams of eight — what the SEALs call a boat crew. For an hour, they have been running into the icy surf of the Pacific and back to their boats to perform "boat push-ups."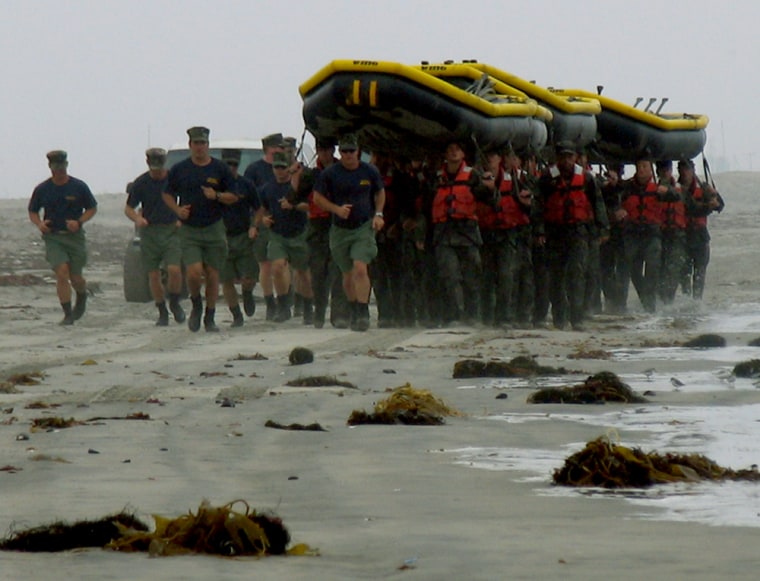 The young recruits, all in their early to late twenties, were cold, wet and shivering from the brisk ocean breeze as each crew struggled to hold aloft their inflatable boat.
"Lock your arms out," said Instructor Dave. Because of the covert nature of their missions, active-duty SEALs do not give out their full names. "Get that boat up! Don't let that boat touch your head."
Basic Underwater Demolition/SEAL training, or "BUD/s" as it is more commonly known, is a 26-week selection process designed to test the limits of a recruit's physical and mental abilities. 
The fourth week of this phase — called "Hell Week" — is five and half days of continual, around-the-clock training with a maximum of four hours of sleep.
The tests include timed runs on the beach in combat boots; ocean swims up to two miles; running timed obstacle courses; countless sit-ups and push-ups; small boat seamanship; and live fire exercises. 
No 'typical' SEAL
"I have to be really aggressive because they have never been confronted with something like this — it's sensory overload," said Instructor Steve. "We have to see if they can withstand the pressures and stresses that they will face in battle."
The most seasoned SEALs are invited to come back to the Naval Special Warfare Center in Coronado, Calif., to help train the next generation of recruits. As a front line combat unit, only males can apply. A sign hanging over a doorway there reads, "The Only Easy Day Was Yesterday."
The center is housed in a set of nondescript buildings on a beach shared with some of the most expensive residences on Coronado Island. Even with the incredibly rigorous process, the Navy insists there is no cookie-cutter for who makes a good SEAL.
"There is absolutely no typical profile of a Navy SEAL," said Capt. Chris Lindsay, commanding officer of the Naval Special Warfare Center. 
"They come from all over — all races, all ethnic groups. They're all not 10-feet-tall, all-American athletes. A lot of these guys are little scrappers."
"Usually it's the guy who is quiet — who's unassuming but they've got heart inside," continued Lindsay. "The big Rambo guy beating his chest is probably not the one."
Heavy toll
In almost five years of continuous combat since Sept. 11 in Afghanistan, Iraq and elsewhere, SEALs have earned two Navy Crosses, 30 Silver Stars and about 1,000 Bronze Stars for valor. As a combined unit, they have earned three Presidential Unit Citations for overall gallantry in action.
But it has come at a heavy price: 16 killed in action and 43 wounded. Eleven of those killed were lost in one day of brutal combat in Afghanistan last year.
"It was extremely devastating for the community and you'd have to go back to World War II before Naval Special Warfare suffered a loss of 11 men in one day," said Rear Admiral Joseph Maguire, commander of the Naval Special Warfare Command. "But you have to put it in context — we've been engaged in continuous combat operations conducting thousands of high-end missions for the past four years."
In high demand
Success on the battlefield has led to a growing demand for units like the SEALs. "A lot of units say they're at the tip of the spear," said Instructor Steve. "But SEALs are the tip of the spear." 
In the next several years, the Pentagon wants to add nearly 400 more to the approximately 2,600 SEALs now in service. But with a 60 percent dropout rate, the SEALs have had to turn to a more efficient method of identifying and recruiting potentially successful recruits.
"In the past, we've had too many guys come try out for BUD/s who were not physically or mentally prepared," said Boatswain Mate Master Chief Andrew Tafelski. "We can't grow our community by wasting time and resources bringing in people who have no chance of getting through the program."
As befitting an unconventional fighting force, the SEALs have come up with a creative recruitment tactic looking beyond the Navy for potential recruits.
"You just don't wake up from the couch one day and try out for the SEALs," said Tafelski. "We need to do a better job of pushing these standards out to potential applicants so they have an idea of what they're getting into."

Unconventional recruitment
In an effort to "push out" information to the public on these standards and dispel common myths about what it takes to become a SEAL, the Motivator Program was created. It sends SEAL mentors to high schools, air shows and sporting events to seek out potential candidates. During last year's Ironman Triathlon in Hawaii, one competitor stood out from the mass of extreme athletes clad in colorful Lycra.
"There are a lot of parallels between being a SEAL and being a competitive tri-athlete," said Chief Petty Officer Mitchell Hall as he pulled on a Navy blue running jersey emblazoned with the gold SEAL trident.
A 14-year SEAL veteran who was awarded the Bronze Star for gallantry in Afghanistan, Hall competed in the Ironman Triathlon under the sponsorship of the Navy to give the SEALs a more public presence.
"I'm here to compete, not to recruit," said Hall. "But if someone sees the SEAL logo and wants to talk about joining, then so much the better." 
One thing down, more to come
Back at the last day of "Hell Week," dawn broke through the darkness and Class 258 completed a 17-mile boat paddle around Coronado Island. "They've been paddling all night," said Instructor Steve.
"Right now, these guys are just walking zombies," said Instructor Dave. "They're just trying to keep each other going and motivating each other."
"About face!" barked an instructor. Class 258 turned on the beach to see Capt. Lindsay standing with a SEAL instructor holding a large American flag flapping in the morning breeze.
"A week ago, I asked you to commit to this — the life of a warrior," Lindsay said through a megaphone. "If I ask you to dig deeper, are you gonna quit or are you gonna fight?"
"FIGHT!" yelled the 30 remaining wet and sand-encrusted young men.
"Look around you. You guys are Class 258," said Lindsay.  "For Class 258, Hell Week is secured."  
As the surviving recruits hugged and congratulated each other — some in tears — they knew that more training and tests were ahead of them.