The holiday shopping season got off to a decent start this past weekend, but with the economy showing signs of a slowdown, the next few weeks will be critical -- and not only to the retail sector. Across the business world, corporate executives are watching consumer spending closely as they set their budgets, sales goals and hiring plans for 2007.
"For most companies in corporate America, the business planning process starts right around the turn of the year or in the middle of the holiday season," said Gene Huang, chief economist for Federal Express. "So holiday shopping is a reference point for business planning for the following year."
Because consumer spending accounts for up to 70 percent of U.S. economic activity, the final tally for this year's holiday season will play a crucial role in the outlook for 2007. So far, the outlook has been fairly upbeat, with low unemployment and fairly strong wage gains expected to keep the American consumer in a spending mood. But news that Wal-Mart sales in November were weaker than expected reinforced the notion that this holiday season is anything but a slam dunk for retailers.
Both public and private forecasters have been scaling back their estimates of how fast the U.S. economy is moving ahead. Lehman Bros. economists, for example, this month  scaled back their fourth quarter growth estimate to 2.5 percent from 3.2 percent. Last week the Bush administration did the same, — shaving its 2006 growth forecast to 3.1 percent, down from a forecast made in June of 3.6 percent. For next year, the administration sees the economy growing 2.9 percent, down from its earlier 3.3 percent forecast.
Economists say a lot depends on how enthusiastically consumers spend when they hit the malls and retail Web sites in the coming weeks. A reversal of this summer's spike in gasoline prices has come just in time to help ease one of the retail industry's biggest fears for the 2006 holiday season. Since peaking at just over $3 a gallon in early August, pump prices have fallen by some 80 cents a gallon on average. That's produced an estimated savings of some $90 billion.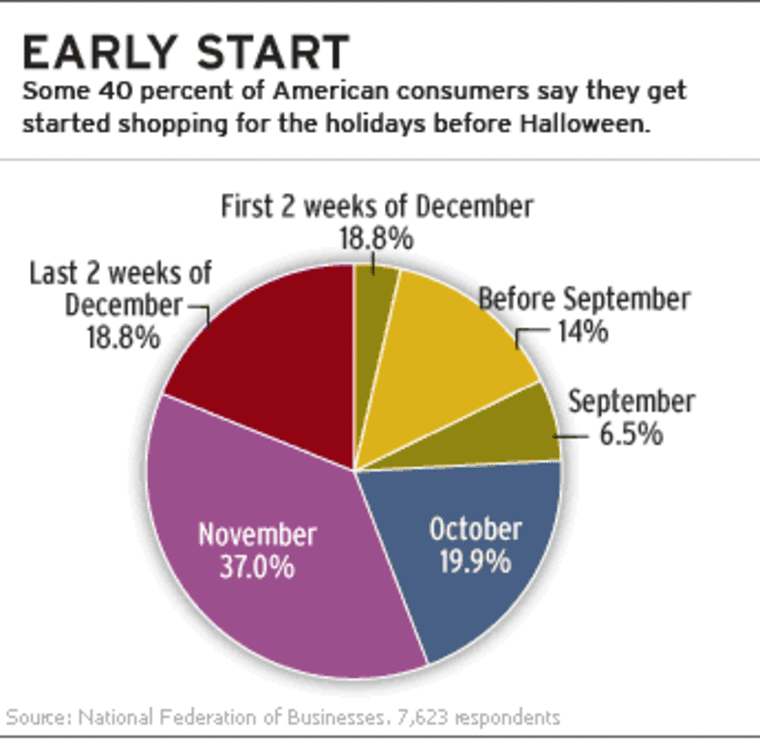 But consumers have reason to be worried about unraveling housing values, and many are still smarting from sky-high summer gas prices.
"Credit card balances accumulated on the way up," said Gregory Miller, chief economist at SunTrust Banks. "So even though gasoline is a buck cheaper, it still doesn't pay off your credit card."
In past years, these kinds of short-term changes in household budgets presented huge headaches for retailers trying to balance orders with demand. Holiday orders — often representing a major chunk of annual profits — had to be placed months in advance, leaving stores vulnerable to a shift in economic conditions or consumer tastes. A bad bet could leave piles of unsold inventory, forcing big January clearance sales at discounted prices and taking a big bite out of profits.
But in recent years, those boom-and-bust cycles have been smoothed somewhat by better control over the flow of merchandise from manufacturers to wholesalers and retailers.
"Just-in-time inventory management has been a boon to retailers," said Miller. "The computerization and the mechanization of inventory tracking for placing and holding inventory and for trucking it have delivered significant productivity gains."
Retailers have also moved to spread the financial impact of the holiday shopping season by starting earlier and extending sales well into the new year. Where once companies held back on advertising and catalog mailings until Thanksgiving, the holiday promotion season this year was well under way by October.
Consumers seem to be going along with the idea: Although the so-called Black Friday after Thanksgiving has traditionally kicked off the season, some 40 percent of consumers this year had already begun their holiday shopping by Halloween, according to a survey by the National Retail Federation.
Increasingly, that early shopping is happening online, where sales continue to grow at a rapid pace.
"Online shopping has been growing around 25 percent year over year," said Hueng. "That growth is very steady, and we haven't seen any sign of that fading."
The holiday shopping season has also been stretched well into January — and beyond — with the rapid growth of gift cards. Merchandise bought with gift cards is booked when the sale is made, not when the card is sold. This year, retailers expect to sell nearly $25 billion in gift cards, a $6 billion increase over last year, according to the NRF. As a result, January has become the biggest month of the holiday shopping season, according to Miller.
And to try to keep customers in spending mood, retailers are also borrowing a marketing technique that was widespread during this fall's campaign season — the automated telephone call. Dozens of companies plan to blitz customers with calls well into January, according to Marshal Cohen, a retail analyst with NPD Group.
"The bad news is that the more stores that do this, the less effective this becomes," he said.