• |
Unraveling the mystery of an air-tight alibi (Dennis Murphy, Dateline correspondent)
"Who ARE those guys?"
Remember Butch saying that to Sundance? The relentless trackers were on them. Unshakeable.
I felt that way about a detective we got to know covering the Nelson Serrano murder trial in central Florida. His name is Tommy Ray and he works for the Florida Department of Law Enforcement— the F.D.L.E., which is like the state's version of the F.B.I., supercops who get called in on the big cases.
In 1997, Tommy was put in charge of the investigation into an awful crime. Someone, or maybe more than one, had cooly walked into a family-owned manufacturing business and gunned down four people execution-style— three men and a woman— in the offices just off the shop floor where they made garment conveying tracks like you see at your dry cleaner.
Four families were devastated and united in their belief that a recently-ousted business partner had been the shooter or had paid someone to do it.
After digging into the history of bad blood at the plant— allegations of stealing, threats— Agent Tommy Ray came to believe the family was right. The fired business partner, a man named Nelson Serrano, had been the architect of the quadruple homicide.
"I know he was definitely involved," the detective told us, "I just wasn't sure how he pulled it off."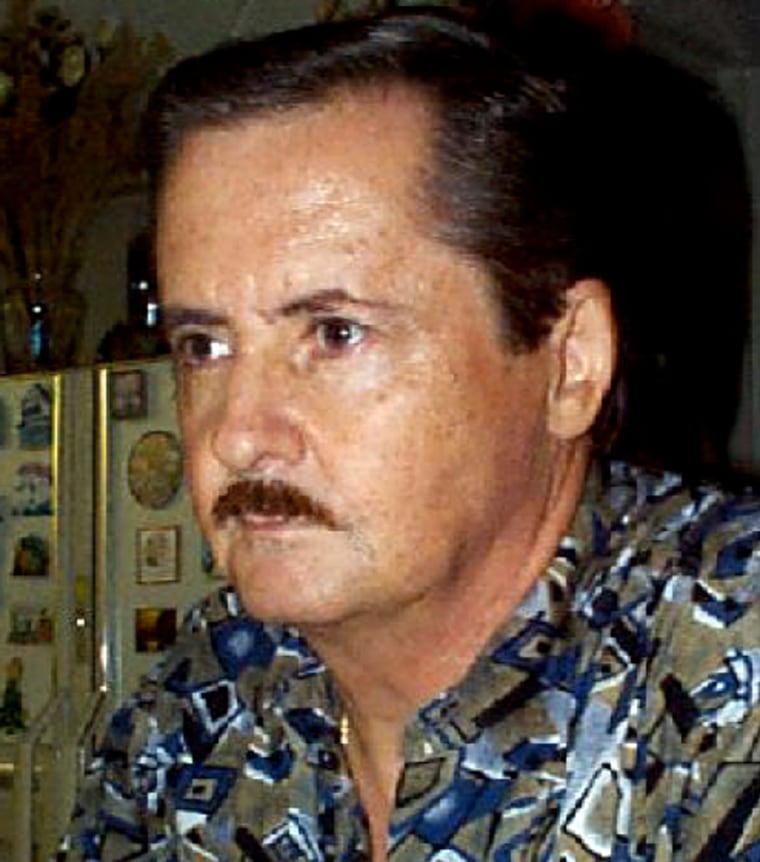 Serrano, the suspect had what seemed an airtight alibi. On the day of the murders, he'd been five-hundred miles away in Atlanta on a business trip. He could prove it, too. An Atlanta hotel lobby security camera showed him at the front desk about noon, five-and-a-half hours before the killings, then again about ten that night.
For the next three years, Tommy Ray and his team analyzed and reviewed every phone call and business transaction Serrano and his circle of friends and family had made in the months leading up to the murders.
And finally— eureka! — they found the one thing they could take to the district attorney, the evidence that shredded Serrano's alibi that he'd been in Atlanta that day.
That moment of discovery is at the heart of our report on Dateline Wednesday but what reminded me of the guys pursuing Butch and Sundance was what happened next.
Nelson Serrano was indicted for the four murders but with the investigative heat closing in on him he'd taken refuge in his native country Ecuador.
The advice from the U.S. State Department and the F.D.L.E. (Tommy's bosses), was that the chances were slim to none of ever getting Serrano extradicted back to the States. Forget about it. Close but no cigar.
Which is only a waving red cape to a bull of a detective like Tommy Ray with a fearsome reputation for cracking cold-case crimes. "I mean we were bound and determined, to see this thing to an end, to get him out of Ecuador," he told us.
So one morning, on another assignment altogether, the detective and some other agents were having breakfast at a hotel in Miami. Tommy looks up and sees this sign reading "International Military Intelligence Meeting."
He goes into the conference room and asks if anyone is there from Ecuador. A colonel stood up and announced that he was in charge of the U.S. embassy in Quito, the capital. The detective played the military man a PowerPoint presentation on his laptop of the case against Nelson Serrano and when he saw what a violent crime it was he told Tommy Ray, "We'll work it out. We'll get him out of Ecuador."
Did Nelson Serrano look down from his luxury apartment tower in Quito, see the surveillance teams, following his every movement? When Ecuadorean authorities arrested him at a favorite local restaurant, did he say, "Who are those guys?" Probably not, but the relentless Florida detective finally had his man. In his dogged pursuit, agent Ray learned that Ecuador's constitution regarding dual nationality had been revised, allowing the country of Nelson Serrano's birth to deport him back to the United States in the custody of Tommy Ray.
It was a struggle to the end. As Ray and other agents escorted a handcuffed Nelson Serrano up the stairs of the commercial flight bound for Miami, he faked, Tommy Ray says, a fall that bloodied his face a little. The flustered flight attendant demanded that the prisoner be left behind in Quito, trying to tug him out of detective Ray's grasp. The pilot intervened and Nelson Serrano was soon wheels-up for Florida charged with the first-degree murder of four people five years prior. He faced a jury almost nine years after the crime.
Tommy Ray has cracked cases again and again when other cops have thrown-up their hands. "There's not a case out there that I feel can't be solved," he said, "I just think you keep digging long enough and hard enough you're gonna come up with something."
"Unfinished Business," Dennis Murphy's report on Nelson Serrano and the four murders, airs Dateline Wednesday, Dec. 20, 9 p.m.