/ Source: The Associated Press
Universal Music Group CEO Doug Morris resents that MTV and other cable music channels built multibillion-dollar businesses around videos given away by record companies anxious to promote their artists.
So when he saw his own grandson watching 50 Cent's "In Da Club" video on Yahoo, it got him asking: "How much are we getting paid for that?"
The answer — nothing — led Morris to pull all of Universal's videos from the giant Web portal until it agreed to a licensing deal in 2005.
He wrangled similar arrangements from Time Warner Inc.'s AOL and other Internet portals as part of his unrelenting campaign to generate more revenue for Universal.
Among Morris' most recent targets were Google Inc.'s YouTube, Microsoft Corp. and News Corp.'s MySpace.
"As the largest music company, he's got an interesting hand of cards," said Mike McGuire, a technology analyst for Gartner Inc. "He's playing them pretty adamantly and pretty hard."
Universal, a division of French telecommunications giant Vivendi SA, accounted for about 31 percent of total U.S. album sales in 2006, according to Nielsen SoundScan. The company is home to artists such as U2, Kanye West and Mariah Carey.
Morris' get-paid mantra has cast him as a champion in the eyes of many people in the industry — and a bully among others — at a time when music companies are trying to stem losses from declining compact disc sales and widespread online piracy.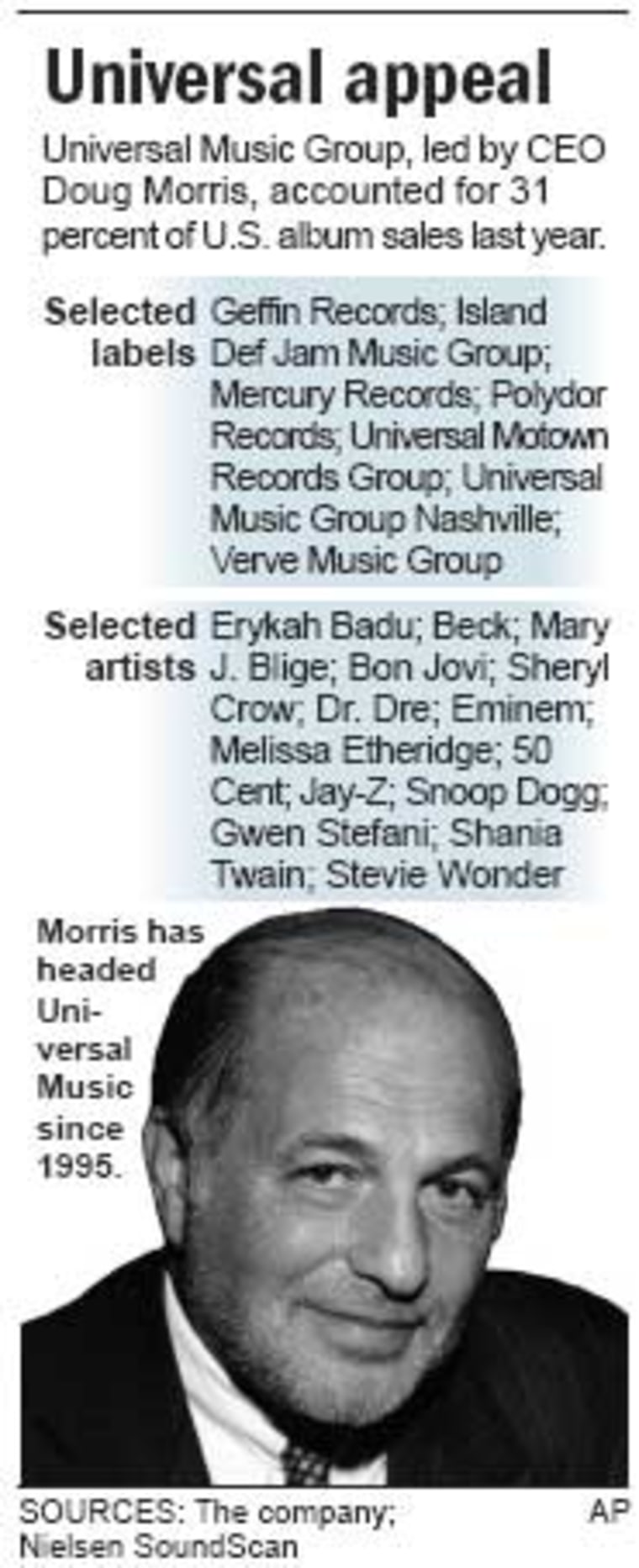 With online music and video becoming the digital content of choice for iPods, mobile phones and Web sites of every stripe, the recording industry is scrambling to find ways to cash in as much as possible.
"I'm no tough guy," said Morris, 67, a former songwriter and performer who is entering his 12th year as chairman and chief executive of Universal Music.
"It's just the position you get put in, where you're either going to succumb to it, and say, 'fine, that's OK, yeah, put your advertisements next to our videos, we don't care,' or you're going to say 'hey, this isn't fair.'
"I'm going to be a kamikaze pilot until that's all straightened out," he said.
Other recording companies have yet to follow Universal's hard-line lead, particularly in suing online video and social networking sites. They appear happy to let Morris carry the fight through lawsuits and other measures.
In his tussle with YouTube, Morris called the site a hub for pirated music videos and negotiated a licensing deal that landed Universal and other labels small stakes in the company just before it was acquired by Google for $1.76 billion last year.
Morris has already suggested, albeit guardedly, that his next target will be iPod-maker and No. 1 online music retailer Apple Inc. With Apple's licensing deal to sell Universal music on iTunes set to expire in May, Morris said, "there might be other ways to get paid."
Speculation in the industry is that he'll seek a slice of iPod sales. Apple declined comment.
Universal's upcoming negotiations with Apple could set the tone for the rest of the recording industry. But Morris says he doesn't know if he's prepared to pull Universal's music from iTunes to get a cut of iPod sales.
"I wouldn't want to draw a line in the sand," he said.
Last fall, Morris threatened not to license Universal music to Microsoft just days before it was scheduled to launch its own online music store and its Zune digital music player. In response, the software company coughed up a royalty of just over a dollar for every Zune sold and paid a licensing fee for the right to sell Universal music.
Microsoft extended the same terms to other labels, a move that led Edgar Bronfman Jr., chairman and CEO of Warner Music Group, to tell Wall Street analysts that it took a strong stand by the industry leader to make the deal happen.
Morris isn't sure he is cut out for the role of enforcer but believes he has no choice.
"The truth is that I'm the most unlikely candidate because I don't like being in the middle of the sandwich," he said.
Morris broke into the music business as a performer and songwriter in the late 1950s. His writing credits include the Chiffons' sugary 1966 chart-topper "Sweet Talkin' Guy."
He launched his own label then sold it in 1978 to Warner Music's Atlantic Records. Two years later, he became president of Atlantic.
As a record executive with roots in songwriting and performing, Morris was seen as an ally to artists and creative executives. But he could also come down hard on artists who weren't living up to expectations.
Among the bands Morris worked with was INXS. When their fourth album took a stylistic detour and sales lagged in America, the displeased Morris had a talk with Chris Murphy, then the manager of the Australian band.
"He definitely showed his inner personality and was pretty wild with me. He was just very aggressive," Murphy said.
Still, months later, when Murphy asked Morris for support in moving the band from a smaller label to Atlantic, Morris agreed without imposing any stylistic demands, Murphy recalled.
In the mid-1990s, Morris vaulted to president and chief operating officer of Warner Music U.S. — the parent company of Atlantic — but was soon ousted in a clash with corporate management with its then-parent company, Time Warner.
"It was a very difficult period," Morris recalled. "You can't live in a place for 17 years and then not be there the next moment and have to start again."
He went on to form a joint venture with MCA Music Entertainment Group and was tapped in 1995 to be chief executive of the company, which was renamed Universal Music Group.
"He put that company together, and he's kept it together despite all the changes in ownership and the changes in technology," said Danny Goldberg, a former chairman of Warner Bros. Records who worked for Morris in the early 1990s.
Goldberg said Morris has remained atop the volatile industry in large part because of his realistic, forward-thinking vision.
"He's a survivor," Goldberg said. "No one ever got rich betting against Doug Morris."