/ Source: The Associated Press
Charles Hoang winced when the whoosh went out of the tires. Daniel Maldonado took pictures with a digital camera as glass exploded and rained down to the ground.
The cars the teens had so meticulously souped up and tricked out were crushed Wednesday as part of a crackdown on illegal street racing in Southern California.
"That's my heart, my dream," said Hoang, 18, of Chino, who was surrounded by friends as his 1998 Acura Integra was put into a compactor. "That's my girlfriend, the love of my life. The cops can crush my car, but they can't crush my memories."
Authorities destroyed six vehicles Wednesday at an auto graveyard, hoping would-be racers think again after looking at the mashed machines. Illegal street racing is responsible for or suspected in 13 deaths in Southern California since March.
The thrill-seeking, adrenaline-pumping activity is rampant in Riverside and San Bernardino counties east of Los Angeles where rows of tract homes line wide streets that attract racers.
Nearly 1,000 people — drivers and spectators — have been arrested for investigation of street racing activities over the past two years in San Bernardino County alone. Police need a court order to destroy the cars. They must prove that the serial or identification numbers on a vehicle or its parts are removed, altered or destroyed.
Police said they have managed to reduce illegal racing and related fatal collisions, but know the underground hobby still thrives.
"We are making a dent," said Ontario police Cpl. Jeff Higbee. "But it's summertime and ... we expect to see more activity."
350-horsepower engine
Hoang said he was caught late last year racing his prized car, on which he spent at least $10,000 to get into top shape. The 350-horsepower engine topped out at 160 mph, Hoang said, swearing it could beat a Corvette or even a Ferrari.
When police popped open the hood, Hoang said, they found a stolen transmission. Hoang flashed a receipt for the transmission he bought from his father who runs an auto shop and doubted the item was hot.
"Everything on that car was practically brand new," Hoang said as he watched his car get moved to auto death row. "They should take out the stuff that matters, auction it off, and give the money to charity."
Because racers put heavy stress on their vehicles, they often burn out or blow up parts. Higbee said the need for the expensive parts has created a "theft mill" where additional cars — usually Hondas or Acuras — are stolen and stripped of the necessary replacements.
Most of the cars police examine are illegally modified. Sergio Zavala, 18, was pulled over in his 1993 yellow Honda Civic for a broken tail light in December. He had purchased a B-20 Vtech engine with a double-overhead cam a couple months before, and after a police investigation, was told it was stolen.
Zavala, who admits he has been involved in street racing, estimates he and his mother spent about $10,000 on improvements to his car.
'Where all my time and money went'
After watching his Civic demolished, Zavala is left without a car as he plans to attend a fire academy in the fall.
"It's heartbreaking to see this," said Zavala, who graduated from high school last year. "This is where all my time and money went."
Maldonado also said he put plenty of time and effort working on his 1992 black Honda Civic. He was stopped in November by police in what Higbee described as an area where racers gather.
The 18-year-old mechanic said a vehicle identification sticker apparently fell off and without it, police suspected some of the parts were stolen. Maldonado stood several feet away from his car as it was pounded into a heap of metal.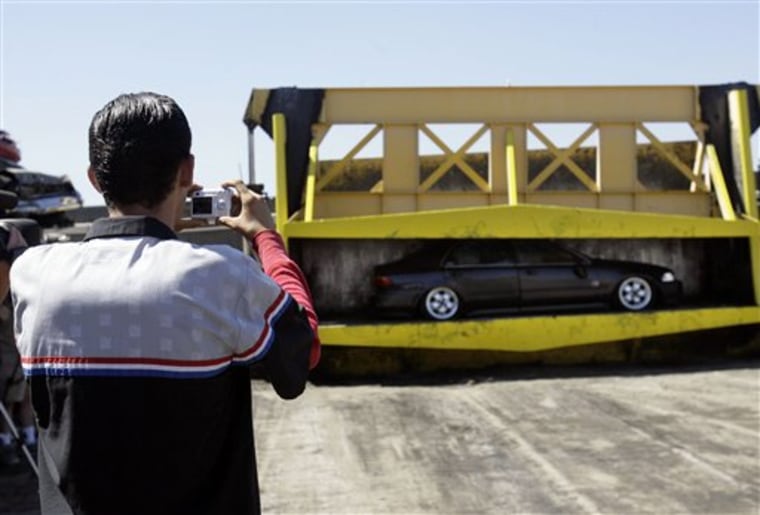 Maldonado said he has taken the advice of police by racing legally on one of several race courses around Southern California. For the money spent in fines and other penalties — on average about $5,000 for illegally modified cars — Higbee said street racers could compete about 250 times a year at a legitimate track.
"If you have to race, take it to a legal venue," Higbee said. "But as long as they keep racing illegally, we keep crushing their cars."
All three men who saw their vehicles destroyed said they believe illegal street racing will continue to prosper across the region.
"It will never go away," Maldonado said. "If it's in your heart, you will continue to do it until you can't anymore."