/ Source: The Associated Press
The millions of acres scorched by wildfires and left susceptible to mudslides could be shored up by spreading inexpensive granules that a lawn care entrepreneur says will keep soil in place when the rainy season arrives.
U.S. Forest Service scientists have been testing a product that bonds the clay inside soil to form a "net" to help vegetation recover. Called PAM-12 and developed by a Green Bay lawn care company called Encap, the product is a synthetic chemical that looks like salt and is wrapped in recycled paper.
Soil scientists have found few other ways to control large-scale erosion after a fire aside from straw, which absorbs and retains moisture like mulch but doesn't actually strengthen soil.
"The concept of using soil itself to prevent erosion and establish new plant life, it's exciting," said Mike Krysiak, president and chief officer of Encap.
Already this year, nearly 7 million acres have burned across the country, and about 40 fires of at least 500 acres each were raging this week, most in Montana and Idaho.
After smoke infiltrates soil, the ground tends to repel water instead of absorb it. So rain stays on the surface and carries away topsoil and nutrients when it cascades downhill.
PAM-12 can help prevent that by causing the dirt to form tiny clumps and opening pores for water to soak into. The result is soil that's more absorbent and less apt to be washed away, even on slopes as steep as 60 degrees.
"I know from my experience it works under the right conditions," said Robert Davidson, a soil scientist with the Forest Service in Provo, Utah. "I'm trying to have the Forest Service test it more so it can be recommended as a treatment for post-fire use."
Davidson is not affiliated with Encap and said he has no financial stake in the company.
In 2006, he decided to test a variety of treatments that were applied to a section of the Uinta National Forest in Utah two years after fire scorched 587 acres. He found that PAM-12 improved soil absorption rates, decreased erosion and stimulated more plant life than other applications, including the standard straw treatment.
While lauding the results, Davidson noted that PAM-12 has only been tested in certain climates with soil compositions likely to bond well with the granules. Calcium-rich soil with a high clay content works best, he noted, but soil chemistry is so variable that it's hard to know how effective the treatment could be until a post-fire assessment is completed.
PAM-12 costs about half as much as current treatments. Agricultural straw costs about $1,000 per acre, while PAM-12 costs about $500 per acre.
It might be 10 to 15 years before government agencies amass enough research data to advocate Krysiak's product or others like to treat soil after a fire.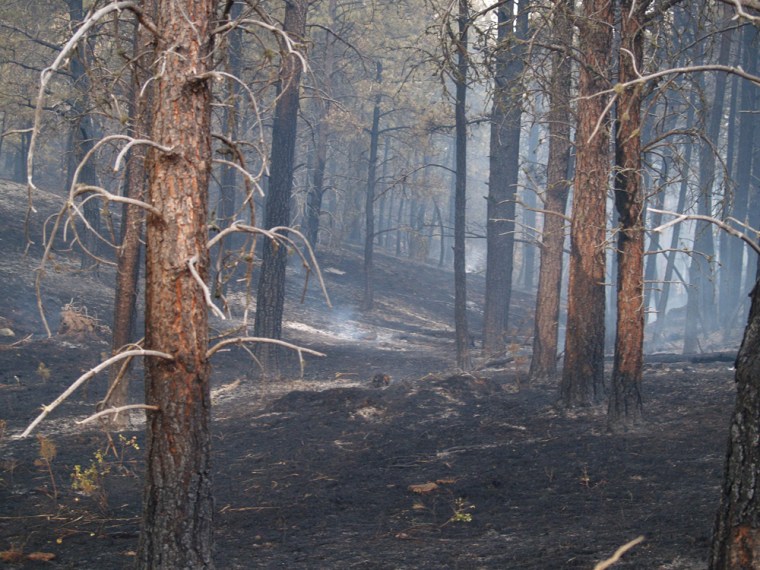 "When there's an emergency situation, we want to use proven products," said soil scientist Jeff Bruggink, also of the U.S. Forest Service. "If this is tested and proven in a variety of soil types and climates, we welcome it as another tool in the toolbox."
Forestry officials say several companies have approached them with comparable soil-treatment products but none has shown similar promise. PAM-12 is based on PAM, or polyacrylamide, a synthetic carbon-based chemical.
Soil scientists say PAM breaks down into organic material and nitrogen within about 12 months and doesn't pose a toxic threat to people or crops. Farmers and builders have used variations of it for decades to condition soil and prevent erosion, and Krysiak said no health risks have been identified.
The company name Encap stands for "encapsulation," a nod to the company's early attempts to wrap seeds in a protective coat of nutrients to improve their chances of taking root. Encap also has a line of consumer products for lawns and gardens, each relying on substances like PAM to make soil more fertile.
Krysiak declined to reveal revenue numbers. But Inc. magazine recently ranked Encap 110th on a list of the top 500 fastest growing private companies in America. To qualify, companies had to have 2003 revenue of at least $200,000 and 2006 revenue of at least $2 million.
Krysiak isn't shy about his hopes for Encap, which he intends to keep private. He expects it will take about five years before forestry officials begin to use PAM-12 more regularly, and he predicts continued sales growth in the consumer sector.
"If we play our cards right, we could be half a billion dollars (in revenue) in 10 years," he said.