/ Source: Forbes Traveler.com
A lively crowd gathers around Amie as she pours drinks at the quintessential Hawaiian bar—Duke's. She introduces herself to every guest because, as she says, "I want to feel like I'm at the bar with friends." Sunday is the peak of the Duke's Barefoot Bar experience: Henry Kopono plays against the backdrop of koa wood and historic surfing photos, and occasionally Jimmy Buffet makes an appearance.
Those who frequent the Wonderlounge seek a slightly more upscale atmosphere. Just off the Waikiki strip at Kapiolani Park, the Wonderlounge draws a mellow crowd for weekend partying. On alternate weekends, promoters reinvent the spare but sophisticated space as the Playground and the Dragonfly Room. Sidle up to the bar and ask blue-eyed Matt for a strong drink that goes down easy—something like the Strawberry Long Island, his signature drink.
Away from Waikiki, clubgoers bask in the opulence of Pearl Ultra Lounge at Ala Moana Center. With a cocktail menu created by Francesco la Francone, the mixologist behind Tabu at MGM Grand, the lounge brings the glamour of Las Vegas to paradise. Just as glamorous, bartenders like striking fashion model Michelle sprinkle martinis with pearl dust at an illuminated bar that transforms into a catwalk.
The nearby penthouse property of Aaron's Atop Ala Moana affords sweeping views of Honolulu. As you admire the view—of the city and the bartenders—Hoang will mix you a tropical drink—he prefers the classic Mai Tai—before you sink into a leather couch to enjoy the sunset, framed by Diamond Head and Ala Moana Beach park. At night, the windows glitter with city lights. A recent convert to the nightclub scene, Aaron's seems like two clubs, with a DJ at one end and live music at the other.
Just past Ala Moana, the O Lounge claims the longest bar in Honolulu, which gives sexy bartenders Gavin and Alana the perfect stage for frisky role-playing and other shenanigans. The expansive space hosts both low-key events and themed parties that delve into hedonism, like Bondage Night, when even the bartenders get in on the action—with the support of a crowd full of adoring fans. But the O Lounge sponsors more than just fun and games—they devote certain nights to charity fundraising as well.
A favorite watering hole for downtown professionals is Chinatown's Green Room & Opium Den, with its South Asian décor and variety of music. Different strokes draw different folks into this trendy haunt: On the same night, you may hear a DJ spinning house in the Green Room and live reggae in the Opium Den. Flashing his charming dimpled smile, Rob sates thirsty customers with concoctions like the Mandarin Cosmo Blast that rely on freshly squeezed juices for authentic taste.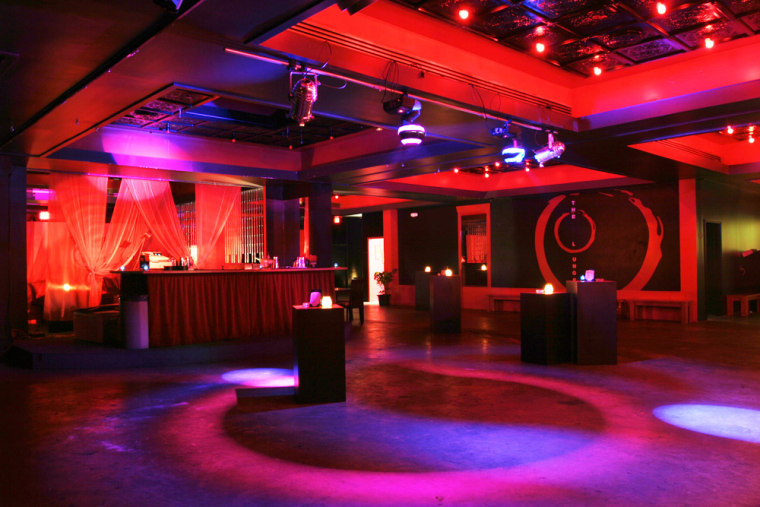 Health-conscious drinks are popular with NextDoor's Hotel Street bar crowd. Here, Lacy, a smoking brunette bartender, and the staff conceived the SmartBar. An eclectic party spot, NextDoor has no dress code, unlike many Honolulu clubs. "We like people to come as they are," Lacy explains. The bare brick, the concrete bar, and the pop-art underscore the open attitude, as do the club's special events. On second Saturdays, NextDoor hosts Showdown in Chinatown, a 24-hour film event that gets submissions from anyone from high school students to crews at Warner Bros.
The nightly scene at the neighboring whitewashed gallery space of thirtyninehotel resembles a chic rooftop party grooving to diverse music. Cutie pie Ann's favorite night to bartend is Double Joy Disco. "You get people coming in you think would never be down for disco. There's this great energy." Fellow bartenders are quick to assert Ann's popularity here. And she's more than just a pretty face—she placed in competitions sponsored by Alize, inventing recipes that earned her top ranking at the Battle of the Bartenders.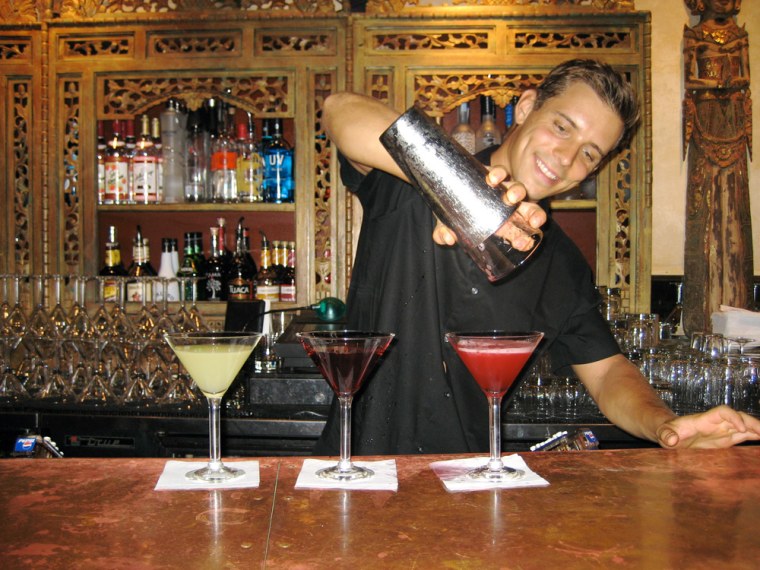 On Maui, well-known reggae artists, rising indie bands, and eighties phenoms all play sets at Paradice Bluz. The swanky, retro club is the only underground nightspot on Maui, and the only one that's not a restaurant hybrid. Energetic bartender Mike entertains crowds with the likes of the "Over-The-Shoulder Capture," where he flicks a bottle around his shoulder and catches it. Patrons often hold their breath and then burst into cheers when the mixologist performs one of his "Cocktail"-like stunts, for instance pouring a multi-colored pyramid of drinks from a tower of shakers.
Food isn't the only attraction at Jacques, where a trendy crowd comes to nosh on creatively-prepared seafood and enjoy the breeze on the low-key outdoor patio. Lovely Jaci knows how to pack a punch into a fruity drink—her favorite pour combines four different flavored vodkas. On Fridays, head to Paia in the Maui upcountry to join sunkissed surfers and beach beauties as a DJ spins global beats. The party attracts tourists, pro windsurfers and Paians, who pack into the rustic bungalow to dance the night away.