/ Source: msnbc.com news services
Survivors prayed at mass graves and mosques Wednesday to mark the third anniversary of the Asian tsunami, while warning sirens sent hundreds fleeing beaches during a drill to test an alert network established since the disaster.
The waves on the morning of Dec. 26, 2004, spawned by the mightiest earthquake in 40 years, killed around 230,000 people in 12 Indian Ocean nations, just under half of them in the Indonesian province of Aceh on Sumatra island.
Coastal communities in Sri Lanka and India lost some 45,000 people between them. The waves also crashed into tourist resorts in southern Thailand, killing more than 5,000, half of them foreign vacationers.
The disaster overwhelmed authorities in Aceh, where bodies littered devastated neighborhoods for weeks. Most victims were never formally identified and tens of thousands were buried in mass graves.
Nur Aini lost her husband and one of her two children to the waves.
"We are praying for them today even though I don't know where they are buried," she said. "My remaining child still calls out for his father."
The disaster, one of the deadliest of the modern age, promoted a global outpouring of sympathy, with governments, individuals and corporations pledging more than $13 billion in aid.
'I hope we can turn a new page'
In Aceh, more than 100,000 houses, scores of schools and hospitals and miles of roads have been rebuilt. While there have been complaints of corruption and waste, most people involved in the reconstruction process say it has gone well.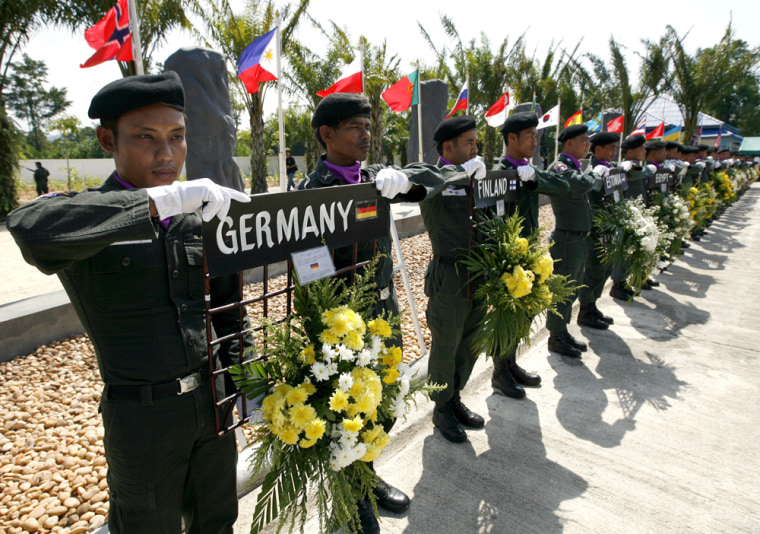 "I hope we can turn a new page now and leave sadness, cries and tears behind us," Aceh Governor Irwandi Yusuf told hundreds gathered at a prayer ceremony in the hard-hit town of Calang. "I hope one day we can pay our debt to the world by becoming a donor to other countries hit by disasters."
Thailand held ceremonies throughout the day along its white-sand southern beaches.
Survivors and families of victims were invited to Phuket's Patong beach, a popular strip of hotels and restaurants, to lay flowers in the sand. Chanting Buddhist monks were to light incense and lead an ecumenical prayer service.
High-tech alert system tested
The tsunami drill in Indonesia took place on the western tip of Java island close to the capital, Jakarta. It was attended by President Susilo Bambang Yudhoyono and other top government officials.
Those taking part ran or walked around a mile inland after the siren sounded.
As part of the drill, authorities also tested the response of emergency relief teams to a mock chemical leak in a factory on the northwestern Java shore if an 8.5 magnitude quake were to hit the area.
"We hope through this exercise people begin to understand that they live in a tsunami-prone area and know what to do in a case of an emergency," said Ami Pramitasari of the research and technology ministry which led the drill in Ciwandan district.
"The Sunda strait is a meeting point of several plates, making it prone to high-magnitude quakes," she told Reuters. "At the same time, this is an industrial area and a tsunami could leak hazardous chemicals and case multiple disasters."
Foreign governments are helping Indonesia establish a nationwide network of buoys and high-tech communications equipment that would give coastal communities warning if there is a tsunami. The network is up and running in several regions of the country, but 20 more buoys are due to be launched in 2008.
Indonesia is frequently rocked by powerful earthquakes because of its position on the "Pacific Ring of Fire," an arc of volcanoes and tectonic fault lines encircling the Pacific Basin.