/ Source: The Associated Press
It's been the worst year in decades in the heart of the nation's avocado country.
Devastating wildfires and winds in October charred groves that had just started to recover from a severe freeze last winter. Some growers are now wondering if they should stay in business, or surrender their market share to mounting imports from Mexico and Chile.
"Mother Nature just seems to be against avocados this year," Carl Griffin, 64, said as he traipsed through his San Diego County grove, where the ground was littered with shriveled, leathery husks of charred or unripened fruit.
Griffin lost more than 600 trees in the wildfires that claimed 10 lives, destroyed nearly 2,200 homes and blackened about 800 square miles across Southern California.
Many of his surviving trees have been cut back to stumps and painted white to prevent sunburn on the exposed wood.
Trees damaged by the fires will need three or four years to come back, and it could take as long as 10 years for production to return to 2006 levels, according to Mike Sanders, a veteran grove manager in San Diego.
Meanwhile, Americans' appetite for avocados is expected to grow beyond the billion pounds a year now consumed.
Price per pound low
Farmers are now paid about a dollar a pound for the fruit, with each acre of trees yielding about $3,768 in 2007 — the lowest figure in a decade.
"People who thought they could pencil out a living at those prices are really struggling, and they're going to need to get out," said Guy Witney, a spokesman for the California Avocado Commission. "Once acreage is lost now, our thought is that it will be lost forever."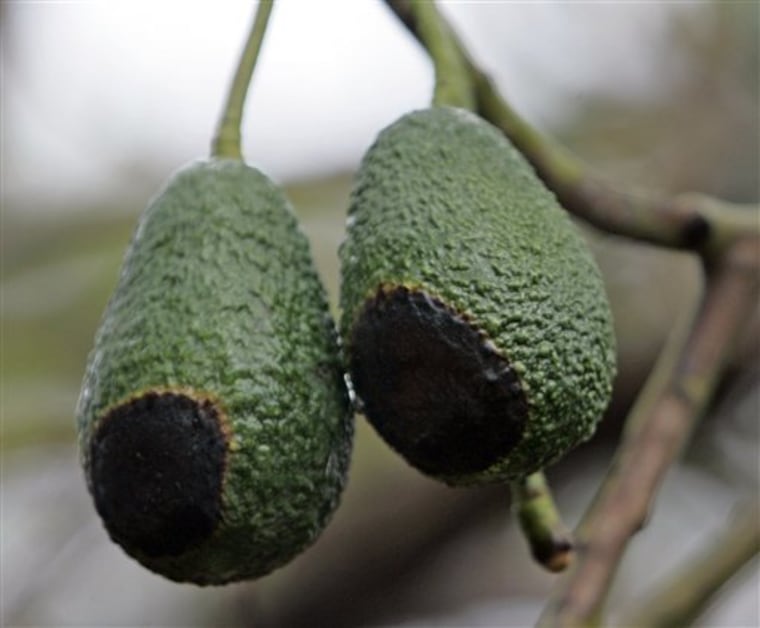 A comeback by growers will also be complicated by a 30 percent water cut imposed by officials because of drought and a court ruling that slashed supplies from the Sacramento River Delta.
Despite the problems, Americans probably won't see a significant impact on the price or supply of avocados as they snap up bags of the purple-black fruit at the grocery store to make guacamole on Super Bowl Sunday.
Experts said the decline in California-grown avocados will be easily offset by imports from Mexico and Chile.
In past years, U.S. farmers have grown about half of the avocados consumed in this country.
Much of that fruit comes from small groves in San Diego County owned by individual growers such as Griffin, who are retired and live on their property, or by business owners who aren't completely dependent on avocados for their livelihood.
In San Diego County alone, the wildfires caused an estimated $25 million in damage to avocados, according to the county farm bureau. Griffin expects to send just 25,000 pounds — a quarter of his usual harvest — to market.
Art Bliss, a grower in Ventura County, said wind losses also have hurt farmers who didn't lose any trees to fires.
Freeze more than halved harvest
They were counting on the new crop to make up for losses suffered after a severe freeze in January 2007 iced avocados on the verge of being harvested.
The freeze cut the state's production to just 237 million pounds last year from 550 million pounds in 2006, according to the California Avocado Commission.
In San Diego County, Sanders said many have scrambled to get enough pipe to replace irrigation systems melted by the wildfires and tried to arrange additional financing from banks.
Griffin said he has applied for two federal grants but doesn't know yet if he will get the money.
Only $6.6 million in aid has been set aside for California farmers hurt by the wildfires, according to the San Diego County farm bureau.
Griffin said he felt paralyzed after the fires took his avocado grove, just months after his wife died.
"They said in grief counseling not the make any big decisions for the first year," he said. "So I'm just going to wait and see."