Sci-fi movies and cars don't often share connections, but there's a striking similarity between DreamWorks Animation's Transformers — a movie that raked in $700 million worldwide in 2007 — and Chrysler's Jeep Wrangler Unlimited.
The Unlimited has been a smash hit for Chrysler, with sales almost doubling last year, and like the Transformers movie's heroic "Autobots" and evil "Decepticons," which change from cars into robots and back again, the vehicle is an unexpectedly flexible gizmo that also morphs — though not as quickly or easily as these robotic visitors from Cybertron — between a macho, rock-busting Jeep and a sedate, secure, soccer mom-certified suburban family hauler.
The four-door Unlimited is still remarkably versatile, combining the comfort and security of a hard roof, the practicality of four doors and a generous cargo bay with the free-spirited capability of a Jeep 4x4, complete with removable roof and doors and a windshield that folds down flat on the hood. In this mode, all the Unlimited lacks is olive drab paint and a jerry can on the back to look like surplus equipment from the Battle of the Bulge.
This newfound practicality doesn't make the Wrangler Unlimited an ideal family hauler — that title falls to minivans. And today's crop of crossover utilities and the diminishing number of station wagons on the market are better than the Wrangler at shuttling kids and detritus from school, to appointments or to soccer practice.
But while the Wrangler isn't as good at doing those things as car-based vehicles like the Saturn Vue or Mazda CX-9, it's pretty comparable in comfort, practicality and efficiency to that family stalwart the 1990s-vintage Ford Explorer. And what's really impressive about the Unlimited is that it provides an acceptable level of practicality in a machine that possesses the snowy weather capability of a Ski-Doo snowmobile.
Suburbanites will be better served by the full-time all-wheel-drive systems available on crossover SUVs, which provide sure-footed traction on rain-slicked streets. The Wrangler, in contrast, is a part-time 4x4, with four-wheel-drive hardware that not only excels off-road and in snow, but can really only be used in those situations. For families who live in the high Sierras, Vermont's backcountry, Michigan's Upper Peninsula and other places with a seriously snowy climate, the Wrangler Unlimited is ideal.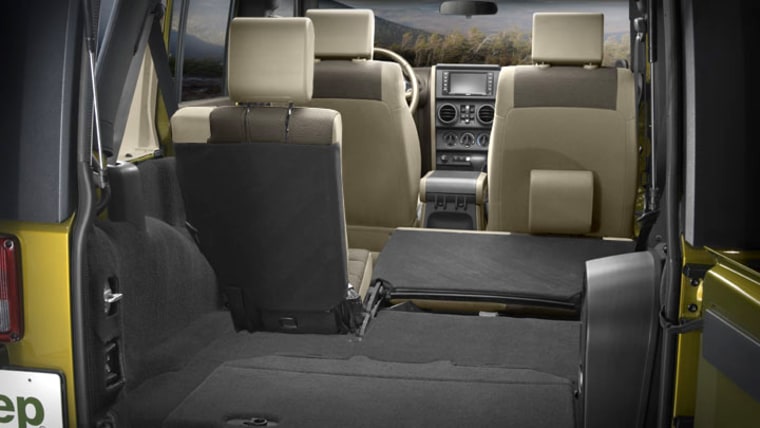 The Jeep's Command-Trac part-time four-wheel-drive system, Roc-Trac transfer case with low-range, Tru-Lok locking front and rear differentials and enormous, 32-inch B.F. Goodrich off-road tires stick the Wrangler to terra firma like duct tape on a home improvement project.
The scant few inches of snow on the road during my test was not only no challenge for the Jeep, it was almost too little to even use its part-time four-wheel-drive system. Past experience with such systems has shown that Jeeps churn confidently through bumper-deep powder.
Driving the Wrangler Unlimited on paved roads, the Jeep is clearly out of its element, but much less so than older model, two-door Wranglers. Gone is the punishingly rough ride, courtesy of a wheelbase stretched to a wedding limo-like 116 inches. Combined with a twice-as-stiff frame, more compliant suspension and accurate steering, the Unlimited is more comfortable to drive in daily life than competitors like the Hummer H3 and Toyota FJ Cruiser. The visibility out of the Jeep is also superior to its squashed-roof competitors, and that's when its roof is on.
Longtime Jeep enthusiasts will not appreciate any of this, because every bit of the Wrangler's new comfort and practicality comes at the expense of its off-road prowess. There is a reason why Wranglers have historically been so stubby — because small vehicles are easier to maneuver between rocks and trees than large vehicles.
The Wrangler Unlimited's rangy wheelbase is so big that it's hard to slot the vehicle into a supermarket parking space. The Jeep Grand Cherokee, though it's 15 inches longer than the Wrangler Unlimited, turns in a diameter that is four feet smaller than the Unlimited's 41-foot turning circle.
The Wrangler's back seat is sufficiently spacious to be usable every day for families, though the kids might prefer that the seatback angle could be reclined a bit. And there's plenty of space in the way-back cargo area for Fido, lacrosse equipment or whatever other freight needs hauling. The Unlimited has almost as much cargo space with the rear seats up as the H3 has with its rear seats folded down.
Thankfully, winter eventually ends everywhere, and come summer the Unlimited can perform its Transformers act, converting into a stripped-down toy for the beach or the mountains. A fabric roof is standard equipment on the Unlimited, but the available "Freedom Top" removable hard top provides that insulation and security most four-door customers will want.
Removing the roof is a chore and it will need storage space once taken off. In the Jeep tradition, the doors come off too. This is another awkward task, but the doors can be removed and installed by one person. The doors' wiring connects to the mother ship with a connector that's a bear to release, though maybe it loosens up with use (and practice). A separate removable roof panel over the front seats gives the Freedom Top-equipped Wrangler Unlimited a sunroof configuration for sunny days when there is no time to deal with removing the rest of the roof.
The only downside to the removable roof is that its design means the rear window is attached to the top of the roof. Opening the side-hinged rear door only opens the lower part of the access to the cargo space because the rear window stays in place with the roof. You can flip that up too, but only after the door has swung the spare tire out of the way. So rear cargo access is less convenient than we have come to expect from our top-hinged hatchback SUVs and vans, but it's probably a compromise drivers who truly need the Jeep's Rubicon Trail-certified off-road capability are willing to make.
Inside, with its flat, hard surfaces and rubber floor covering, the Wrangler remains true to its spartan military roots, with a cabin that looks amenable to an occasional hose down. In reality, it can be pretty lavishly outfitted, with optional goodies such as a remote starter, Sirius satellite radio, and a built-in hard drive for music storage.
The 202-horsepower V-6 engine moves the Wrangler with just as much brio and refinement as is required of an iconic off-roader (which is to say, not a lot). But this iron-block engine with its old-style pushrod valves is a substantial improvement over the previous model's asthmatic inline six-cylinder engine, which was probably first unearthed by Indiana Jones in a Pharaoh's snake-filled tomb.
On-road safety has long been a concern for capable off-road machines, because their tall, narrow stance that serves them so well in the snow and mud makes them "tippy" when driven on pavement.
With its wheels pushed to its far corners, the Unlimited has a secure stance that makes it much less prone to rolling over in a crash. The Jeep is also outfitted with all of the latest electronic countermeasures, including electronic stability control, electronic roll mitigation, traction control, antilock brakes and tire pressure monitoring, all of which should reduce the likelihood of it flipping over.
The Wrangler Unlimited is by far the best Wrangler ever, and its Transformers act makes it a vehicle that is unique in the industry. But perhaps even more significant than Wrangler's transformation is that of its driver when the sun is out and the roof and doors are stowed at home. If they've also left the child seats and their occupants at home, they're likely thinking, "If only I had this Jeep when I was single!"