/ Source: The Associated Press
The house was gone, much of it blown into a swamp. A couple was trapped in the debris — the husband with broken bones and the wife with cuts to her face — but it wasn't their own safety they were worried about.
"They just kept screaming, 'My children, my children!' neighbor Marvin Miller said Monday, a day after violent storms killed six people in Iowa and one in this St. Paul suburb.
The couple's 4-year-old daughter was found under parts of a shattered wall. She wasn't breathing.
Neighbor Troy Ashton performed CPR on her until a police officer took over. Speaking quietly in an elementary school cafeteria Monday, he said he hadn't thought the little girl would make it.
The girl's little brother, 2-year-old Nathaniel Prindle, was still missing. Someone stood in the home's wreckage and looked at the direction the debris was blown out into the swamp, and used that to guess which way to go.
"It was a big swamp and there was debris everywhere," said Ashton, 38.
He waded in and found the boy in chest-deep water. He handed him over to Miller, who performed CPR on a broken piece of wall to keep the child above the water.
Miller, a 42-year-old father of four, knew while he breathed into Nathaniel that there wasn't much hope. "But I didn't want to give up."
Nathaniel died. His sister, revived twice by emergency workers on the way to a Minneapolis hospital, was in stable condition Monday. Their father, Gerard Prindle, was in stable condition at a St. Paul hospital where his wife, Christy, was treated and released.
Washington County Sheriff Bill Hutton said 40 to 50 homes were left uninhabitable by Sunday's storm, and another 150 to 200 were damaged to some degree.
The storm had yet to be confirmed as a tornado Monday, but National Weather Service meteorologist Todd Krause said it was "awfully likely" that was the case. Gov. Tim Pawlenty said investigators were working to determine if the damage was significant enough trigger federal aid.
In Parkersburg, Iowa, half the town lay in ruins or heavily damaged Monday following a tornado that hit Sunday afternoon. Four people were killed there and two others died in nearby New Hartford; some were killed even though they sought refuge in their basements, Parkersburg Mayor Bob Haylock said.
About 70 people were injured, including two in critical condition, and the number of buildings damaged was staggering: 222 homes destroyed, 21 businesses destroyed and more than 400 homes damaged. Parkersburg's city hall, high school and its sole grocery store and gas station were all gone.
"There's so much hurt here, I don't know where to start," said U.S. Sen. Chuck Grassley, who owns a farm near New Hartford and accompanied Gov. Chet Culver on a trip through the area.
A makeshift sign marked Russell Circle, where Fred Evert held back tears as he surveyed a pile of splintered wood and metal scraps that the day before had been his and his wife's home.
"We have no place yet," the 85-year-old said. "We were trying to get it cleaned up and save the stuff that's precious to us."
Hundreds of people in Parkersburg went about the same heartbreaking task Monday.
"You really are overwhelmed when you see it," Culver said. "You can't imagine this kind of devastation, homes completely gone. And to see people trying to sort through their belongings is very difficult."
Rescuers continued picking through the wreckage in search of possible victims in Iowa but officials said they were hopeful that no one else remained to be found.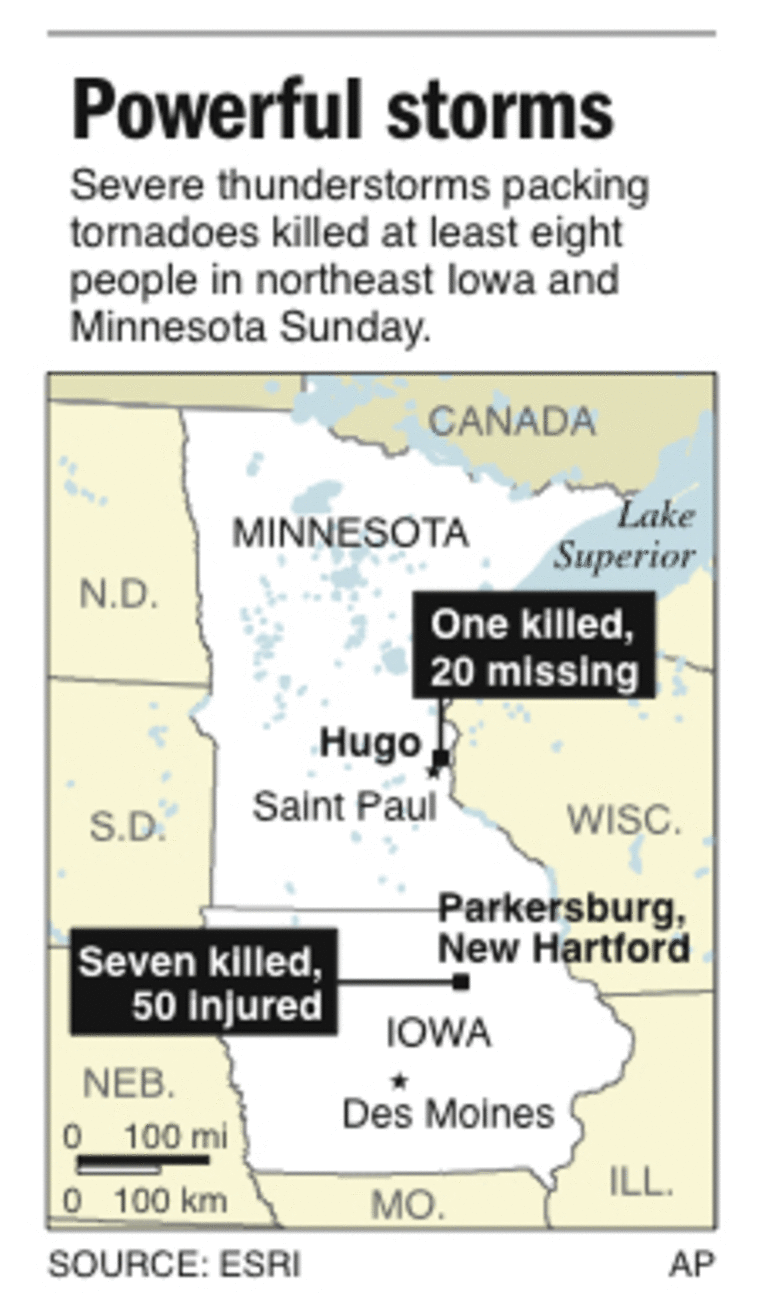 Diane Goodrich rode out the storm in her basement with her husband and three neighbors.
"The noise was just unbelievable," Goodrich said Monday as she searched through the ruins of her home. "Our ears were popping. We could hear trees flying over us. We could hear every piece of furniture that left the house."
The number killed initially was reported as seven but was dropped to six Monday after a better accounting of residents, said Bret Voorhees, bureau chief of Iowa Homeland Security and Emergency Management.
The storm struck just after 5 p.m. Sunday, following an east-to-west path just a few miles north of the Waterloo area. It hit Parkersburg, New Hartford and then Dunkerton, about 50 miles east of Parkersburg. About 80 miles to the southwest, the Des Moines area had heavy rain and wind that gusted to 70 mph.
Culver issued a disaster proclamation for Black Hawk, Buchanan and Butler counties.
The storms came after three days of violent weather in other parts of the country. Rural Oklahoma was battered Saturday and storms in Kansas a day earlier killed at least two people.
About 100 people have been killed by U.S. twisters so far this year, the worst toll in a decade, according to the weather service, and the danger has not passed yet. Tornado season typically peaks in the spring and early summer, then again in the late fall.