/ Source: The Associated Press
Discovery's astronauts inspected their ship's wings and nose Wednesday for any signs of damage after bidding "sayonara" to the international space station and heading for home.
The shuttle's flawless undocking from the space station ended nine days of linked flight. The space station's newest addition, a 37-foot (11-meter) Japanese lab, was clearly visible as the shuttle flew a victory lap around the orbiting complex.
Shuttle commander Mark Kelly wished all the best to the American and two Russians remaining behind on the space station.
"We hope we left them a better, more capable space station than when we arrived," he said, adding, "Sayonara."
Astronaut Garrett Reisman, leaving the space station after three months, had a few final words for his replacement, Gregory Chamitoff, as Discovery flew away.
"I just want to let you know that you can have all of my uneaten Snickers bars," Reisman radioed.
"Garrett, we found those last night and broke into them. Thanks," Chamitoff said, laughing.
A few hours after parting company, Kelly and his crew pulled out Discovery's 100-foot (30-meter) inspection pole and began running its laser sensors over the wings and nose cap, areas that are particularly vulnerable during re-entry. A gashed wing brought down Columbia in 2003.
The hours-long survey typically is done the day after liftoff, to give engineers plenty of time to scour the images for any hint of launch damage. Another briefer inspection usually is done after undocking, to check for any impacts from micrometeorites.
This time, everything was rolled into one.
"To my untrained eye, I personally didn't see anything unusual," flight director Matt Abbott said.
Discovery was so packed for its May 31 launch — Japan's Kibo lab practically filled the payload bay — that there wasn't room for the inspection boom. The previous shuttle crew left its inspection boom at the space station in March, and Discovery's astronauts retrieved it as soon as they got there.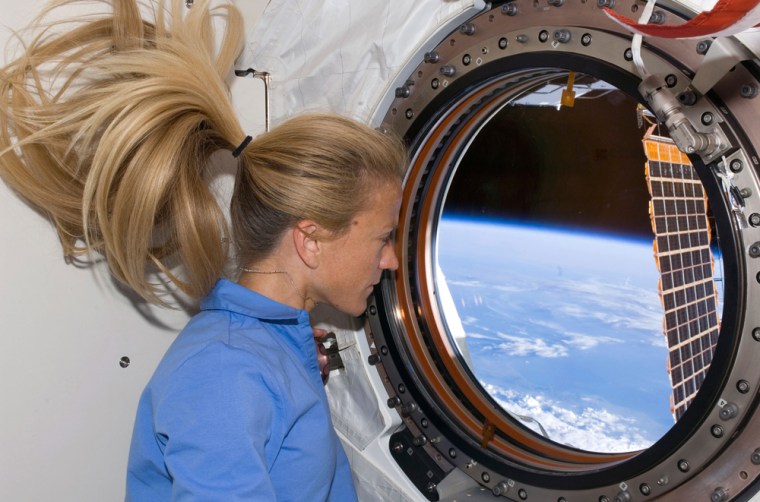 It will take engineers approximately 30 hours to review all the data, Abbott said. As a result, mission managers aren't expected to clear Discovery for landing until Thursday evening at the earliest. Touchdown is set for late Saturday morning.
A cursory inspection relying solely on the cameras on Discovery's robot arm, conducted June 1, revealed no problems. Photographs taken from the space station of the approaching shuttle also found nothing amiss.
NASA and Japanese space officials were delighted with the way Discovery's mission went.
Besides installing the billion-dollar Kibo lab — the biggest and fanciest lab up there — the astronauts delivered a new pump that fixed the space station's broken toilet, replaced an empty nitrogen gas tank, and performed some detective work on a mysteriously clogged, solar wing rotating joint that has hampered energy production for months. NASA expects to replace all the bearings in the joint during the next shuttle visit to the station, due in November.
"We go into every one of these missions, we plan for the worst and we hope for the best. I don't know if it was statistics or what, but on this particular mission, we got the best," said Kenny Todd, a space station manager.
The addition of Kibo represents "a crowning achievement," not only for Japan but all the space station partners, Todd said. "It's going to go a long way toward helping us implement the science program that's been laid out for us."