/ Source: The Associated Press
Chris Stiles' 8-year-old son met his dad at the door of their Oklahoma City home on May 3, 1999, pleading with his father for a plan as a tornado approached: "You need to do something about it."
Stiles, then the football coach at nearby Westmoore High School, had planned to ride out the storm inside a bathtub in his house. He instead took his family and another to the school's nearby field house as a powerful twister leveled their home and much of the Eastlake subdivision in which they lived.
When they returned, there was a pile of rubble where his house had been and no bathtub left.
"You keep thinking, 'Where would we have been?' As we cleared the rubble, we kept thinking that," Stiles said. "When they removed the debris, I remember asking if anyone had seen a bathtub and remembered pushing it off."
According to the National Severe Storms Laboratory in Norman, 74 twisters spawned by the same storm system 10 years ago Sunday had killed 46 people in Oklahoma and Kansas — a number meteorologists said could have been higher, especially with one of the more powerful tornadoes ever recorded cutting a swath across Oklahoma City.
Packing 301 mph winds strong enough to peel inch-thick asphalt pavement from a road, it killed 12 people in rural Bridge Creek, 11 in Moore and 12 others as it whipped through Oklahoma City. Other tornadoes that night devastated the small towns of Dover and Mulhall in north-central Oklahoma and leveled an outlet mall in Stroud that never was rebuilt.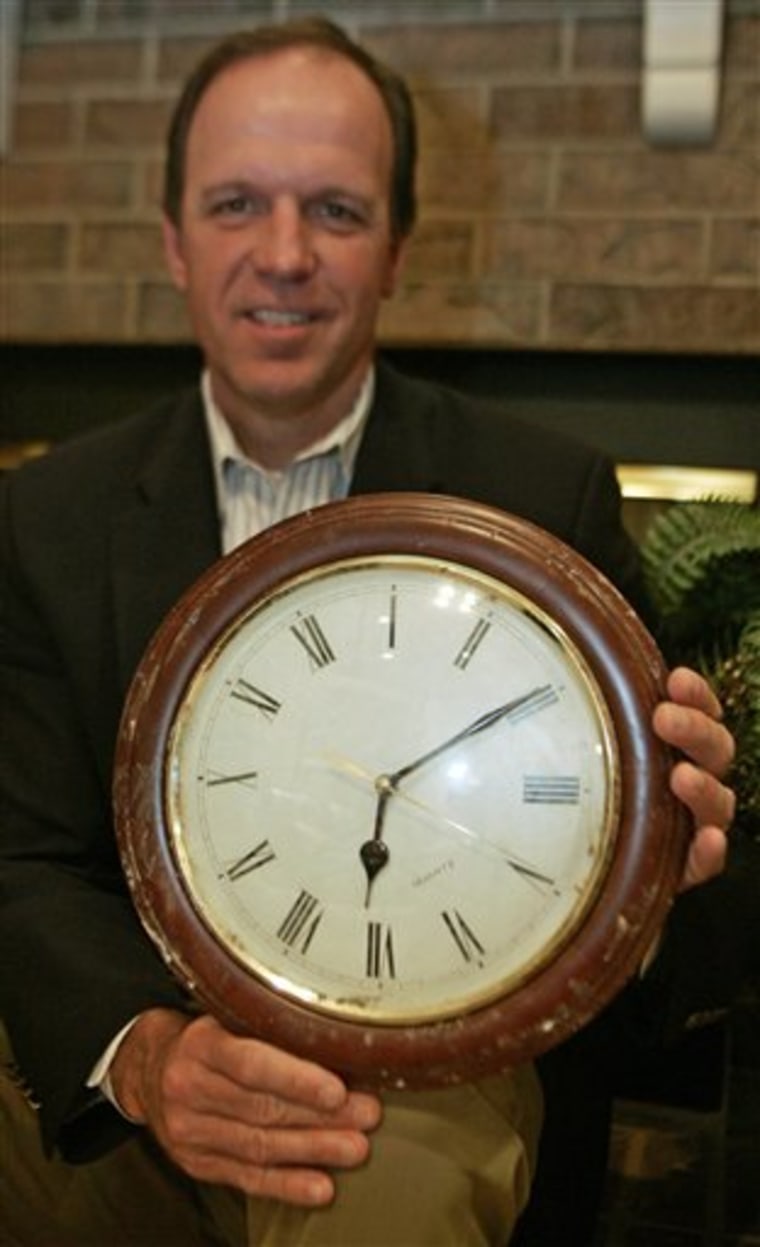 The twisters destroyed more than 2,300 homes in Oklahoma and damaged more than 7,400 others. In Kansas, a tornado that started near Peck tracked 17 miles, killing six people in Haysville and Wichita.
The outbreak "went a long way to heighten public awareness of what happens in a long-track violent tornado," said David Andra, the science and operations officer for the National Weather Service office in Norman.
Forecasters also gleaned lessons that still were being processed 10 years later, he said, including how difficult it could be to predict even the most devastating and intense tornado outbreaks.
Even though conditions seemed ripe for such storms that day, "we had to build up the confidence to forecast it" and forecasters had expected fewer storms that would be "further west and later in the day," Andra said.
Rick Smith, a weather service warning coordination meteorologist in Norman, said data from the tornadoes, which he called the "most thoroughly documented" ever, has provided a guide to the rest of the weather service. He also said the damage path was accessible, which allowed researchers to associate damage patterns with radar signatures.
"I think one of the big benefits was ... that information spread throughout more of the weather service," Smith said. "Some of the operations practices we used were picked up by other offices to use in their operations."
Surge in storm shelters
Local emergency managers also cite the 1999 outbreak as an impetus for the installation and registration of storm shelters. In Moore, about 1,600 houses now have individual storm shelters, said emergency manager Gayland Kitch. Midwest City Fire Marshal Jerry Lojka said his town now has 716 registered storm shelters, about 500 of which were built after the tornadoes.
Mark Pearson rode out the storm with about 15 other people in a neighbor's storm shelter in Del City, a last-minute decision before the tornado ripped through his neighborhood and destroyed every home on his block.
He said he was stunned as he emerged from the shelter: "When I first stepped out I was totally shocked at the devastation. I couldn't believe what I was looking at. ... Every home and part of our block was gone."
Both Stiles and Pearson chose to rebuild where their homes had been destroyed. One item now in Pearson's house is a storm shelter for which a federal program helped pay.
"We lost virtually everything, but it's at those moments in time that you do realize you're safe and your family is safe and that's really all that matters," he said. "You realize how quickly your life could have been taken from you. We were fortunate. We didn't have a scratch on us. You're able to replace possessions."
In the 10 years since the storms, 19 people have died in tornadoes in Oklahoma, including six in Picher in May 2008 and eight in Lone Grove in February. The state has not seen anything resembling such a major outbreak.
"You hear the term 'once-in-a-lifetime event.' We don't call it that, because we don't know," said Smith, the weather service meteorologist. "Certainly, it was historic, but it could happen again. In weather forecasting, you just realize that we had the right set of ingredients that came together over this area that day."