/ Source: The Associated Press
A mortar shell struck the only functioning medical facility in Sri Lanka's northern war zone Tuesday morning, killing 49 patients and bystanders and wounding more than 50 others, a government health official in the area said.
The attack came after a weekend of heavy shelling that killed hundreds of civilians trapped in the war zone. The military has denied accusations that it was still shelling the tiny coastal strip still under rebel control, which is packed with an estimated 50,000 civilians.
Dr. Thurairaja Varatharajah, the top government health official in the war zone, said a single mortar shell hit the admissions ward in the makeshift hospital Tuesday morning. In addition to the 49 killed, scores of others were injured — many with head and stomach wounds — and he expected the death toll to rise, he said.
Shells were still hitting the area hours later, including one that landed about 150 yards from the hospital, Varatharajah said.
A second hospital official, who spoke to The Associated Press on condition of anonymity because he was not authorized to speak to the media, said a hospital administrator was among those killed.
Difficult to verify
Reports of the fighting are difficult to verify because the government bars journalists and aid workers from the war zone.
Rebel spokesman Seevaratnam Puleedevan blamed the attack on the government, and said civilians were fleeing in all directions inside the tiny war zone seeking safety.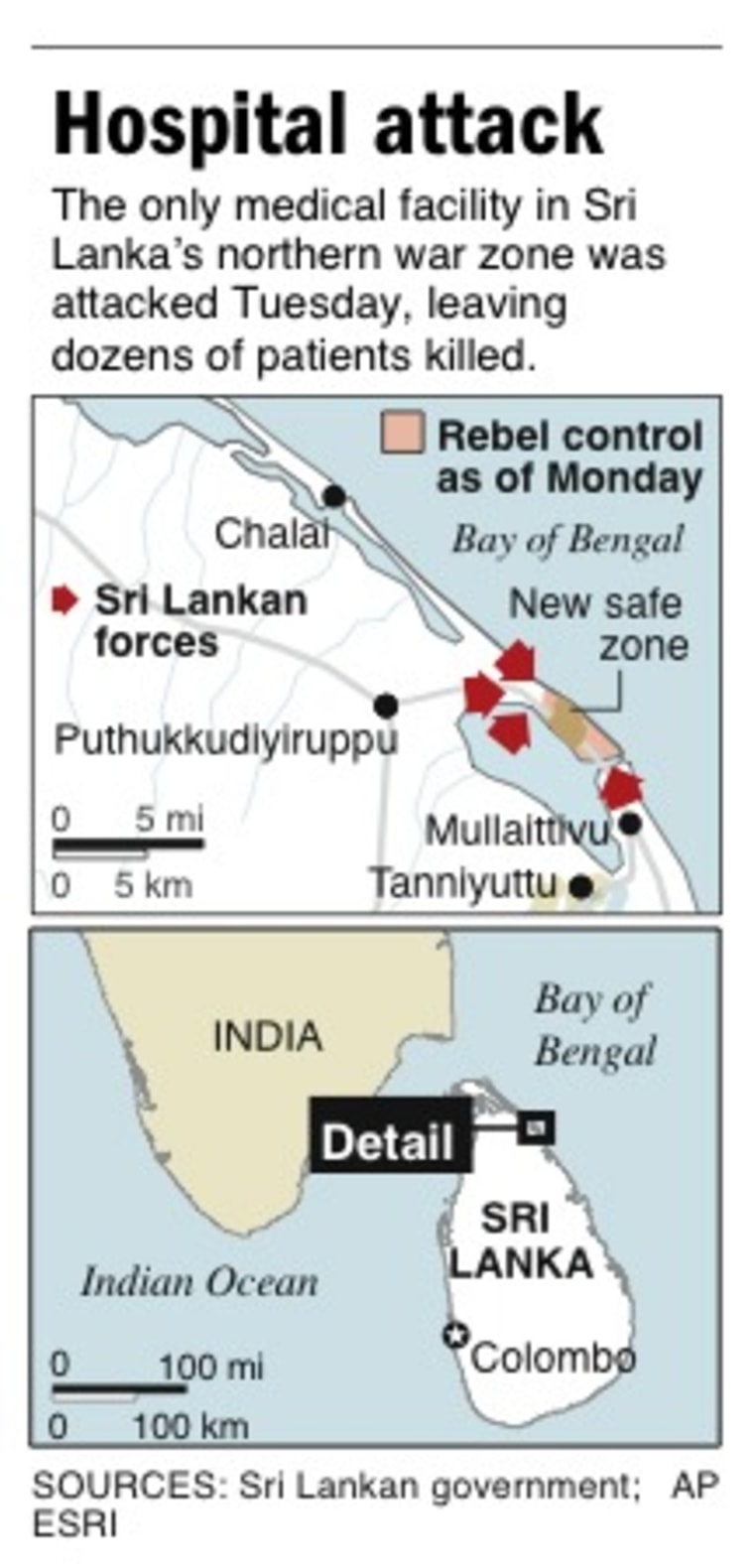 "There's no place to seek shelter or protect themselves," he said.
He called on the international community to force the government to stop its offensive against the rebel group.
U.N. Secretary-General Ban Ki-moon said Monday that he was "appalled at the killings of hundreds of civilians in Sri Lanka over the weekend. Thousands of Sri Lankans have already died in the past several months due to the conflict, and more still remain in grave danger."
In a statement, Ban reiterated his call for both parties to cease using heavy weapons and accused the rebels of "reckless disrespect" for the safety of civilians. Human rights groups accuse the rebels of keeping the civilians hostage for use as human shields against the government offensive.
More on Sri Lanka