/ Source: msnbc.com news services
A suicide bomb attack outside a NATO base killed seven civilians in southeastern Afghanistan on Wednesday, a day after a brazen strike by the Taliban in the same town, officials said.
Another 21 civilians were wounded when the car exploded at the first gate outside Camp Salerno, on the edge of Khost city, early Wednesday morning.
An official from the province of the same name said all the victims were laborers working at the NATO base.
"U.S. forces ... have encircled the area. The toll may rise," provincial official Wazir Padshah told Reuters by telephone.
There were no casualties among international troops, said Lt. Cmdr. Christine Sidenstricker, a U.S. military spokeswoman.
The militant attacks in Khost, a city within sight of the tumultuous border with Pakistan, comes as the U.S. makes leadership changes in Afghanistan that demonstrate a clear break from Bush-era appointees.
On Tuesday, 11 Taliban suicide bombers struck government buildings in Khost city, sparking running gunbattles with U.S. and Afghan forces that killed 20 people and wounded three Americans.
A Taliban spokesman, Zabiullah Mujahid, claimed that 30 suicide bombers had attacked the government buildings.
In a separate incident overnight, U.S. forces said two civilians were killed and four wounded in air strikes launched against fighters who fired rockets at bases in southeastern Paktika province.
Six insurgents were killed in the strikes, they said.
Civilian casualties have been a cause of increasing anger in Afghanistan. Afghan officials say U.S. forces killed more than 100 civilians in strikes in Farah province in the west of the country last week.
U.S. commanders say they believe the death toll from that incident was lower and blame the Taliban for putting civilians in danger and possibly killing some of them.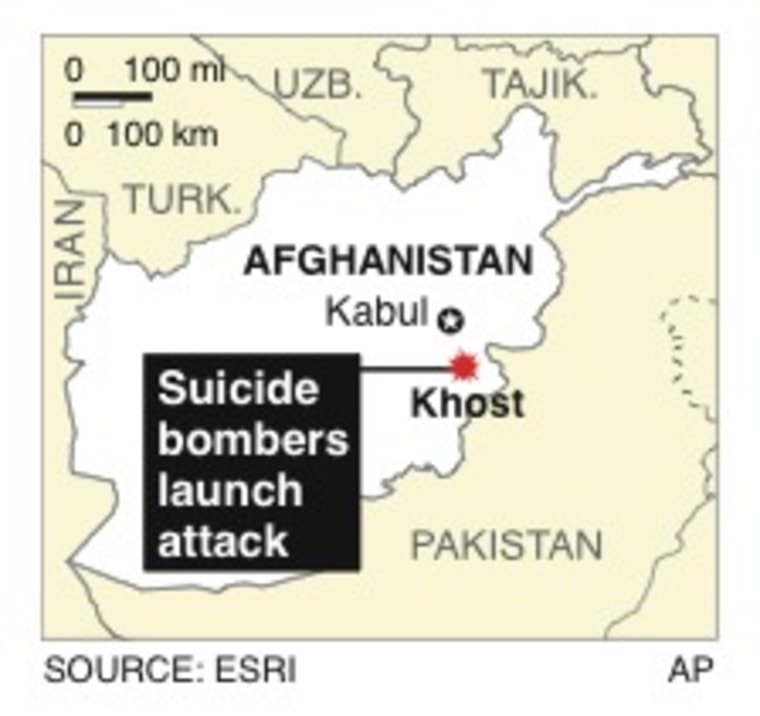 President Barack Obama has taken charge of the increasingly bloody eight-year war this week, replacing the general in charge of the effort and installing a new ambassador.
The Obama administration hopes the leadership shakeup will help reverse the militants' momentum. Taliban and other insurgent fighters have increased their attacks the last three years and now control wide swaths of territory.
The United States now has 47,000 troops in Afghanistan, along with 33,000 from other Western countries.
Most of the new U.S. troops are being deployed to the south to battle a worsening Taliban-led insurgency.
More on Afghanistan