Worried about getting scammed on an Internet auction? "Just use an escrow service," is the customary advice. Not so fast. The latest auction scam is an elaborate swindle involving creation of fake escrow services, complete with convincing Web sites like www.escrow-is.com. Auction watchdogs are trying to shut the Web sites down as soon as they pop up, but several victims have already been bilked out of thousands of dollars.
Alan Schultz thought that $900 was suspiciously cheap for the laptop computer he won June 2 on Yahoo.com's auction site. But the seller offered to take payment through an escrow service, thought to be the safest way to transact business online. Escrow companies act as a third-party referee, taking payment from buyers but not releasing the money to sellers until the goods are delivered. So Schultz felt a little better about the deal. And more important, Schultz said, he was in a hurry. The 21-year-old Virginia Tech senior studies full-time and holds down two part-time jobs; he didn't have time to be overly skeptical.
"And I had several presentations coming up, and I needed the laptop bad," Schultz said. "I needed to be able to carry my work with me."
So he filled out the Web form for the escrow service, then followed instructions and went to the bank to wire the funds. The money was headed for a bank in Greece, he said, which in hindsight should have given him pause. But, he needed the computer.
Reassuring e-mails from the seller kept coming for a few days, but by June 12, the seller was gone, and so was the money.
"Being in college losing $900 really sucks," he said.
Scam artists getting smarter
Internet auction scam artists are becoming more clever, trying to stay one step ahead of potential victims, who are starting to recognize basic attempts at thievery, according to auction site watchdog Rosalinda Baldwin, CEO of The Auction Guild.
"As the public becomes more aware, con artists modify what they do to overcome that resistance," she said.
Last week, MSNBC.com reported on a scam that tricked auction winners into sending money to the criminals directly through Western Union.
Creation of fake Web sites to reassure skeptical auction winners is apparently the latest twist. And it's not just fake escrow sites — other scamsters have taken to creating fake shipping sites.
Nicholas Berardi paid $1,000 to a scam artist for an IBM laptop after he received an e-mail that appeared to prove the laptop had been shipped. The criminal sent a link to www.klm-express.com and a tracking number.
"The scammers went as far as to update it everyday and after I saw that it went as far as the U.K., I sent the Western Union Number, thinking that it would still be moving," Berardi said. "But as soon as I sent the number it stopped moving. I instantly knew that it was a fraud, and a closer looking at the site I realized that half the links didn't work."
While klm-express.com was no longer in operation when visited by MSNBC.com, another fake shipping site, PromptExpress.com, had sprung up. E-mails to the site's contact addresses went unanswered.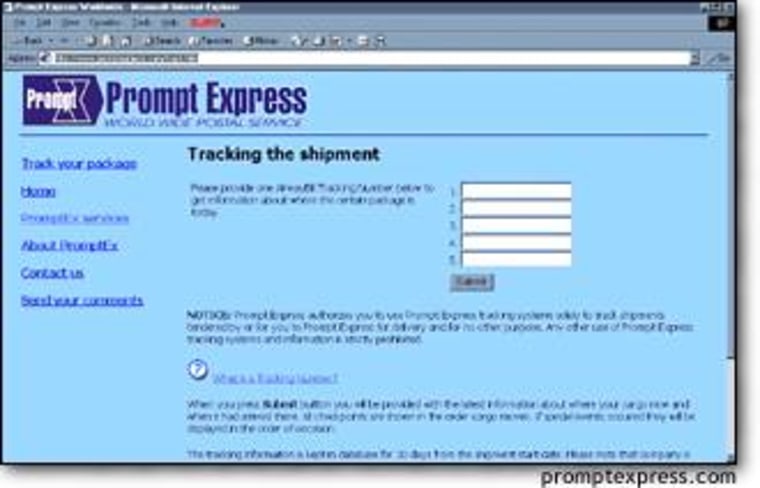 But fake escrow sites seem much more common — so common, in fact, that legitimate escrow services like GoldenEscrow.com are starting to feel the pinch. A faked escrow site using a very similar address, Golden-Escrow.com, can confuse consumers, the company says. A pop-up box on Golden Escrow, Inc.'s Web site warns consumers about the suspicious sound-alike service, and tells visitors the firm "has contacted the proper authorities to further investigate this matter."
Attempts to contact Golden-Escrow.com weren't successful. The site doesn't include any contact information, and its domain registration information was unavailable when MSNBC.com tried to access it.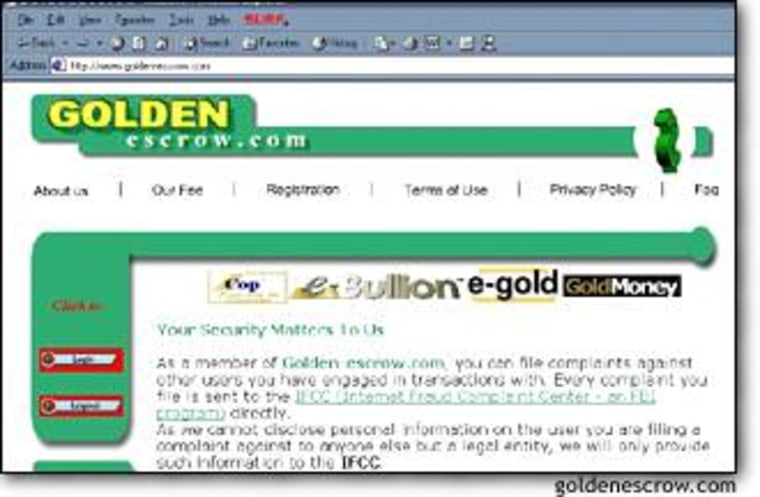 The site does include prominent mention of fraud; "Your Security Matters To Us," it claims atop its home page. "As a member of Golden-escrow.com, you can file complaints against other users you have engaged in transactions with. Every complaint you file is sent to the IFCC (Internet Fraud Complaint Center — an FBI program) directly."
But Michael Carr, a self-appointed auction watchdog, says several sellers who urged auction winners to use Golden-Escrow.com have since been suspended. Carr said the site's original domain information indicated it was registered in Puerto Rico, despite the site's claim of an Ohio address. Carr also chatted online with the Web site's "live support" and was given a bogus phone number and bonding company contact information.
Tao Wang, a 21-year-old fake escrow victim from Champagne, Illinois, has so far found little comfort from authorities after he was scammed. Wang tried to buy four laptops for $3,200, also wiring the money to Escrow-is.com in early June. His bank is trying to recover the money, but he's not optimistic.
"They said wire transfer was secure enough, that they would know exactly where the money goes. I don't know why they said that," Wang said. "It has been 2 weeks now....I think this guy took a lot of money from other people."
Many suspicious sites
While Escrow-is.com has been shut down, several other escrow services advertising on the Internet raise suspicion.
A site called Xchange-escrow.com boasts phone numbers in the U.S., Canada, and the U.K., but no one answers at any of those numbers. E-mail sent to the site's contacts, and its domain registration contacts, went unanswered. Bad grammar, often a scam tip-off, was apparent. In the site's corporate background section, after a lengthy discussion of the founder's career, the passage concludes "This is how Xchange Escrow was borned."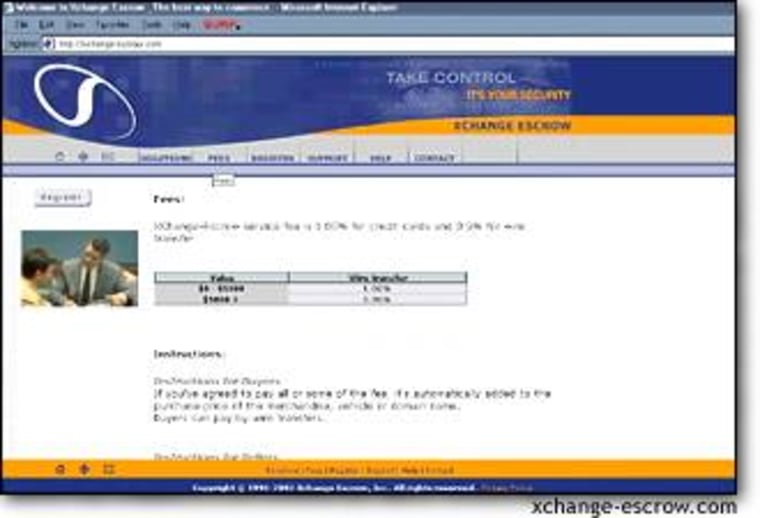 E-mail sent to a site named Share-escrow.com went unanswered, too. The site doesn't appear to be operating now, but according to site visitor statistics left visible at the Web address, over 3,000 user clicked there during June.
Bestescrow.net and g4escrow.com, two nearly identical sites, are also suspicious. The telephone number listed in g4escrow.com domain registration had been disconnected, and e-mails sent to both went unanswered. Both sites' terms and conditions, appear to be copied directly from Escrow.com, a legitimate escrow service. Left in the conditions is Escrow.com's mailing address.
What to loot out for
One sign for suspicious consumers to look for: if the auction seller insists exclusively on an using an escrow service. If the escrow service and the seller appear to be working closely together — one victim got instructions on how to send money to the escrow company from the seller's e-mail address — that's also a bad sign,
And wiring money to a bank outside the country is always a bad idea.
Many of the auction sellers pointing potential victims toward fake escrow sites use Yahoo's service. The company did not make a spokesperson available for comment, but offered an e-mail statement.
"While Yahoo! Auctions does not endorse any particular escrow service, we do, as part of our safety guidelines, recommend that buyers and sellers consider using an escrow service to protect their interests. ... we would encourage buyers to educate themselves about companies they may be considering conducting business with, whether through the Better Business Bureau or through referrals from trusted sellers on Yahoo! Auctions."