Democrat Dennis Kucinich, the liberal four-term congressman who has been steadfast in his opposition to the Iraq war, formally launched his long-shot bid for the White House Monday.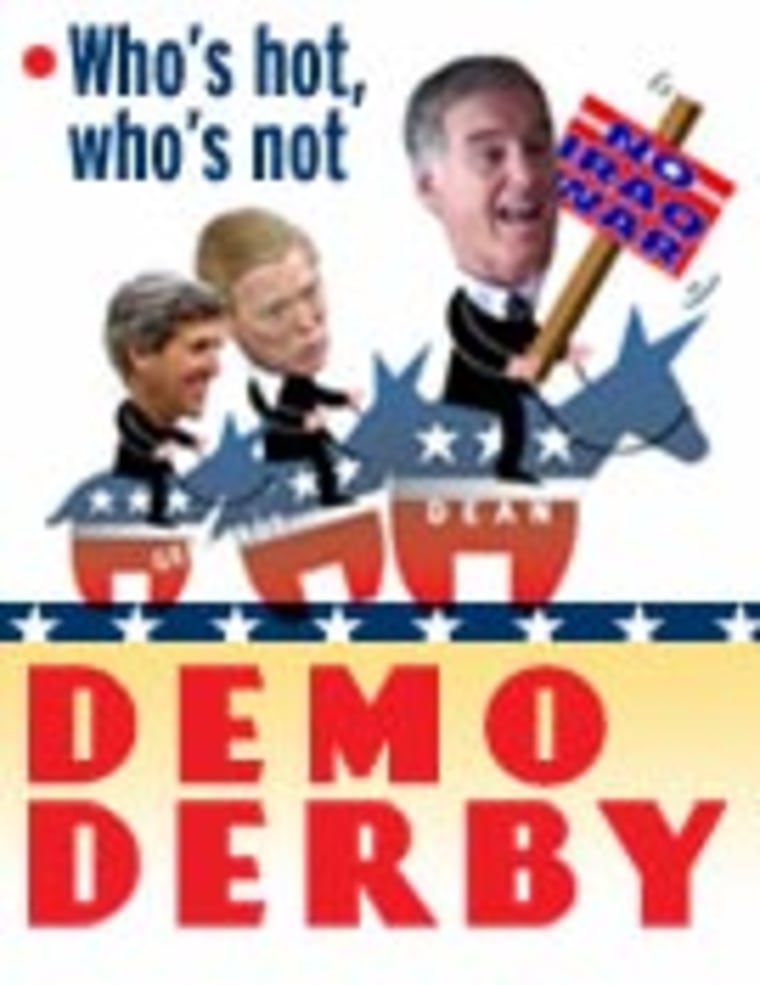 "AMERICA CANNOT PUT its foot on the accelerator of war and advocate peace," said Kucinich, who envisions the creation of a Cabinet-level Department of Peace and devoted much of his speech to rail against the U.S.-led war.
Kucinich, who has been campaigning for months, made the announcement in his hometown of Cleveland, the first stop of a 12-state tour that will include Michigan, New Hampshire, Wisconsin and Iowa.
"I'm running for president of the United States to enable the armies of peace," Kucinich told some 300 supporters in the chambers of the Cleveland city council, largely quiet on the Columbus Day holiday.
FAVORS WITHDRAWAL FROM IRAQ
Kucinich, who favors withdrawing U.S. forces from Iraq, said that if elected president, he would look for nonviolent ways to solve the world's problems, including the Israeli-Palestinian tensions in the Middle East. The self-described urban populist also said he would order a study of reparations for blacks whose ancestors were slaves.
"Freedom bids us to free ourselves from the shackles of violence," he said. "When peace becomes innermost, it then becomes outermost in our communities and our nation."
The candidate has stressed several themes during his months on the campaign trail and in candidates' debates: his opposition to the U.S.-led war against Iraq and his call for American troops to return home; his desire to end the North American Free Trade Agreement that he argues costs U.S. jobs and his support for a single-payer, universal health care system.
The kickoff speech at Cleveland's City Hall served as a reminder of Kucinich's political triumphs and bitter disappointments. Elected in 1977, the 31-year-old "boy mayor" guided a city that two years later became the first since the Depression to go into default.
Kucinich faced death threats, and was forced to wear a bulletproof vest when he threw out the first ball at a Cleveland Indians game.
REVIVED POLITICAL CAREER
He barely survived a recall election but lost his bid for re-election by a landslide. Then, in the 1990s, he made a political comeback, winning a state Senate seat and eventually capturing a U.S. House seat in 1996.
Kucinich began campaigning for the Democratic presidential nomination some eight months ago but trails many of his well-established rivals in fund raising and public opinion polls. He raised $1.7 million during a three-month period ending June 30 and hopes to show an additional $1.5 million when campaign finance reports are filed Wednesday.
"I don't think he's in the race because he thinks he has a chance to win it," said Dave Rohde, a Michigan State University political science professor. "He's in the race, at the very least, to give public vent to some of his concerns."
Kucinich is likely to appear not only on the presidential ballot but as a candidate seeking re-election to his House seat. He must file for both by Jan. 2, according to the Ohio Secretary of State's office.
© 2003 Associated Press. All rights reserved. This material may not be published, broadcast, rewritten or redistributed.