A key member of Saddam Hussein's inner circle is believed to be directing the series of attacks on U.S. forces in Iraq, U.S. military and intelligence sources told NBC News. Izzat Ibrahim al-Douri, the No. 2 man in the Iraqi government, is one of the few remaining members of the Iraq leadership to remain at large since the Saddam regime was toppled by U.S.-led forces.
THE MILITARY and intelligence sources told NBC News that several members of the Ansar al-Islam terrorist group rounded up last weekend in Iraq claim al-Douri is the mastermind behind many of the latest terrorist attacks.
Al-Douri, 61, was the vice chairman of the Baath Party's Revolutionary Command Council, Iraq's highest governing body. Constitutionally, he was No. 2 in the government, behind Saddam, who served as chair of the council.
With Qusay and Uday Hussein, presidential secretary Abed Hameed Mahmoud, and Vice President Taha Ramadan, he formed Saddam's innermost circle. All of the others are either captured or dead. Only he and Saddam apparently still survive, and there are some, still a minority in U.S. intelligence, who believe Saddam, too, is dead.
Al-Douri was the only member of the inner circle known to have been outside of Baghdad when the city fell to U.S. forces April 9, having set up his headquarters in the northern city of Mosul.
And because of his working knowledge of the Baath Party apparatus, al-Douri would know who could be trusted, who had the key organizational and military skills.
"Al-Douri has the 'Baath Party Rolodex,' the roster of party members around the country," said William M. Arkin, an NBC News military analyst, who noted that al-Douri also has ties with the ruling Baath Party in Syria. The two countries and their respective Baath parties regularly feuded, with Syria supporting the United States in the Gulf War in 1991. But in 2000, the two put aside differences and formed a trade union.
"Al-Douri predates Saddam in the Baath Party," Arkin added. "He is one of the first members of the Iraqi branch of the party, and since the party was founded in Syria, he has those connections with Baath Party officials in Syria. Thus, the influx of Syrian fighters could be explained by al-Douri's connection."
A SURVIVOR
Ruthless, loyal, and vain, al-Douri, like Saddam, has the mentality of the ultimate survivor, U.S. officials said. The two men in fact met in prison in the 1960s, and in 1973, Saddam gave him his first important job — heading a tribunal that tried, convicted and sentenced 22 men charged with plotting to overthrow the party. All 22 were executed.
So skillful was he at pleasing Saddam, he is one of only three survivors of the 1968 coup that brought the Baath Party to power in Iraq.
Known for his distinctive red hair and mustache, al-Douri was the man who was most involved in running the Iraqi government and the party. He was known as a bureaucratic in-fighter who served as Saddam's eyes and ears in the government and Baath Party.
The ultimate apparatchik, he held his position from 1979 when Saddam gained power until the United States launched Operation Iraqi Freedom.
Al-Douri's personal ties to Saddam were further secured in 1988 when his daughter was married for a short time to Saddam's son Uday. The marriage ended after Uday reportedly beat al-Douri's daughter.
AN ICE SELLER
Like most of the Baath Party pioneers, al-Douri came from modest but not impoverished origins, beginning his working life as an ice seller. Some reports claim al-Douri, like Saddam, is originally from Tikrit, but most believe he was born in Mosul, and he was last known to be in that city, having been dispatched by Saddam just before the war to command Iraq's northern defenses.
The al-Douri clan, in fact, is centered in the area surrounding Mosul.
Although he cast himself mostly in Saddam's shadow, al-Douri had his moments. Twice in the months before the war, he attracted international attention.
On Oct. 17, 2002, after declaring Saddam the unanimous winner in the Iraqi presidential race, al-Douri congratulated Saddam by presenting him with a sword.
On March 5, two weeks before the war, he shouted, "Shut up, you monkey!" at a Kuwaiti diplomat during an emergency summit of Islamic nations, adding in a particularly memorable phrase, "Curse be upon your mustache (honor), you traitor."
He has no military experience, but was known as being as ruthless as Saddam in internal Iraqi matters. He is believed to be responsible for thousands, if not tens of thousands, of deaths in both the Kurdish north and the Shite south.
He would often preside over special Baath Party tribunals that tried Saddam's opponents and issued death sentences, according to intelligence reports. He was in charge of the Kurdish region when many Kurds were gassed in the 1980s and in charge of the Shiite south when the Republican Guard brutally put down the population there in 1991.
When he traveled to Vienna, Austria, in 1999 for medical treatment, demands for his arrest on war crimes charges became so vocal that Saddam called him home to avoid embarrassment — and arrest.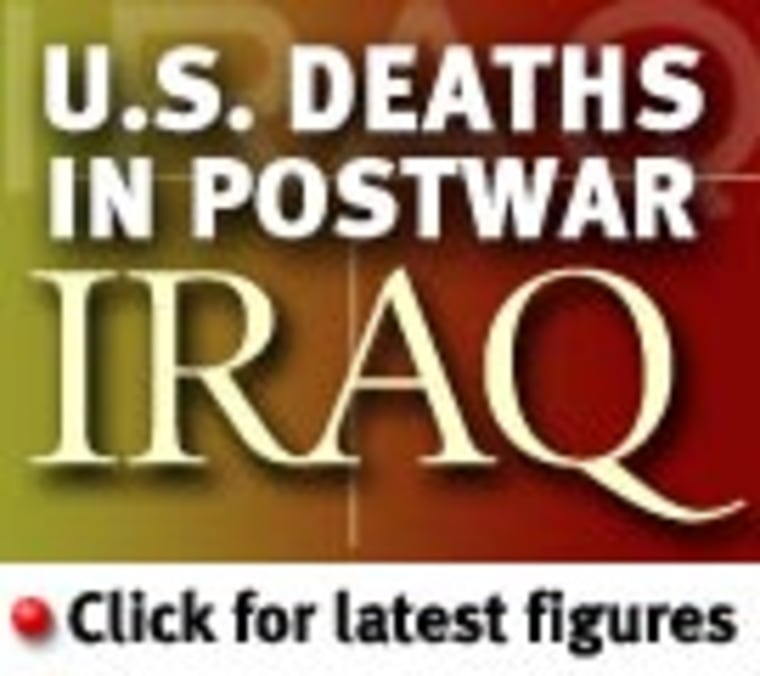 Indict.org, a British human rights group, quoted a Shiite human rights campaigner who described al-Douri's personal involvement in a violent clampdown in southern Iraq.
At one point, after about 600 people were arrested, al-Douri allegedly ordered 17 prisoners to be tied to posts in the military base. "They had some sort of glue put in their mouths to prevent them calling out," the campaigner said, before they were shot by Baath officials. "Then strangely, four gypsy dancing girls were brought to dance for those watching" before 170 men were killed in all.
CREDIBILITY?
Yet, despite his violent reputation, Arkin said al-Douri has support among Iraq's Sunni intelligentsia, who see him as representing Saddam.
"In fact, he could make the case that Baathist ideology represents something different from the regime," Arkin said. "It represents secular, technological, Arab nationalism and socialism and appeals to the intelligentsia. Even though he was a Saddam loyalist, the fact that he was not SRG [Special Republican Guard] or Republican Guard makes him more acceptable to some," he said.
"He is one of the few people, because of his past, who can make this distinction between Baathism and Saddamism, an alternative that is neither fundamentalism nor pro-Americanism," Arkin said. "You can't wait around, if you're an Iraqi, waiting for Iraq to become France."
Arkin described al-Douri as a prime product of the old system, "which, for some, is an attractive alternative to the Americans."
Pentagon correspondent Jim Miklaszewski is on assignment in Baghdad. Robert Windrem is an investigative reporter based in New York.