/ Source: NBC News and news services
A judge on Friday said an Israeli citizen suspected in a three-state stabbing spree had waived his right to fight Michigan's request that he be extradited to face charges there.
The announcement came during what was supposed to be a second hearing requested by Elias Abuelazam's lawyer, who had arrived too late to attend a first hearing Friday morning.
Neither the suspect nor his lawyer appeared at the second hearing.
Abuelazam is suspected of attacking people in Michigan, Ohio and Virginia, leaving five people dead and 13 wounded. He was arrested Wednesday in Atlanta as he prepared to board a flight to his native Israel, where relatives said he lived until his family sent him to the U.S. when he was 18.
The 33-year-old man appeared briefly Friday in an Atlanta courtroom and agreed to return to Michigan to face an attempted murder charge in one of the attacks — a July 27 stabbing in Flint, Mich., that put the victim in the hospital for a week.
Authorities said more charges were expected in the three states.
A family member in this poverty-stricken community said Abuelazam had become unhappy about his personal life in recent months. And others in the Arab neighborhood where he grew up expressed shock that the man they knew could be a suspect in the gruesome attacks.
"I wouldn't believe it even if I saw it with my own eyes," said Abuelazam's 49-year-old cousin, also named Elias Abuelazam.
He said that when his cousin last visited earlier this year, he was tense, unhappy and unsure what to do with his life. The younger Abuelazam said he wanted to get married and settle down in Israel.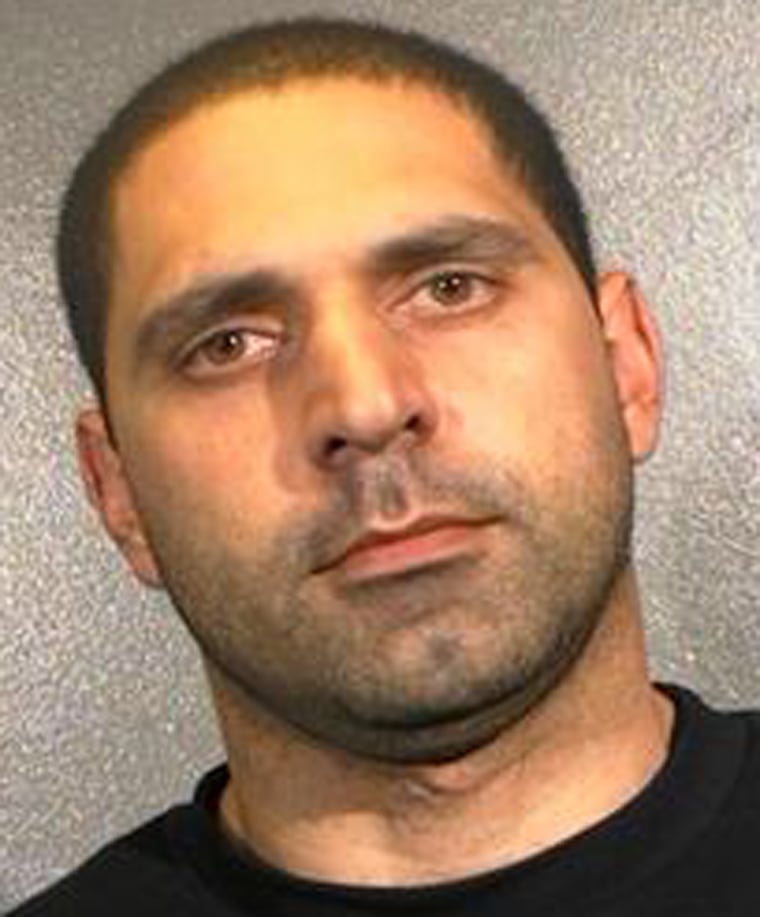 "He seemed confused," the cousin said. But he said suggestions that Abuelazam was a killer were "malicious rumors."
He said news of the arrest had devastated Abuelazam's mother, who was excitedly waiting for a text message to pick her son up at the airport when she heard the news. "She couldn't stand up ... She was hysterical," he said.
During Friday's court hearing, Abuelazam was expressionless as he responded to questions from the judge. He initially said he wanted to stay in Georgia. But the judge told him he would have to return to Michigan if he wanted to fight the allegations.
After the judge explained the process further, Abuelazam agreed to waive his extradition rights and go back to Michigan.
"All right, then I'll do so," he said. "It sounds more logical to go right now than in 90 days."
Back in Israel, the family's modest two-story stone home, in a Christian section of Ramle's historic old city, remained shuttered and dark on Friday, and Abuelazams' mother, Hiam, was holed up inside.
In a brief radio interview, she described her son as a "religious, God-fearing man" and said she refused to believe he was a killer.
However, Israeli police said Abuelazam was a suspect in a stabbing attack early this year, although charges were never pressed.
A senior police commander said Abuelazam was believed to have stabbed a close acquaintance in the face with a screwdriver during an argument in a parked car about six months ago. The commander said police dropped the case because the victim refused to cooperate with investigators.
He said Israeli police would request samples of Abuelazam's DNA to investigate unsolved stabbings in the Ramle area. The city is known as a violent hot spot of drug activity.
The commander spoke on condition of anonymity because he was barred by police rules from speaking to the media.
The alleged victim in the attack, Ziad Shahin, denied being assaulted by Abuelazam but had a large scar from his right ear to his throat. Speaking outside his candy store in Ramle, Shahin said he was born with the mark.
Ramle's roughly 3,000-member Arab Christian community is tight-knit, and residents were extremely cautious about discussing Abuelazam's past.
Acquaintances said Abuelazam's father died of illness when he was a baby, and that he was raised by his single mother and four sisters. The family owned a grocery store and two other shops in town, and the mother was well regarded. Abuelazam, a member of Ramle's Greek Orthodox community, attended two prestigious Catholic schools, they said.
Abuelazam's most recent visit came earlier this year, and he returned to the U.S. in the spring, shortly before the stabbing spree began in Flint, with the attacker approaching men on lonely roads at night and asking for directions or help with a broken-down car. Then he would pull out a knife, plunge it into his victim and speed away.
All but four of the 18 attacks occurred the Flint area. The others were in Leesburg, Va., and Toledo, Ohio. In one case, the attacker used a hammer.
The youngest victim was 15; the oldest 67. At least 15 victims were black, although there's no evidence that race played a role, authorities said. A motive was not known.
Leesburg, Va., police are investigating whether Abuelazam was responsible for the March 26, 2009, stabbing death of Jammie Lane, 44, Police Chief Joseph Price said Thursday. "We are going to explore all possible connections," Price said. Abuelazam also had an outstanding arrest warrant related to a "family based assault" in 2007, Price said.
Robert Keppel, a retired Washington state homicide detective who profiles serial killers, said it's rare for someone to attack males exclusively.
Whoever is responsible for the 18 attacks, "he's just getting off on stabbing people. He's not guaranteeing that they die," said Keppel, who investigated the Ted Bundy homicides in the Pacific Northwest in the 1970s.
"For some reason, the satisfaction is just in the action of the stabbings," Keppel said. "He's only turned on by the act of the approach and the initial stabbing. He's got some hang-ups. ... He's a rare killer among rare killers."
Also Friday, police in Leesburg, Va., said they were investigating whether Abuelazam is responsible for the March 2009 stabbing death of a 44-year-old man who lived across from Abuelazam in a townhome community.
If authorities connect Abuelazam to that slaying, he could face the death penalty. Michigan, where the other deadly attacks occurred, does not have capital punishment.
A tip led police this week to a market outside Flint where Abuelazam had worked for a month. Investigators talked to employees, and a store video showed that he matched the description of the man wanted by authorities.
But Abuelazam was gone: He told people he was off to Virginia and had not been seen since his Aug. 1 shift.
Police in Arlington, Va., stopped him for a traffic offense Aug. 5 and arrested him on a 2008 misdemeanor assault charge from Leesburg, Va., where he had lived and worked in the mental-health field. A hammer and a knife were found inside the Chevrolet Blazer, which was returned to him after his brief detention. There was no national alert for Abuelazam or his vehicle.
Virginia authorities "had no idea at that time that he was involved in these crimes," Genesee County Prosecutor David Leyton in Michigan said.
Abuelazam eventually returned to Michigan, obtained a $3,000 airline ticket to Tel Aviv from his uncle and made it as far as the Hartsfield-Jackson Airport in Atlanta, where officers snatched the man in flip-flops and shorts after he was paged over the intercom.

Abuelazam spent time in Genesee County, Mich. in late 1994 and early 1995 when he would have been in his late teens, according to the Flint Journal, which cited Central District Court records. A series of traffic tickets connect Abulelazam to this area during a five-month stretch.
By 2002, Abuelazam was in Leesburg, the Journal reported, working as a mental health technician at a psychiatric facility. His duties included supervising residents, according to a workers' compensation claim he filed.
In 2004, Abuelazam married a woman in Virginia but was divorced three years later. From her home in Texas, Kimberly Hirth told the Journal she was "shocked" after hearing of his arrest. "He was such a nice person as far as we knew."