/ Source: NBC, msnbc.com and news services
Nearly a day after a natural gas pipeline exploded, wiping out 37 homes and killing at least 4 people, the utility that owns the line said Friday it was still "looking into" residents' claims that they had complained for days and weeks about a gas odor.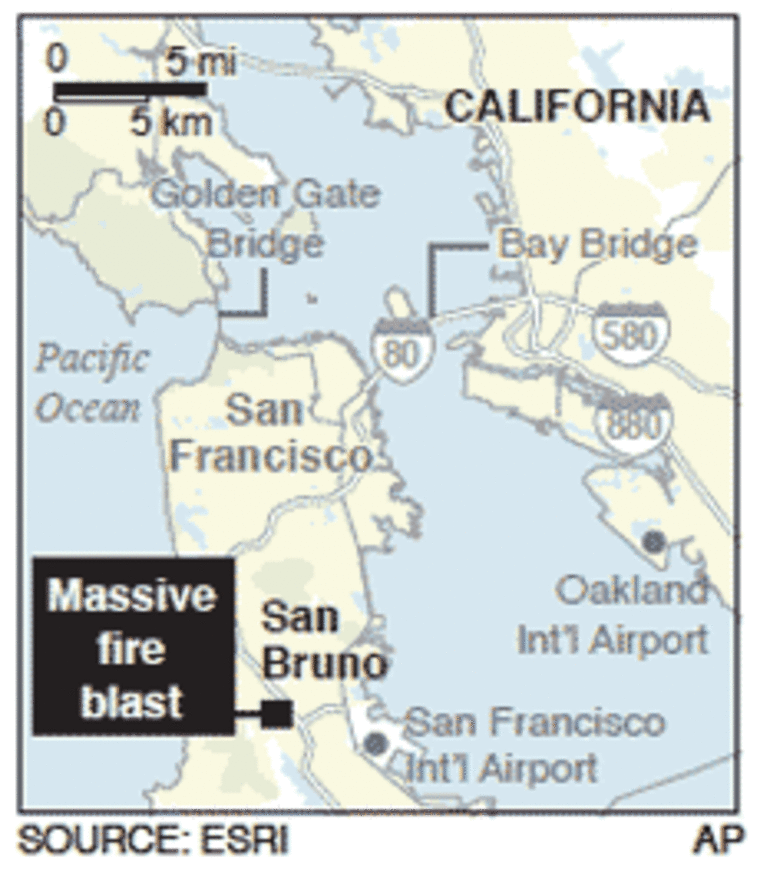 PG&E President Chris Johns told reporters Friday morning that "we haven't got confirmation" about any complaints "but we have records that we are going back right this minute to try to confirm what exactly those phone calls look like and when they occurred, and we will report back as soon as we know something."
By midafternoon Friday, however, the utility could not confirm the residents' reports, saying it was "looking into it."
State Assemblyman Jerry Hill, who represents San Bruno and surrounding cities, said he has heard multiple reports from constituents who had alerted PG&E of gas odors in the neighborhood before the disaster.
The residents "deserve to know if PG&E used the correct procedures in the days and weeks leading up to this disaster," Hill said.
Tim Gutierrez, who lives in the neighborhood, told NBC affiliate KNTV that a representative from the utility PG&E was in the neighborhood last week and told people to shut their garage doors and stay inside as they looked into the complaint.
PG&E said it was trying to find out what caused the steel gas pipe to rupture and ignite. Federal pipeline safety inspectors were also on the scene.
At the scene, meanwhile, hot embers kept search crews from entering some of the 37 homes destroyed in the gas explosion and fire Thursday night in this San Francisco suburb.
"Some residences remain too hot to enter," San Bruno Fire Chief Dennis Haag told reporters Friday afternoon.
The search crews were to resume their work Saturday morning.
Officials also revised the property numbers, saying 37 homes were destroyed and eight saw visible damage. Dozens of others might have limited damage as well.
California Lt. Gov. Abel Maldonado said area hospitals had taken in 52 patients. Eight people were in critical condition. Emergency room personnel also treated four firefighters, he said.
As search crews with dogs fanned out Friday, San Bruno Mayor Jim Ruane told reporters that "you heard the numbers (of deaths), but unfortunately the numbers will get higher."
Utility officials said a natural gas line ruptured in the vicinity of the blast, which left a giant crater and sent flames tearing across several suburban blocks in San Bruno just after 6 p.m. local time (9 p.m. ET) Thursday.
After the initial blast, flames reached as high as 100 feet as the fire fueled itself on burning homes, leaving some in total ruins and reducing parked automobiles to burned out shells. At least 120 homes also suffered serious damage.
Blast shook fire station 'to its foundation'Witnesses heard the explosion miles away and said it shot a fireball more than 1,000 feet in the air, sending frightened residents fleeing for safety and rushing to get belongings out of burning homes.
"I thought a 747 had landed on us," Fire Capt. Charlie Barringer told the Los Angeles Times. "It shook our station right to its foundation."
The fire had spread to 15 acres, Maldonado said, before it was fully contained except for "a few hot spots" Friday morning.
Maldonado, who is the acting governor while Gov. Arnold Schwarzenegger is on a trade mission to Asia, declared a state of emergency in San Mateo County.
Pacific Gas and Electric Co, which serves the San Francisco Bay area, said Friday morning a damaged section of a 30-inch steel gas pipeline had been isolated and gas flow had been stopped. It also cut power to 5,800 customers to ensure the safety of repair crews.
Are you there? Help us report this story with your photos
"If it is ultimately determined that we were responsible for the cause of the incident, we will take accountability," the company said in an e-mailed statement.

The National Transportation Safety Board sent an eight-member team to San Bruno to investigate.

Barringer, the fire captain, said flames engulfed the neighborhood by the time firefighters arrived, even though the fire station was only a few blocks away. He said the blast took out the entire water system, forcing firefighters to pump water from more than two miles away.
"We were overwhelmed. We had multiple neighborhoods on fire," he told the Times.
"It was a continuous whooshing sound as if it was a fed fire," added resident Michael Yost said. "It sounded like, you know, you would if you had a blow torch. It's that sound but, you know, a hundred times louder."
A huge explosion rocked a neighborhood near San Francisco International Airport, numerous homes and buildings were consumed by the flames.
'I don't know where to go'Resident Connie Bushman returned home to find her block was on fire. She said she ran into her house looking for her 80-year-old father but could not find him. A firefighter told her he had left, but she had not been able to track him down.
"I don't know where my father is, I don't know where my husband is, I don't know where to go," Bushman said.
Resident Marla Shelmadine told NBC the explosions came down her street, destroying one house at a time in quick succession. She said she got out of her house with her pets, and did not know if her home was destroyed or not.
Omar Naber and his mother, Lana Naber, told the San Francisco Chronicle they were in their home when the house shook violently.
"I thought it was the biggest earthquake ever," he told the paper.
Naber described how he ran to his door and tried to open it, but the handle burned his hand. He then fled the house with his mother and as they ran to their car they could see the fireball. The intense heat burned hair off his arms, Naber said.
Stephanie Mullen, Associated Press news editor for photos based in San Francisco, was attending children's soccer practice with her two children and husband at Crestmoor High School when she saw the blast at 6:14 p.m.
"First, it was a low deep roar and everybody looked up, and we all knew something big was happening," she said. "Then there was a huge explosion with a ball of fire that went up behind the high school several thousand feet into the sky.
"Everybody grabbed their children and ran and put their children in their cars," Mullen said. "It was very clear something awful had happened."
Other neighbors told NBC they saw the street rip apart and ran for their lives from a huge wall of flames, with one man describing how he jumped into his car and drove through the blaze.
The man, who was not identified, told NBC the explosion was followed by a hail of asphalt falling from the sky. His bumper was fried by the time he got to safety, but he was safe.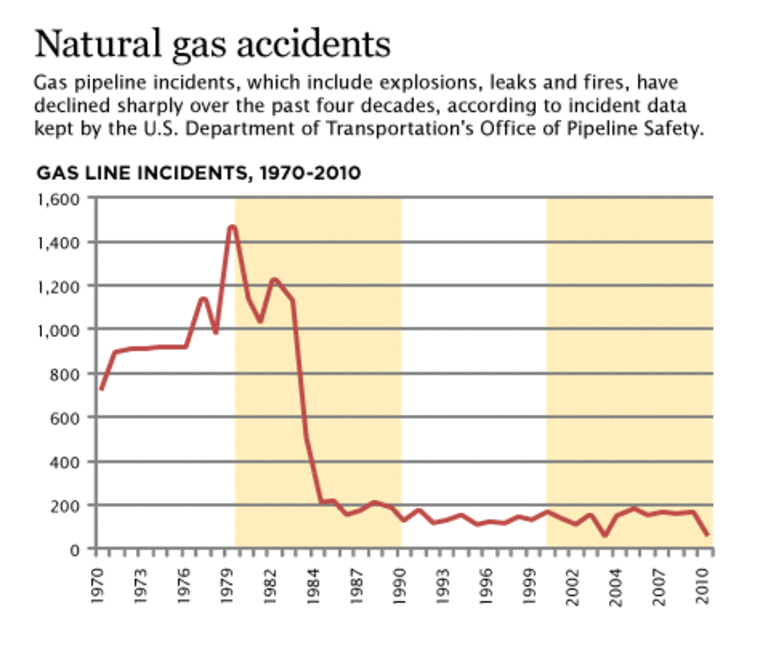 It's not the first time a deadly explosion on a PG&E gas line has devastated a Northern California neighborhood.
On Christmas Eve 2008 an explosion killed a 72-year-old man in the Sacramento suburb of Rancho Cordova, destroyed one home and seriously damaged others.
The National Transportation Safety Board's final report said PG&E used a wrong pipe to repair the gas line two years before the explosion. Rancho Cordova residents had reported of a gas smell in the area before the blast.
In response to the NTSB's findings, the company said it had taken "extraordinary measures" to ensure a blast like that would never happen again.
The pipeline that exploded Thursday, Maldonado said, was laid down about 60 years ago.
Compared to the tens of thousands of miles of gas pipelines across the country, accidents are relatively rare.
In 2009, there were 163 significant accidents involving natural gas pipelines, killing 10 people and injuring 59.
Transmission lines like the one that burst in San Bruno deliver natural gas from its source to distribution lines, which then carry it into neighborhoods before branching off into homes.
Over the past two decades, federal officials tallied 2,840 significant gas pipeline accidents nationwide — including 992 in which someone was killed or required hospitalization, according to the Pipeline and Hazardous Materials Safety Administration.
Those accidents killed 323 people and injured 1,372.
Experts say the nation's 296,000 miles of onshore natural-gas lines routinely suffer breakdowns and failures.
More than 60 percent of the lines are 40 years old or older and almost half were installed in the 1950s and 1960s, according to a recent analysis by the Pipeline Safety Trust, a nonprofit advocacy group based in Bellingham, Wash.
Most of the older pipelines lack anticorrosion coatings that are prevalent in the industry today, said Carl Weimer, executive director of the trust, which was set up following a 1999 explosion that killed three people in Bellingham.
"The industry always says that if you take care of pipelines, they'll last forever," Weimer said. "But what we see over and over again is companies are not doing that and corrosion and other factors are causing failures."
And once a high-pressure pipeline fails, he added, anything can trigger a deadly blast. A cigarette or rocks smashing as high-pressure gas shoots by. Even someone answering a cell phone can cause a spark, because it is battery-powered, Weimer said.