/ Source: NBC News and news services
President Barack Obama and his South Korean counterpart Lee Myung-bak agreed to hold more joint military exercises in response to North Korea's artillery attack on a South Korean island on Tuesday.
Obama told Lee in a telephone call that the "United States remains firmly and fully committed to the defense of its ally the Republic of Korea," the White House said in a statement.
The joint military exercises "in the days ahead" would underscore the close security cooperation between the two countries, the statement said.
Obama, strongly condemning the attack, told Lee that North Korea must stop its provocative actions, which will only lead to further isolation, and fully abide by the terms of the Armistice Agreement and its obligations under international law.
The call capped a day in which international diplomats scrambled to defuse tensions in the Koreas after North Korea bombarded the South Korean island with artillery shells, killing at least two people.
Obama earlier pledged the United States would defend Seoul from aggression by its communist neighbor.
Yet with its options limited, the U.S. sought a diplomatic rather a military response to one of those most ominous clashes between the Koreas in decades.
"South Korea is our ally. It has been since the Korean War," Obama said. "And we strongly affirm our commitment to defend South Korea as part of that alliance."
The president, speaking to ABC News, would not speculate when asked about military options.
Obama called North Korea an "ongoing threat that has to be dealt with" and reiterated that South Korea is "one of our most important allies" and "a cornerstone of U.S. security in the Pacific region."
A White House official told ABC that the U.S. is discussing several measures with its allies, including action at the United Nations Security Council and further sanctions, and more joint U.S.-South Korea military exercises, to demonstrate solidarity and support.
The nuclear-powered USS George Washington aircraft carrier, which carries 75 warplanes and has a crew of over 6,000, left Yokosuka U.S. Naval Base south of Tokyo on Wednesday morning. The U.S. Seventh Fleet said its departure had already been scheduled. The ship will join South Korean naval forces in the waters west of the Korean peninsula from Nov. 28 to Dec. 1 to conduct air defense and surface warfare readiness training.
Earlier, South Korea warned the North of "enormous retaliation" if it took more aggressive steps after Pyongyang fired scores of artillery shells at the island of Yeonpyeong. It was one of the most serious attacks by the North on its neighbor since the Korean War ended in 1953.
The South fired back after Tuesday's attack and sent fighter jets to the area, close to a disputed maritime border on the west of the divided Korean peninsula and the scene of deadly clashes between the two rivals in the past.

South Korea was conducting military drills in the area at the time but said it had not been firing at the North. Pyongyang blamed Seoul for starting the fight, which killed at least two South Korean marines and wounded at least 15 other troops along with three civilians and razed scores of houses on the island of Yeonpyeong.
The extent of casualties on the northern side was unknown but officials in Seoul said they could be considerable.
Calling the incident "an invasion of South Korean territory," Lee warned that future provocations could be met with a strong response, although there was no indication of immediate retaliation.

"I think enormous retaliation is going to be necessary to make North Korea incapable of provoking us again," Lee told reporters during a visit to military headquarters in Seoul.
The United States has more than 28,000 troops in South Korea. Pentagon officials said none of them were involved in the military drills that preceded the bombardment.

The incident followed revelations over the weekend that Pyongyang is fast developing another source of material to make atomic bombs, and analysts said the North may again be pursuing a strategy of calculated provocations to wrest diplomatic and economic concessions from the international community.
North Korea said its neighbor started the fight.

"Despite our repeated warnings, South Korea fired dozens of shells from 1 p.m. ... and we've taken strong military action immediately," its KCNA news agency said.
North Korea said it was merely "reacting to the military provocation of the puppet group with a prompt powerful physical strike," and accused Seoul of starting the skirmish with its "reckless military provocation as firing dozens of shells inside the territorial waters of the" North.

The supreme military command in Pyongyang threatened more strikes if the South crossed their maritime border by "even 0.001 millimeter," according to KCNA.
South Korean officials said the skirmish began when Pyongyang warned the South to halt military drills in the area.
When Seoul refused and began firing artillery into disputed waters, albeit away from the North Korean shore, the North retaliated by bombarding the small island of Yeonpyeong, which houses South Korean military installations and a small civilian population.
When Seoul refused and began firing artillery into disputed waters — but away from the North Korean shore — the North retaliated by shelling the small island of Yeonpyeong, which houses South Korean military installations and a small civilian population.

Seoul responded by unleashing its own barrage from K-9 155mm self-propelled howitzers and scrambling fighter jets.
South Korea responded by firing K-9 155 mm self-propelled howitzers, but a South Korean official declined to say whether North Korean territory was hit.
The entire clash lasted more than an hour, NBC News reported.
Sources told NBC that the North fired the first salvo of artillery shells at the island four hours after the South's "live-fire" artillery training exercise.
South Korea returned fire almost immediately. For more than an hour, the two sides exchanged salvos — the North Koreans fired about 70 artillery shells, the South fired about 80.
South Korea's military indicated it inflicted heavy casualties on the North, but the claim could not be independently verified.
Senior U.S. military commanders in South Korea have been temporarily put on a 24-hour operational alert, essentially meaning they man their commands around-the-clock. The rest of  U.S. military forces have not been placed on alert, and the overall threat level against U.S. forces has not been raised, according to NBC News.
In addition, senior military officials told NBC News that no U.S. service members, equipment, weapons, ships or planes have been ordered to reposition themselves inside South Korea, and no additional forces are headed to the region.
'Brink of war
The exchange represents a sharp escalation of the skirmishes that flare up along the disputed border from time to time.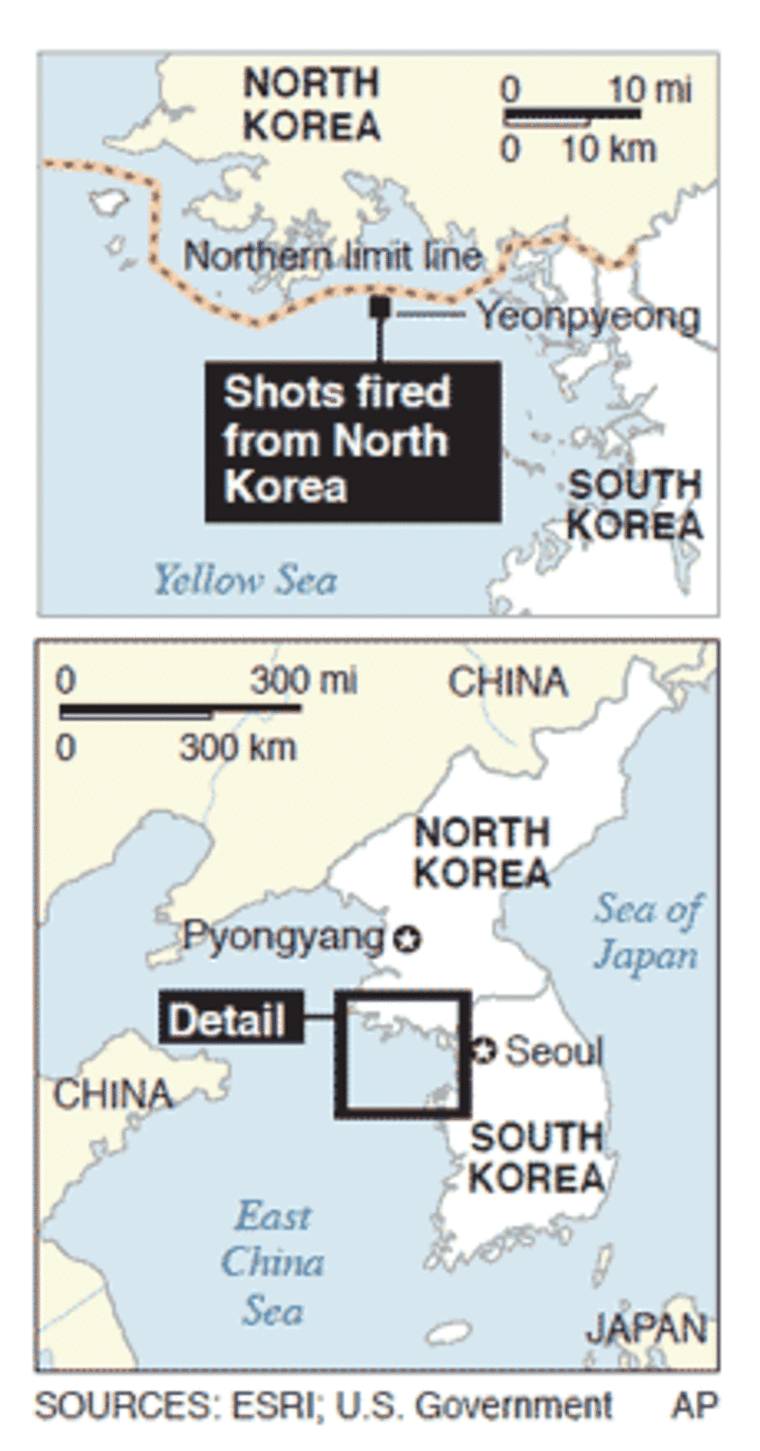 It also comes amid high tensions over the North's apparent progress in its quest for nuclear weapons — Pyongyang claims it has a new uranium enrichment facility — and six weeks after North Korean leader Kim Jong Il anointed his youngest son, Kim Jong Un, as the heir apparent.
"It brings us one step closer to the brink of war," said Peter Beck, a research fellow with the Council on Foreign Relations, "because I don't think the North would seek war by intention, but war by accident, something spiraling out of control has always been my fear."
The two Koreas are still technically at war — the Korean War ended only with a truce and North Korea does not recognize the maritime border that was unilaterally drawn by the United Nations at the end of the 1950-1953 conflict.
Tension also rose sharply early this year after Seoul accused the North of torpedoing one of its navy vessels, killing 46 sailors.  
'Frightened to death'
"I thought I would die," said Lee Chun-ok, 54, an islander who said she was watching TV in her home when the shelling began. Suddenly, a wall and door collapsed.
"I was really, really terrified," she told The Associated Press after being evacuated to the port city of Incheon, west of Seoul, "and I'm still terrified."
YTN television said dozens of houses caught fire on Yeonpyeong, which is about 75 miles west of the capital Seoul near the disputed maritime border. It is a mere seven miles from — and within sight of — the North Korean mainland.
The station broadcast pictures of thick columns of black smoke rising from the island. Screams and chaotic shouts could be heard on the video. YTN said between 1,200 and 1,300 people live there.
Get up-to-the-minute updates on this story on breakingnews.com
YTN quoted a witness as saying fires were burning out of control.
U.S., U.N. condemn attackU.N. Secretary-General Ban Ki-moon condemned North Korea's artillery attack and conveyed his concerns to the Security Council's president.
Ban, who is South Korean, called for "immediate restraint" and insisted that "any differences should be resolved by peaceful means and dialogue."
Pak Tok-hun, North Korea's deputy U.N. ambassador, said the shelling incident was a matter to be discussed between the two countries, not by the U.N. Security Council.
"The Security Council is dealing with threats to international peace and security," he said as Security Council diplomats consulted on how they might respond to the incident. "This is a regional issue between the North and South."
The U.N. and U.S. military commander in South Korea called for general officer-level talks with the North Korean military in order to exchange information and de-escalate the situation.
"We call upon North Korea to stop these unprovoked attacks and fully abide by the terms of the Armistice Agreement," said Gen. Walter L. Sharp. "These actions are threatening the peace and stability of the entire region."
"We call upon North Korea to stop these unprovoked attacks and fully abide by the terms of the Armistice Agreement," said Gen. Walter L. Sharp, UNC commander. "These actions are threatening the peace and stability of the entire region."
While condemning the attack, the U.S. played down the chances of any immediate U.S. military action.
Defense Secretary Robert Gates conferred with his South Korean Defense Minister Kim Tae-young by phone and the two agreed to coordinate any response to "this act of aggression" by North Korea, Pentagon spokesman Geoff Morrell said.
"He (Gates) expressed sympathy for the loss of life and appreciation for the restraint shown to date by the South Korean government," Morrell said.
'Colossal danger'
Russian Foreign Minister Sergei Lavrov warned of the "colossal danger" of an escalation in fighting on the Korean peninsula.
"It is necessary to immediately end all strikes," Lavrov told reporters during a visit to the Belarussian capital Minsk. "Tensions in the region are growing."
The senior U.S. envoy on North Korea, Stephen Bosworth, said that China and the United States agreed that North Korea's shelling of the South Korean island was "very undesirable" and restraint was needed.
"I expressed to them (Chinese officials) the desire that restraint be exercised on all sides and I think we agree on that," Bosworth told reporters in Beijing after talks with Chinese Foreign Ministry officials about neighboring North Korea.
Hong Lei, a spokesman for the Chinese Foreign Ministry, told a news conference that both sides of the divided Korean peninsula should "do more to contribute to peace" and said it was "imperative now to resume the six-party talks" aimed at ending North Korea's nuclear weapons program.
Those negotiations — involving the two Koreas, China, Japan, Russia and the United States — have long been on ice.
However, the reclusive North has recently been pushing to resume the six-party talks, which previously it has used to win massive aid in return for promises to end its weapons program.
China is North Korea's only major ally, and its economic and diplomatic support have been important to shoring up its otherwise isolated neighbor. Kim Jong Il visited China twice this year to strengthen ties.