/ Source: NBC, msnbc.com and news services
A monster storm had the central U.S. gearing up its defenses on Monday against a potentially deadly mix of sleet, snow and ice that could affect 100 million people by the time it blows through the Northeast and mid-Atlantic.
St. Louis, Kansas City and Milwaukee could be hardest hit, with expected midweek snowfalls of up to 2 feet and drifts piled 5 to 10 feet. Even hardy Chicago could be in for 20 inches — its third-worst blizzard since record-keeping began.
"I wouldn't want to be on the road in open areas tomorrow night," said forecaster Tom Skilling of Chicago television station WGN. "I don't think I'd want to be driving in the city either. The fact is people die in these things. They skid off the road and go wandering around in whiteout conditions."
Several airlines were allowing travelers affected by the weather to change flights without fees.

While record snowfalls have pounded the Northeast in what's shaping up to be one of that region's most brutal winters, the Midwest has been comparatively unscathed — until now.


In St. Louis, folks lined up by 7 a.m. Monday outside Edele and Mertz Hardware, waiting for the store to open. Snow shovels were big sellers, but employee Steve Edele said ice melt and salt were flying out the door.

"'Freaking out' is a great way of putting it," Edele said. "The icing — that's what scares people."

As the first flakes fell, transportation officials from Kansas City to Detroit readied snow equipment.

The National Weather Service, meanwhile, suggested any Green Bay Packers fans planning to road trip from Wisconsin to Dallas for the Super Bowl not leave before Wednesday afternoon, by which time authorities hope to have responded to the worst of the weather along the route.
Click here to view our cartoon slideshow all about this wild winter weather.
"This storm will produce significant impacts across a large portion of the central United States," the National Weather Service said.
Chicago, for one, could see 50 mph wind gusts and wind chills a few digits below zero by Tuesday night. City officials urged residents to stock up on food and medicine in advance of the storm, which could also cause flooding from 25-foot waves on Lake Michigan.
And the Indianapolis area was told by the weather service to expect "devastating conditions" due to a predicted inch of ice and 15-25 mph winds Tuesday night. "Long duration power outages appear possible" as trees and power lines will likely be taken down, it added.
In Missouri, Gov. Jay Nixon declared a state of emergency and activated 600 members of the National Guard.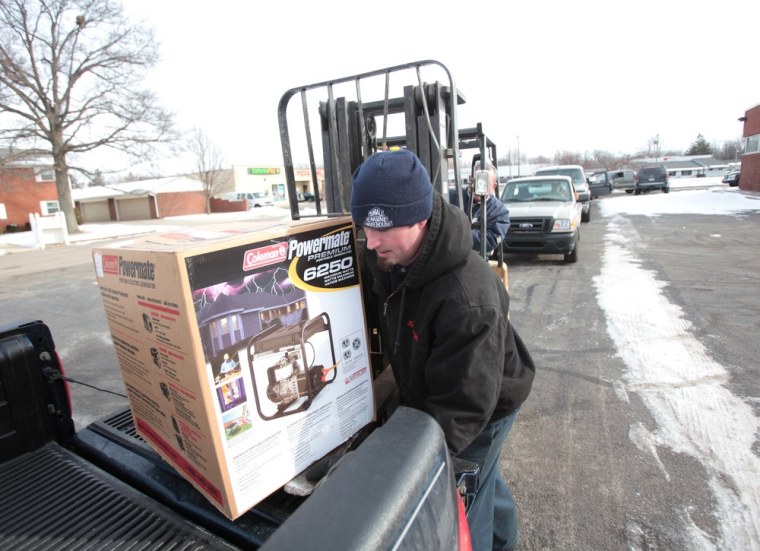 'Stripe of snow'The storm's "stripe of snow" will move eastward across the central Plains and into the Ohio Valley and touch parts of Oklahoma, Kansas, Missouri, Illinois and Indiana, according to a mapped forecast of the storm's movements by The Weather Channel.

The weather service issued a blizzard watch for Tuesday and Wednesday for southern Wisconsin, northern Illinois and northwest Indiana. Snow drifts of 5 feet to 10 feet were possible and winds could reach up to 60 mph in open areas and near Lake Michigan.
"Conditions will rapidly deteriorate from north to south across the region Tuesday afternoon with travel likely becoming virtually impossible at times Tuesday night into early Wednesday morning," the weather service warned, adding that snow will be so heavy at times Tuesday night that plows will not be able to keep up.

Bitterly cold temperatures were forecast in the wake of the storm, with wind chills as cold as 40 degrees below zero possible for parts of North Dakota, South Dakota and other areas.
In Idaho, an arctic air mass is expected to push wind chills to 20 below zero and colder Monday night and Tuesday.

Ranching communities in Upper Snake River Plain and Snake Highlands on the Montana border will be hardest hit with wind chills 45 degrees below zero. A similar winter freezing wind storm in 1989 killed hundreds of Idaho cattle in their tracks. Some ranchers are already double-feeding and taking what measures they can to protect livestock.
Schools close, blood sought
In the Midwest Monday, dozens of day cares, community organizations, universities and school districts in Kansas and Missouri canceled classes.
The Oklahoma Blood Institute sought immediate blood donations, saying while its current supply is adequate, it could run low if the storm results in a significant slow-down in donations for a couple days.
Freezing drizzle coated roadways across the Plains on Monday. A school bus slid off the road in a south Kansas City, Mo., school district, slightly injuring two students. A Wisconsin state trooper was struck and seriously injured while directing traffic around another accident, while the Minnesota State Patrol reported more than 200 crashes statewide, including one authorities said was fatal.

Residents braced for the worse in St. Louis and throughout Missouri, with forecasters calling for a particularly hazardous and potentially deadly mix: Up to an inch of ice, followed by 3-4 inches of sleet, then perhaps a half-foot of snow or more.


Forecasters predicted between 12 inches and 16 inches of snowfall in Columbia, where the university's men's basketball team prepared to leave a day early for a road game at Oklahoma State University scheduled for Wednesday night in Stillwater.

St. Louis-based utility company Ameren opened its emergency operations center amid worries that the weight of the ice and snow could duplicate a severe crisis in 2006, when an ice storm downed thousands of trees and power lines. Parts of southeast Missouri were left without electricity for more than a week.

Indiana Gov. Mitch Daniels directed his state's Department of Homeland Security to coordinate preparations and his office was meeting with utility companies, local emergency agencies, the state highway department and National Guard.
Once the storm has moved through, bitterly cold temperatures are expected to grip much of the region.
After slamming the Plains and Midwest, the storm will move into the Appalachians, mid-Atlantic, and New England regions early Wednesday morning, Groundhog Day, with conditions improving early Thursday, The Weather Channel said.
The heaviest snow is expected across the interior northeast from Pennsylvania into upstate New York and New England.
In New Hampshire, where pedestrians have been forced to walk in the street in some places because of piled-up snow, crews rushed to remove it before a new foot or so fell on the state.
In the South, Gulf Coast states are also expected to see severe weather overnight and Tuesday in the form of hail, strong winds and possible twisters.