/ Source: The Associated Press
The evacuated families in the school gym outside Tokyo are bound by their suffering to those in shelters closer to the disaster zone. Both lost homes, friends and livelihoods in the tsunami that pounded northeastern Japan last month.
But the conditions they live in now as they try put their lives back together are markedly different.
At the school in Kisai, a 90-minute drive north of Tokyo, masseurs tend to creaky joints. A bus arrives several times a say to ferry people to public baths. Volunteers help seniors make colored paper crafts. Then there are the frequent visitors who provide free entertainment — from professional athletes to military bands.
A couple hundred miles (several hundred kilometers) to the north, families are crammed into every spare bit of floor space at a community hall at Natori — under the stairs, in the hallways, along the large windows in the front. At another shelter in Ishinomaki, some people have taken to sleeping in their cars for privacy, using cardboard or newspaper to cover the windows.
The government says it is not discriminating against anyone in the relief effort, but it is having a harder time reaching people further from the main cities and closer to the destruction.
"It's a matter of logistics," said Toshiki Agou, a health ministry official in charge of living conditions at the shelters. "Some shelters are located in areas where roads are blocked."
Can't return home
Tens of thousands were made homeless by the March 11 earthquake and tsunami, which left 27,000 people dead or missing and damaged a nuclear power plant in Fukushima. About 135,000 people are living in nearly 2,500 shelters set up in schools, gymnasiums and community centers along the northeast coast, while the government races to build temporary homes and prepare public housing units for them, a process expected to take five months.
The government says those living near the nuclear plant won't likely be able to return home for six to nine months or maybe longer.
Though conditions vary in Japan's shelters, they are far better than those in displacement camps in Africa, central Asia and much of the developing world, where survivors of wars and natural disasters often live outside under U.N. donated tents and eat rations of rice and beans, sometimes for years.
Some lucky Japanese evacuees even found temporary spots at the Grand Prince Hotel Akasaka, an upscale resort near the Imperial Palace in Tokyo that once charged up to 150,000 yen ($1,750) a night and was in the process of closing down.
Still, many of the tsunami survivors are forced to sleep in communal halls, where they complain of hard floors, a lack of blankets and an overdose of instant ramen.
"There's no privacy in these big gymnasiums," said Akemi Osumi, a 48-year-old mother of three, at the shelter in Kisai, a two-hour drive north of Tokyo. "We are living with another hundred people in the same room with no dividers. I'm worried about how long everyone can stand it."
'Almost like we're spoiled'
Despite that, the No. 2 gymnasium at Kisai High School is teeming with resources, a sign of the tremendous generosity shown by the Japanese since the disaster.
Refugees comb through boxes of donated clothes, books and toys, while volunteers cart cases of goods back and forth. Behind a mesh curtain lay dozens of unplugged refrigerators and coolers donated by businesses and citizens.
Six thousand bottles of green tea await drinking; 400 pairs of new shoes need owners. There are 2.4 million pollen-filtering masks, a four-year supply for the residents. Local farmers donated 2.5 tons of rice. Nearby shops have been sending box meals and pastries for breakfast, lunch and dinner, funded by the government.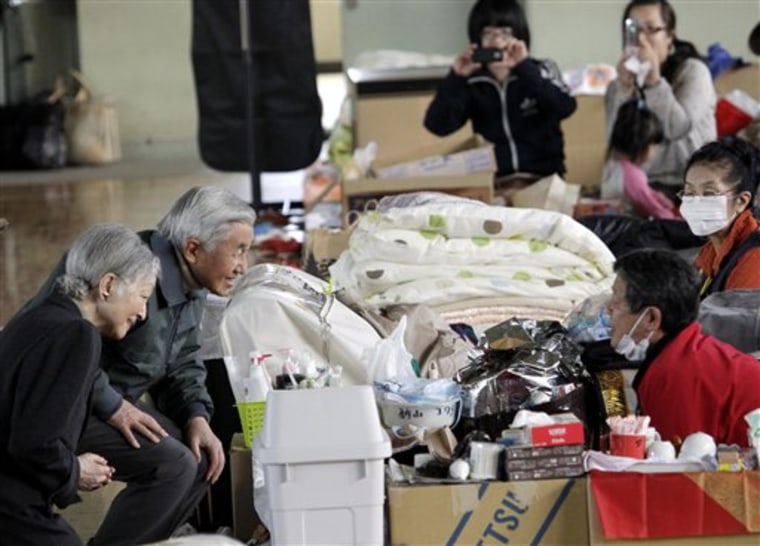 Every other day, a celebrity visitor comes to cheer up the 1,400 survivors who fled Futaba, home of a damaged nuclear plant. Two weeks ago, Japan's Emperor Akihito showed up. Morning group exercises keep people limber and volunteers help seniors make "chigirie" crafts using shreds of colored paper.
"It's too good, it's almost like we're spoiled," Osumi said. "We don't have to even say anything and we're fed."
Spartan conditions
Conditions are far more Spartan for the 380 people living at the community hall in Natori, near the tsunami-hit area some 320 kilometers (200 miles) north of Kisai.
With space at a premium, many families have made small walls of chairs or cardboard to mark their territory. During the day the younger people go to their jobs or back to the rubble of their homes to search and volunteer, while older people lie covered in blankets. There is one TV, surrounded by half a dozen office chairs.
Mika Kadowaki, a high school student, lives with 17 others in the classroom of a junior high school in nearby Ishinomaki. She has moved five times since the quake, between shelters and friends' houses. The families have spread blankets over the tile floor to buffer the cold. Showers were installed only a few days ago.
The lights are turned off at 10 p.m., and then people are expected to stay quiet.
"It's not bad in my classroom, the people that live there have become like family," she said. Still, "the stress gets to some people and they have conflicts with others, which brings everyone down."
The school will reopen soon for the new academic year and the 600 people living there will all have to move to another shelter.
About 9,000 of the displaced have been moved to hotels or inns and more than 4,300 families have been admitted to public housing units. But demand overwhelms supply. The lotteries held each time a unit comes open are oversubscribed many times. The draws often are weighted to favor the elderly, those with disabilities or small children.
"Emotionally, I'm a mess," said Kazuko Suzuki, 49, who is desperate for a semi-permanent place so her daughter can finish her second year of high school. She lost a lottery. School already has started, but she hasn't given up hope. "I can't fall into despair," she said.
___
Alabaster reported from Natori. Associated Press writers Tomoko A. Hosaka in Kamaishi and Shino Yuasa in Tokyo also contributed.