/ Source: NBC News and msnbc.com
Key details:
The death of Osama bin Laden is a clear signal to the world that "al-Qaida is something in the past," the U.S. chief of counterterrorism said Monday.
John Brennan, President Barack Obama's deputy national security adviser and chief counterterrorism coordinator, said the message could be boiled down this way: "Bin Laden, al-Qaida — old news."
Bin Laden, 54, the mastermind behind the Sept. 11, 2001, terrorist attacks that killed thousands of Americans, died in a gunbattle Sunday with Navy SEALs and CIA paramilitary forces at his luxurious compound in Abbottabad, Pakistan. A senior U.S. intelligence official told NBC News that the operation had been scheduled for Saturday but was delayed because of weather conditions.
U.S. forces were prepared to take bin Laden alive if he offered no resistance, but he fought back, "and therefore he was killed," Brennan said in a briefing for reporters. It was not yet clear whether bin Laden was able to get off any shots himself, Brennan said.
Brennan's forceful remarks reinforced Obama's declaration earlier Monday that the U.S. had "kept its commitment to justice" and that bin Laden's death was "a good day for America."
In brief remarks before he led a ceremony honoring two Korean War veterans with the Medal of Honor — his first comments since he dramatically announced Sunday night that bin Laden had been shot and killed — Obama said the world "is a safer place" today.
Lightning operation monitored in real timeBrennan's remarks provided confirmation of many details of the lightning-quick operation Sunday morning that had dribbled out over the last 24 hours.
Special operations forces were on the ground for less than 40 minutes, he said, and they were watched in real time by CIA Director Leon Panetta and other intelligence officials in a conference room at CIA headquarters in Langley, Va.
U.S. officials said one of bin Laden's sons and two of his most trusted couriers also were killed, as was an unidentified woman who may have been caught in the crossfire. 
The CIA already was poring over confiscated hard drives, DVDs and other documents looking for inside information on al-Qaida, including clues that might lead to his presumed successor, Ayman al-Zawahri.
Afterward, the team returned to Afghanistan with bin Laden's body, which was buried at sea. Brennan said DNA analysis had established with "99.9 percent certainty" that the body was bin Laden's; one of bin Laden's wives, who survived the firefight in the compound, also identified him, another U.S. official told NBC News.
Brennan would not describe bin Laden's burial except to say it was conducted "according to Islamic requirements." A senior U.S. official told NBC News that he was slipped into the North Arabian Sea from the deck of the aircraft carrier USS Carl Vinson after a ritual washing and religious remarks.
Islamic tradition calls for a body to be buried within 24 hours, but finding a country willing to accept bin Laden's remains would have been difficult, a senior administration official said. Bin Laden's native Saudi Arabia had long renounced him.
Other U.S. officials said the burial at sea deprived bin Laden's adherents of a permanent memorial site to use as a rallying point.
Four helicopters swoop inBrennan said U.S. intelligence was not 100 percent certain that bin Laden would be at the site but that intelligence developed by "very, very good people who have been following bin Laden  for many, many years" gave them a high degree of confidence.
A senior U.S. intelligence official told NBC News that important information centered on the identities of couriers trusted by bin Laden. The information came from multiple sources, the official said, most prominently Khalid Sheikh Mohammed, who planned the Sept. 11 attacks, and his successor as the No. 3 leader of al-Qaida, Abu Faraj al-Libi.
Mohammed was captured by the CIA on March 1, 2003, in Rawalpindi, Pakistan. Al-Libi was captured by Pakistan's intelligence service on May 1, 2005, in Mardan. Both were subjected to "enhanced interrogation techniques" by CIA interrogators, and Mohammed was one of three detainees who were waterboarded, in his case 183 times.
The lack of 100 percent certainty about the information led to a spirited discussion in the Situation Room before Obama made "one of the gutsiest calls of any president in recent memory," Brennan said.
Bin Laden was indeed holed up in a two-story house 100 yards from a Pakistani military academy . His guards opened fire on the commandos, and his final hiding place was left in flames, witnesses said.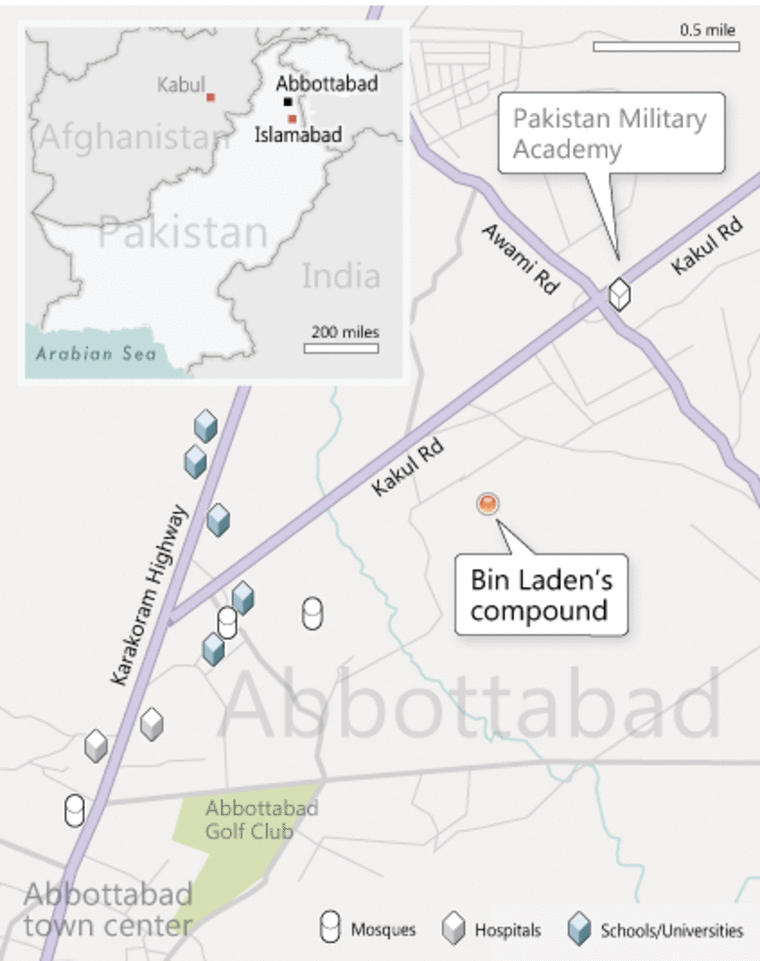 One of the helicopters was forced to land unexpectedly because the steep walls of the compound left too little air beneath it to allow it to hover over the scene as planned, a senior administration official told NBC News' Courtney Kube.
The same condition made it impossible for the helicopter to take off afterward, the official said, leading U.S. forces to destroy the craft on the ground to protect its technology and intelligence. No Americans were hurt in the operation, officials said.
U.S. officials have not explained how they managed to secretly fly four helicopters across the Pakistan border to near the capital and into a military garrison city that was home to the country's military academy.
Abbottabad is home to three Pakistan army regiments and thousands of military personnel and is dotted with military buildings. Pakistani officials described the army site as the country's equivalent of the U.S. Military Academy at West Point, N.Y.
The discovery that bin Laden was living in an army town in Pakistan raised pointed questions about how he managed to evade capture and even whether Pakistan's military and intelligence leadership knew of his whereabouts and sheltered him. Islamabad has always denied using its security establishment to protect bin Laden.
Brennan said that bin Laden was obviously "hiding in plain sight" and that U.S. officials were in discussions with Pakistani officials to find out "how he was able to hold out there for so long."
"People are raising these questions, and we're going to have to deal with them," he said, while adding: "We believe that relationship is critically important to breaking the back of al-Qaida."
about the operation Monday said that the death of bin Laden showed the resolve of Pakistan and of the world to battle terrorism and that it was "a major setback to terrorist organizations around the world."
At the same time, Prime Minister Yousuf Raza Gilani warned the U.S. envoy for Afghanistan and Pakistan, Marc Grossman, in a meeting Monday that "sensitivities" over Pakistan's cooperation with Washington "must be given due importance rather than giving it a spin," .
The news of bin Laden's death immediately raised concerns that reprisal attacks from al-Qaida and other Islamist extremist groups could follow soon.
"In the wake of this operation, there may be a heightened threat to the U.S. homeland," a U.S. official said. "The U.S. is taking every possible precaution. The State Department has sent advisories to embassies worldwide and has issued a travel ban for Pakistan."
A vow of vengeanceThe Karachi newspaper News International that a banned group that has been blamed for the 2007 assassination of then-Prime Minister Benazir Bhutto warned that it would "take its revenge" for bin Laden's death and that "Pakistan will be the prime target."
The organization, Tehreek-e-Taliban Pakistan, or TTP, released an audio message declaring, "Pakistani rulers are on our hit list." Once it had avenged bin Laden, it said, the U.S. would be next.
Also late Monday, a crowd estimated at 800 to 1,200 people, many of them carrying signs and shouting pro-bin Laden slogans, rallied in the streets of Quetta, capital of Pakistan's Baluchistan province.
Maulvi Asmatullah, an independent member of the National Assembly who led the rally, that bin Laden had been "martyred" by the U.S. and remained "the hero of the Muslim world."
Protesters burned a U.S. flag at the rally before dispersing peacefully, AFP reported.
In his nationally televised address Sunday night, Obama stressed that the effort to defeat terrorism continues. Al-Qaida remains in existence as an organization, presumably under the leadership of Ayman al-Zawahiri, 59, an Egyptian physician who is widely believed to have been bin Laden's No. 2.
Al-Zawahiri's elevation is likely to lead to deep fractures within al-Qaida, said Brennan, who described the organization's new leader as "not charismatic and not involved in the earlier struggles in Afghanistan."
"There will be lots of internal critics," Brennan predicted.
Sources close to al-Zawahiri told NBC News that he was expected to issue a video or audio statement in the next day or two. They did not know whether he would acknowledge or deny bin Laden's death.
Secretary of State Hillary Rodham Clinton also said Monday that the death of bin Laden was not the end of the war on terrorism and warned the network's members that the U.S. would be relentless in its pursuit of them.
Turning to deliver a direct message to bin Laden's followers, she vowed: "You cannot wait us out. You cannot defeat us, but you can make the choice to abandon al-Qaida and participate in a peaceful political process."
'Affluent suburb'Officials had long believed that bin Laden was hiding a mountainous region along the Pakistan-Afghanistan border. In August, U.S. intelligence officials got a tip on his whereabouts, which led to the operation that culminated Sunday, Obama said Sunday.
Bin Laden's compound was huge and "extraordinarily unique," about eight times larger than other homes in the area, U.S. officials said.
"It is also noteworthy that the property is valued at approximately $1 million but has no telephone or Internet service connected to it," one of them said.
Few windows of the three-story home faced the outside of the compound, and other intense security measures included 12- to 18-foot outer walls topped with barbed wire and internal walls that sectioned off different parts of the compound, officials said.
Access was restricted to two security gates. Residents burned their trash, rather than leaving it for collection, as did their neighbors, officials said.
The sound of at least two explosions rocked Abbottabad as the fighting raged.
"After midnight, a large number of commandos encircled the compound. Three helicopters were hovering overhead. All of a sudden, there was firing toward the helicopters from the ground," said Nasir Khan, a resident of the town.
"There was intense firing, and then I saw one of the helicopters crash," said Khan, who had watched the dramatic scene unfold from his rooftop.