/ Source: The Associated Press
Charles Reed Jr. is skipping his college graduation ceremony to do something much more significant to him: retracing the original 1961 Freedom Ride and paying tribute to those who helped win the civil rights that his generation enjoys.
The 21-year-old business administration major at the University of Mary Washington in Fredericksburg, says missing Friday's graduation doesn't compare to the sacrifices the original Freedom Riders made when they challenged the South's segregation laws: quitting jobs, dropping out of college and, ultimately, risking their lives.
"What the Freedom Rides did 50 years ago paved the way for what I have today as an African-American," said Reed, one of 40 college students chosen from nearly 1,000 applicants who will join a handful of the original Freedom Riders on an eight-day journey from Washington, D.C., through the South.
The students pulled up in their bus Friday night to greet more than a dozen original Freedom Riders at the Newseum in Washington for the premiere of a new PBS documentary on the rides based on a book by Raymond Arsenault. They sang "Oh, Freedom" and other tunes together before viewing the film, which premieres May 16 on public broadcast stations.
The documentary recounts the rides state by state and how they pushed President John F. Kennedy to advocate for civil rights. As a young rider, U.S. Rep. John Lewis of Georgia said he "felt like a soldier in a nonviolent army," though the rides were more confrontational than Martin Luther King Jr. and other civil rights leaders would have preferred.
'Never gave in'
Congress of Racial Equality head James Farmer, six other black people and six white people participated in the first Freedom Ride, which left Washington, D.C., on May 4, 1961. The trip was to test whether southern states were implementing Boynton v. Virginia, a U.S. Supreme Court decision that barred segregation in public-transportation facilities.
The group faced violent attacks from white mobs who opposed integration. One of the buses was firebombed in Anniston, Ala., and the riders were beaten. Attacks in Birmingham, Ala., drew national headlines and international embarrassment for the Kennedy administration.
As news of the violence spread, hundreds joined the Freedom Rides. Hundreds were jailed that summer in Jackson, Miss., and transferred to the infamous Parchman state penitentiary after the local jail ran out of space. The demonstrations became a defining point in U.S. civil rights history.
Lewis said it's important for students to learn that the Freedom Riders were willing to die to confront the "whites only" and "colored only" signs at transit stations to end segregation.
"We never gave in," Lewis said. "We kept the faith, and it's important for the stories to be told over and over again so future generations and especially these young people that are traveling will learn that in a matter of a short time, we brought down those signs."
Diane Nash, who organized a wave of riders from Nashville, Tenn., said she got involved because it was humiliating to be segregated and many in Nashville were fed up.
"I think we should consider how long it would have taken to desegregate ... if we had left it to public officials," she said.
The lesson from the Freedom Rides is to take the country's future into your own hands, Nash said.
"My colleagues had you in mind," she told the student riders. "We had not met you, but we loved you."
Heading South
After events in Washington, the bus heads south on Sunday. Along the way they'll stop in a number of cities, including those where the 1961 riders were harassed, physically attacked and arrested. The students plan to use social media to share their experiences during the trip, which will end May 16 in New Orleans.
Freedom Rider Joan Trumpauer Mulholland plans to share her scrapbook from 1961 with student riders on the bus trip. The 69-year-old Arlington, Va., resident says she wants to pass on her ideas to the college students because her generation is "fading into a sunset, so to speak."
Mulholland joined one of the 60 demonstrations after a colleague was arrested on the initial ride. She was arrested June 8, 1961, in Jackson, Miss., and spent about two weeks in the local jail, then the rest of the summer at Parchman.
Prison warden Fred Jones wrote a letter to Mulholland's mother, telling her that she could send medicine to her daughter. He also made a point to criticize her parenting skills.
"What I cannot understand is why as a mother you permitted a minor white girl to gang up with a bunch of negro bucks and white hoodlums to ramble over this country with the express purpose of violating the laws of certain states and attempting to incite acts of violence," Jones wrote. The letter appears in photojournalist Eric Etheridge's book Breach of Peace: Portraits of the 1961 Freedom Riders.
Student rider Marshall Houston, a May graduate of the University of Alabama, is building on what he learned when producing a documentary about the university's Foster Auditorium. Gov. George Wallace made his "stand in the schoolhouse door" at the building on June 11, 1963, in a symbolic attempt to prevent integration as two black students tried to register for class.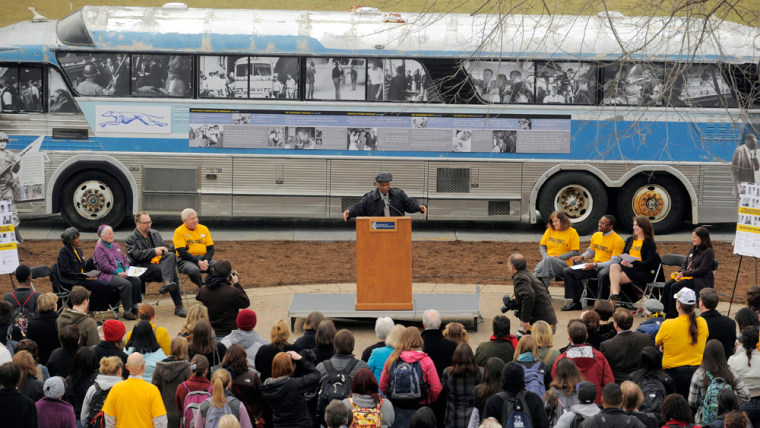 Learning about the people — both black and white — who worked behind the scenes to make sure the university's integration didn't turn violent drove home the importance of being aware of history, said Houston, a white native of Birmingham.
"Through that process, I really first began to understand what power strategic actions and a coalition of students who believe in equality and justice can have in society," said the 22-year-old Houston, who compared their efforts to modern-day student activists in Iran and Egypt.
"It's inspiring when you see young people my age taking a stand," he said. "If I were in that situation, would I take that stand? That's not something you can answer until that moment comes."
Stops in his home state include events at the Anniston bus station, the Montgomery church where a mob of whites trapped the first Freedom Riders, the Rev. Martin Luther King Jr. and hundreds of others.
Glenda Gaither Davis, a Freedom Rider who left college in 1961 to join the protests, says the young people need to know about past struggles so they can solve current and future problems.
"I don't know what it is in our society — we don't have a lot of regard for their past," said the 68-year-old Davis, an Atlanta resident who plans to meet the group when the bus arrives in her city. "They must have an appreciation of history to become a part of the force that's moving ahead."
___
Associated Press Writer Brett Zongker in Washington contributed to this report.