/ Source: msnbc.com news services
Moammar Gadhafi is ready for a truce to stop the fighting in his country, the visiting South African president said Monday after meeting the Libyan ruler, but he listed familiar Gadhafi conditions that have scuttled previous cease-fire efforts. Rebels quickly rejected the offer.
South African President Jacob Zuma said Gadhafi is ready to accept an African Union initiative for a cease-fire that would stop all hostilities, including NATO airstrikes in support of rebel forces. "He is ready to implement the road map," Zuma said.
Zuma said Gadhafi insists that "all Libyans be given a chance to talk among themselves" to determine the country's future. He did not say Gadhafi is ready to step down, which is the central demand of the rebels. He was speaking to reporters from South African and Libyan TV, which broadcast his remarks late Monday.
In April, Zuma led a delegation of the African Union to Tripoli with an AU proposal for a truce. Gadhafi said he would accept the truce but quickly ignored it and resumed his attacks, while the rebels rejected the cease-fire out of hand because it did not include Gadhafi's exit from power. Since then many cease-fire efforts have failed for similar reasons.
In Benghazi, the de facto rebel capital, rebel Foreign Minister Fathi Baja rejected the African Union plan. "We refuse completely, we don't consider it a political initiative, it is only some stuff that Gadhafi wants to announce to stay in power," he told The Associated Press.
He said he believes Zuma is in Tripoli to negotiate an exit strategy for Gadhafi, though Zuma's office denies that. Baja also said the rebels would launch an offensive against Gadhafi soon.
For decades Gadhafi has identified Libya as an African as much as an Arab nation. He disbursed millions of dollars in aid to African nations and built himself up as a leader of the continent.
Zuma was greeted with all the requisite fanfare by Gadhafi's beleaguered regime. Dozens of Gadhafi supporters, bused in for the welcoming, waved green Libyan flags and chanted slogans denouncing the NATO bombing campaign against Libyan government targets.
NATO temporarily lifted its no-fly zone over Libya to allow Zuma's South African air force plane to land at the main military air base next to Tripoli.
'A lot of killing'
Earlier in Rome, eight Libyan officers, including five generals, appeared at an Italian government-arranged news conference, saying they were part of a group of up to 120 military officials and soldiers who defected from Gadhafi in recent days.
The defections come two months after that of Libyan foreign minister and former espionage chief Moussa Koussa and the resignation of senior diplomat Ali Abdussalm Treki.
In Rome, one of the defecting officers, who identified himself as General Oun Ali Oun, told reporters: "What is happening to our people has frightened us.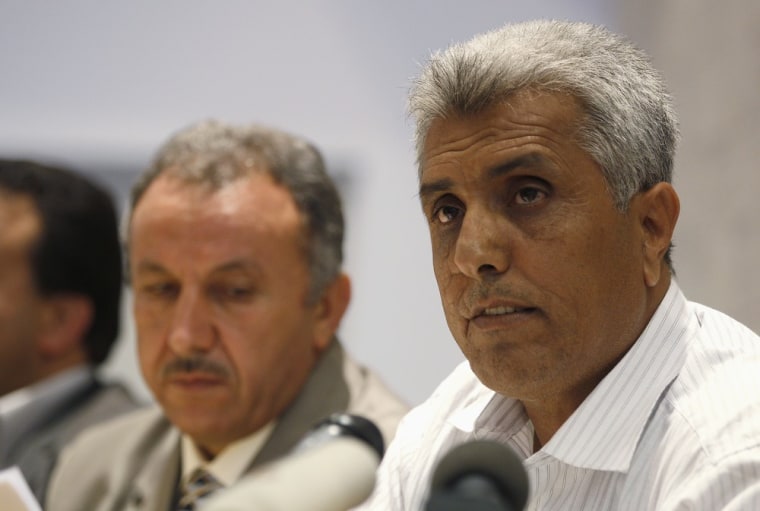 "There is a lot of killing, genocide ... violence against women. No wise, rational person with the minimum of dignity can do what we saw with our eyes and what he asked us to do."
Libyan U.N. ambassador Abdurrahman Shalgam, who has also defected from Gadhafi, said all 120 of the military personnel were outside Libya now but he did not say where they were.
Libyan television later reported that coalition aircraft struck what it called a number of civilian and military sites in the capital's Tajura district.
NATO warplanes have been raising the pace of their air strikes on Tripoli, with Gadhafi's Bab al-Aziziyah compound in the center of the city being hit repeatedly.
Journalists escorted into Bab Al-Aziziyah after Zuma arrived found a group of around 160 African visitors to Libya chanting pro-Gadhafi slogans and waving flags of nations including Chad, Niger and Ghana, in an apparent show of pan-African unity.
Britain said on Sunday it was to add "bunker-busting" bombs to the arsenal its warplanes are using over Libya, a weapon it said would send a message to Gadhafi that it was time to quit.
"Our operation in Libya is achieving its objectives ... We have seriously degraded Gadhafi's ability to kill his own people," NATO Secretary-General Anders Fogh Rasmussen told a NATO forum in Varna, Bulgaria.
"Gadhafi's reign of terror is coming to an end," he said.
Gadhafi denies attacking civilians, saying his forces were obliged to act to contain armed criminal gangs and al Qaeda militants. He says the NATO intervention is an act of colonial aggression aimed at grabbing Libya's plentiful oil reserves.
Deadlock
Britain and other NATO powers are ratcheting up the military pressure to break a deadlock that has seen Gadhafi hold on to power despite a rebellion and weeks of air strikes.
U.S. Admiral Samuel Locklear, commander of the Joint Operations Command at Naples, declined to comment on whether NATO would put forces on the ground but suggested a small force may be needed to help the rebels once Gadhafi's rule collapses.
Britain said the Enhanced Paveway III bombs, each weighing nearly a tonne and capable of penetrating the roof or wall of a reinforced building, had arrived at the Italian air base from where British warplanes fly missions over Libya.
The military alliance says it is acting under a mandate from the United Nations to protect civilians from attack by security forces trying to put down the rebellion against Gadhafi.
But the more aggressive tactics risk causing divisions within the fragile alliance backing the intervention, and could also lead to NATO being dragged closer toward putting its troops on Libyan soil, something it is anxious to avoid.
Attack helicopters
Further deepening their involvement, Britain and France have said they will deploy attack helicopters over Libya to better pick out pro-Gadhafi forces. Helicopters are more vulnerable to attack from the ground than high-flying warplanes.
Rebels control the east of Libya around the city of Benghazi, Libya's third-biggest city Misrata, and a mountain range stretching from the town of Zintan, 150 km (95 miles) south of Tripoli, toward the border with Tunisia.
Helped by NATO air support, the rebels have been able to repel attacks by pro-Gadhafi forces but in many places they are still under bombardment and cut off from supplies.
Libyan state television reported that NATO air strikes killed 13 people in Zlitan on Monday, the next town westwards on the coast road toward Tripoli from Misrata.
The state news agency Jana also reported that NATO air strikes hit the Tiji area, near the Western Mountain town of Nalut, overnight, causing "human and material losses."