/ Source: The Associated Press
Searchers on Saturday found the body of a woman who was reported missing in flash flooding that killed three other people.
The body was found following a search by about 40 rescue workers, said Raymond DeMichiei, deputy director of the city Office of Emergency Management. He declined to identify the victim or give the circumstances of her death.
The flash floods Friday sank more than a dozen vehicles in Pittsburgh. Paramedics in boats plucked people from water up to 9 feet high.
The other victims were a woman and two children who died after their vehicle was submerged and pinned to a tree, authorities said.
A pair of storms pounded the city, overwhelming the drainage system and causing manhole covers to pop off the road, officials said. Water rose to 9 feet in some places along Washington Boulevard, a main road that runs near the Allegheny River.

Rescue crews used inflatable boats to reach marooned drivers, though some swam to safety on their own. Rhodearland "Bob" Bailey of Penn Hills, who is about 80, was rescued from the roof of his car.

He said he heard a woman yelling for help but couldn't see anything because the water was coming down so fast, he told the Pittsburgh Tribune-Review.

"I've never seen nothing like this in my life," he said. "Lord have mercy."

Some 2.1 inches of rain fell in an hour during the evening rush, said Rihaan Gangat, a meteorologist for the National Weather Service. But an earlier storm meant the region was drenched by 3 to 4 inches of rain overall on Friday.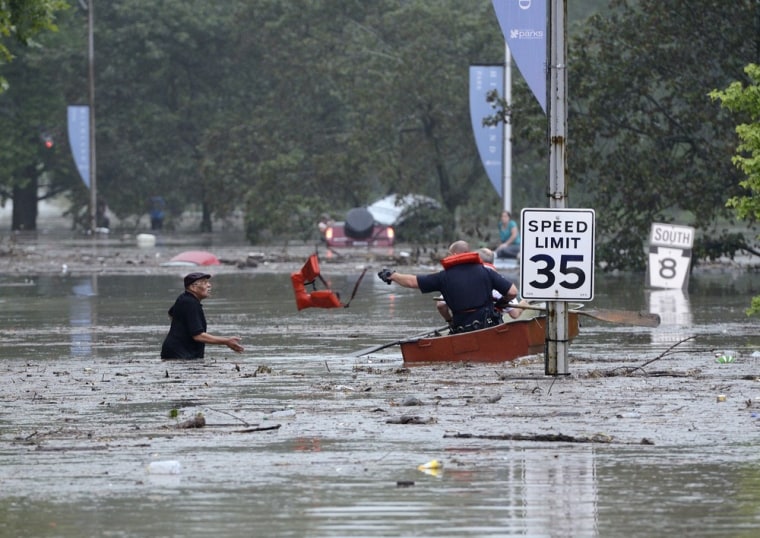 The low-lying area that flooded was apparently once a creek bed and "the watershed is huge for this," said Raymond DeMichiei, deputy director of the city Office of Emergency Management.

The rainfall overwhelmed a pair of pipes 9 feet in diameter with a force powerful enough to blow off 60-pound manhole covers, he said.

"We had geysers here," he said.

Flooding is common there, but this was "a little bit more spectacular than usual."

"We had cars fully covered and we didn't know they were there," DeMichiei said. One man appeared to be standing in waist-deep water, and it wasn't until crews reached him that they realized "he was standing on his SUV," he said.

Three victims, identified by the medical examiner as 45-year-old Kimberly Griffith of Plum, 12-year-old Brenna Griffith and 8-year-old Mikaela Griffith, were unable to escape their vehicle, which was submerged and pinned to a tree, Pittsburgh public safety director Michael Huss said at a news conference.

Rescuers intent on rescuing a man from a tree floated over the car without knowing it was below.

"The bottom of the boat didn't even scrape against the top of the car," DeMichiei said.

Police Chief Nate Harper said 18 vehicles were stranded in the high water and 11 people were rescued. One woman required hospital treatment.

People were clinging to trees, poles and car roofs, KDKA-TV reported. One woman tried to scramble to the roof of her car but the water was moving so fast, she was dragged along in it, then grabbed on to a truck.

"You started to see — even a red dump truck floating," Marion Marty of Sarver told the television station. "I mean, I never saw anything like it before in my life!"

The water receded Friday evening, but the mud-caked road remained closed Saturday as emergency crews work to clear the stranded cars.

The flash floods hit an area that saw serious flooding last month. Rushing water from a July 18 storm stranded motorists and caused a section of Washington Boulevard to buckle.

In 1998, a tornado that landed on Mount Washington touched off worse flooding in the area, though it did not result in deaths. The flooding covered a swath about two miles wide, making it appear that it was part of the river.

DeMichiei said emergency officials will discuss steps to avoid future tragedies from flooding at the site.

Educating people about the danger of being in a vehicle in a flash flood is key, he said. For example, the Federal Emergency Management Agency has distilled its advice in such situations to a slogan: "Turn around, don't drown."

"If water starts coming up the side of your car, get the hell out and get to higher ground," DeMichiei said.