/ Source: The Associated Press
A North Carolina woman will spend up to 18 years in prison after pleading guilty Thursday to murdering her disabled 10-year-old stepdaughter, nearly a year after freckle-faced Zahra Baker's disappearance and death shocked communities here and in her native Australia.
Elisa Baker, 43, entered the courtroom wearing a hot-pink jail jumpsuit and handcuffs. She sat between two defense attorneys and teared up before pleading guilty to second-degree murder, with aggravating factors that included desecrating the body of Zahra Baker, who used a prosthetic leg and hearing aids after a struggle with bone cancer.
Elisa Baker also pleaded guilty to obstruction of justice in the case, and to charges unrelated to Zahra's death, including obtaining property by false pretenses and financial identity fraud.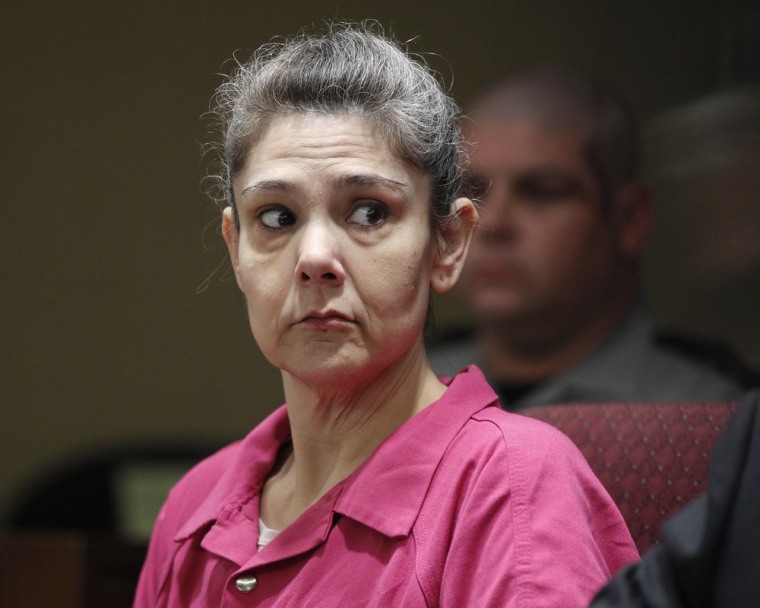 Adam Baker, Zahra's father and Elisa's husband, was present in the courtroom in Newton, about 40 miles northwest of Charlotte. Having come to the U.S. with his daughter after meeting Elisa online, he faces multiple criminal charges of his own, although none are related to his daughter's death.
Elisa Baker's guilty plea comes almost a year after Zahra was reported missing from her home in Hickory. Initially, she and Adam Baker told police they believed their daughter had been kidnapped, but that story quickly unraveled as police arrested Elisa and charged her with forging a ransom note.
Stepmother accused of child abuse before
Not long after her arrest, Elisa Baker began cooperating with police searching for the girl, according to warrants unsealed in the case. She told police that Zahra had been dismembered, and led them to some of the girl's remains at sites in Catawba and Caldwell counties. She told police that Adam Baker helped scatter the remains, but cell phone records showed he was in different locations on the days when Elisa said Zahra's body parts were disposed of.
Zahra's death was caused by "undetermined homicidal violence," medical examiners said in documents.
An autopsy was done even though authorities hadn't recovered many bones, most notably the girl's skull, months after she was reported missing. Several bones showed cutting tool marks consistent with dismemberment.
During the hearing, Elisa Baker's lawyer, Scott Reilly, said that without his client's help, Zahra's body might not have been found.
But police painted a picture of a woman who habitually bent the truth.
Capt. Thurmond Whisnant, an investigator with the Hickory Police Department, said Elisa Baker told him the girl died Sept 24. Elisa told police Zahra was sick that day and went to bed shortly after eating that afternoon. About an hour later, Elisa said she checked on Zahra but she was "unresponsive." She said she tried and failed to revive the girl.
She claimed that Adam dismembered Zahra and disposed of her body in white trash bags, but Whisnant said that was a lie.
Investigators found proof that Adam was working that morning with another man on a landscaping project.
One of the biggest questions facing law enforcement was whether Adam was involved in Zahra's death, Whisnant said. Police believe he wasn't.
Police also described three cases where witnesses saw Elisa beat Zahra. Once the child attended school with two black eyes and was afraid to go home.
It was part of a pattern in Elisa Baker life. The case revealed her as a woman with a troubled past, constantly shifting addresses and staying one step ahead of bill collectors and county social service agencies investigating reports of child abuse. The Associated Press found that she has been married seven times, including several overlapping marriages.
During those marriages, former husbands told the AP that Elisa beat her three children and that social service agencies in several counties had investigated the abuse.
Those who knew Elisa described her as an attractive high school student who became manipulative, cunning and insecure, struggling with obesity.
By the time she met Adam, she had largely detached herself from society, immersed in an online world of assumed identities and grandiose stories about her past, according to records and friends.