/ Source: msnbc.com staff and news service reports
Tens of thousands of people have been evacuated from their homes around Colorado Springs, Colo. as the Waldo Canyon Fire consumed more than 5,000 acres, the Denver Post reported. High winds and 100-plus-degree temperatures have worked against firefighters.
The El Paso County sheriff told reporters Tuesday night that 32,000 people were evacuated in the area.
The U.S. Air Force Academy installation commander also issued an evacuation order for residents on the complex, an Air Force statement said.
A curtain of flame and smoke teetered above the academy's Falcon Stadium; billowing gray clouds formed a backdrop to its aluminum, glass and steel Cadet Chapel, an icon of the academy. Elsewhere, police officers directing traffic and fleeing residents covered their faces with T-shirts and bandanas to breathe through the smoke.
"It was like looking at the worst movie set you could imagine," Gov. John Hickenlooper said after flying over the 9-square-mile fire late Tuesday. "It's almost surreal. You look at that, and it's like nothing I've seen before."
North of Denver, 26 homes in a southern Boulder subdivision were ordered to evacuate Tuesday afternoon as firefighters work to contain a blaze that consumed 300 acres in four hours, 9news.com reported. Boulder, a college town of 100,000 residents, is about 30 miles from Denver.
Officials say the Flagstaff Fire, as it is being called, is moving quickly toward the National Center for Atmospheric Research, a federally funded research facility, 9news.com reported. Three aircraft and a massive C-130 air tanker have been dispatched to fight the fire, which has been described as an "extreme" blaze.
"We're about one ridge over from the city of Boulder," Boulder County sheriff's spokesman Rick Brough said of the fire at a news briefing, according to the Denver Post.
Triple-digit heat
Throughout the interior West, firefighters have toiled for days in searing, record-setting heat against fires fueled by prolonged drought.
Most, if not all, of Utah, Colorado, Wyoming and Montana were under red flag warnings Wednesday, meaning extreme fire danger. Parts of Nevada and Kansas were under a red flag warning, according to the National Weather Service.
Colorado has endured nearly a week of 100-plus degree days and low humidity, sapping moisture from timber and grass, creating a devastating formula for volatile wildfires across the state and punishing conditions for firefighters.
"When it's that hot, it just dries the fuels even more. That can make the fuels explosive," said Steve Segin, a fire spokesman for the U.S. Forest Service.
Tuesday was the fifth consecutive day with temperatures of 100 degrees or higher in Denver, tying a record set in 2005 and 1989. On Monday, Denver set a record with 105 degrees.
Other areas in the state have also been topping 100 degrees, including northern Colorado where the state's second largest wildfire in history is burning.
Segin said such prolonged heat is "extremely taxing" physically on firefighters, who are working long days and carrying heavy gear.
The wildfires are also posing a threat to tourism.
Several large wildfires across the West have placed some tourist destinations from Montana to New Mexico in danger just at the height of midsummer family road-trip season, putting cherished Western landscapes at risk along with hordes of vacationers.
Related:
In Colorado, the $5 billion tourism industry is on edge as images of smoke-choked Pikes Peak and flaming vacation cabins near Rocky Mountain National Park threaten to scare away summer tourists. Flames from the wildfire burning near Colorado Springs could be seen from downtown early Tuesday, the Gazette reported.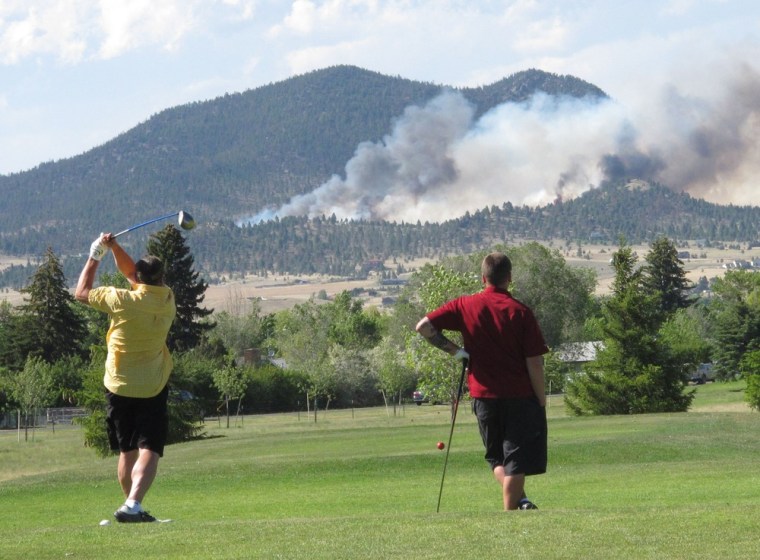 Authorities announced that the High Park Fire had destroyed 248 homes, up from 191. That fire has killed one woman and scorched more than 130 square miles and was just 55 percent contained Monday. It's the second largest wildfire in state history.
In central Utah, a wildfire in an area dotted with vacation cabins was burning an estimated 58 square miles and threatening about 300 homes. Firefighters had that blaze at 10 percent containment Monday. The Sanpete County Sheriff's office said that as many as 30 structures may have been lost.
And in New Mexico, firefighters Monday were mopping up a small wildfire that threatened one of that state's top tourist attractions, El Santuario de Chimayo, a 19th century church north of Santa Fe. The church draws some 300,000 visitors a year and appeared to be out of danger Monday.
Resources taxed
With the nation's privately owned fleet of heavy air tankers already in use or unavailable, U.S. Forest Chief Tom Tidwell said his agency had to call on C-130 military tankers to help. The order came as new fires started in Colorado, Utah, Alaska and Arkansas. In all, more than 1.3 million acres across the U.S. have been charred this year.
Tidwell said about half of the nation's personnel who are usually assigned to large fires are working in Colorado right now.
"It's just because it's so dry," Tidwell said. "Not unlike New Mexico — they saw very low snowpack, especially in that lower country. Hot, dry winds with dry fuels, you get the ignition, and this is what we see."
Even as some evacuated residents in Colorado were allowed to return home, tourists streamed out of some of Colorado's most popular summer sights.
"They don't want to come back where it is smoky and uncomfortable, so they move on," said Chris Champlin, operator of the Pikes Peak RV Park, which is usually packed ahead of the July 4 holiday.
The fire that emptied Champlin's RV park burned out of control at more than 5 square miles Monday, with smoke at times obscuring Pikes Peak.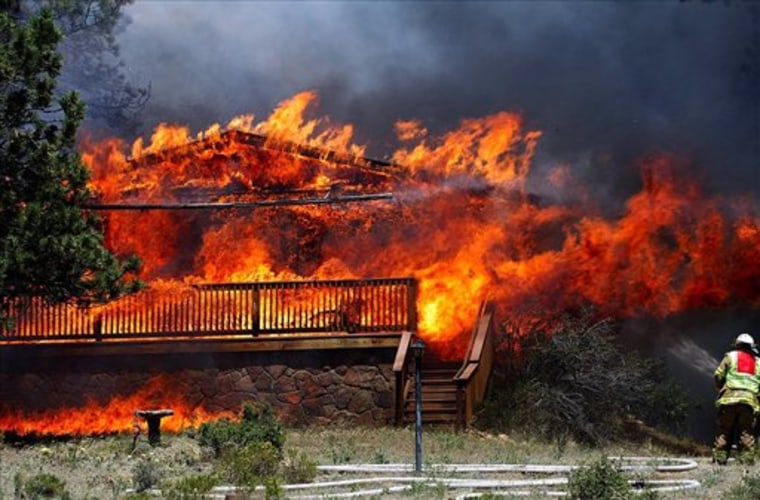 In Manitou Springs, a tourist town at the base of Pikes Peak, the Blue Skies Inn was back open for business Monday, a day after guests were roused and told to evacuate. But manager Mike Dutcher worried that officials pleading for firefighting help could spook visitors.
"Tourism is a big business in Colorado, and if you hyperventilate when CNN shows up, it hurts a lot of people," Dutcher said.
Colorado is having its worst fire season since the drought-stricken year of 2002. In June of that year, wildfires charring tens of thousands of acres near the resort towns of Glenwood Springs and Durango and in Pike National Forest near Denver prompted then-Gov. Bill Owens to proclaim that it looked as if "all of Colorado is burning today."
Residents of some 200 homes near Helena, Mont., remained under evacuation orders Tuesday, as a new wildfire quickly destroyed at least four homes.
The Corral Fire has grown to 1,400 acres after starting Monday afternoon, KPAX-TV reported. High winds on Tuesday afternoon fanned the blaze.
At least four homes and an undetermined number of outbuildings, and vehicles were also destroyed, NBC affiliate KULR-TV reported.
Sustained winds have grounded aerial resources and the pushed the fire across Montana Highway 84, KECI-TV reported.
The blaze is just two miles from Helena, the state capital.
Elsewhere across the West:
An Alaska wildfire between Mount McKinley and town of Anderson grew to more than 30 square miles Monday. No homes were threatened.
Despite dry, hot conditions, firefighters battling a fire that consumed nearly 70 square miles west of Ruidoso, N.M., was 90 percent contained, with many residents allowed to return home.
A wildfire in Tonto National Forest near Young, Ariz., was 65 percent contained Monday as winds slowed to about 3 mph.