/ Source: NBC, msnbc.com and news services
Five financial centers in New York, Washington and Newark, N.J., were under tightened security Monday after authorities found what they said was unusually detailed information on a purported al-Qaida plot.
A senior U.S. intelligence official told NBC News that the information was found on a laptop computer seized from Mohammed Naeem Noor Khan, also known as Abu Talha, an al-Qaida operative who was captured last month in Pakistan in a CIA-Pakistani operation.
Homeland Security Secretary Tom Ridge ordered the terror alert raised from yellow to orange Sunday in areas around these five buildings:
The headquarters of the International Monetary Fund and the World Bank in Washington.
The offices of Citigroup and the New York Stock Exchange in New York.
The Prudential Plaza building in Newark, N.J.
Officials told NBC News on Monday that the information was a gold mine that would take weeks to analyze. Depending on what they find, they could add other buildings to the list of potential targets, they said.
A Homeland Security official described the information as having been written in the form of a "daily log," but the intelligence official said the information contained "no dated materials. There are no dates on the surveillance information."
U.S. intelligence does have indications that the some of the surveillance in question began before the Sept. 11, 2001, attacks, although the official would not describe how that was learned.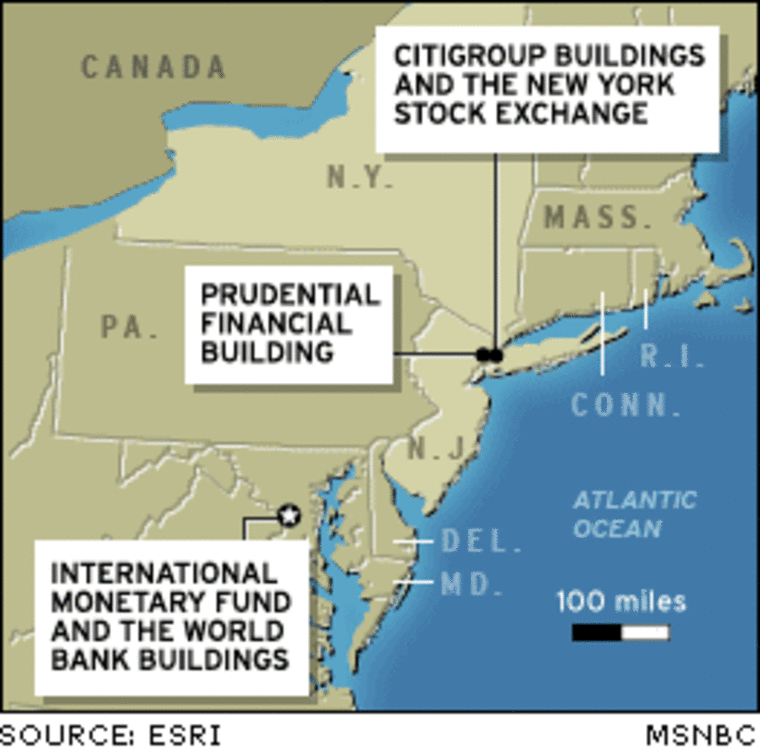 The most recent modifications to the electronic documents were made in "the last couple of months," but officials cannot tell whether those modifications represented minor changes or additional surveillance materials. Sketches and photographs of the buildings in question are among the documents, officials said.
The Homeland Security official said the office had no information to corroborate a New York Times report that there had been "test runs in recent days."
Intelligence officials anticipate that they will find evidence of surveillance of more buildings, as well as other plots, as they go through the electronic documents.
A senior intelligence official said the intelligence gathered from several sources indicated that scouting had been done to identify security in and around these buildings, the best places for reconnaissance, how to make contact with employees who work in the buildings, traffic patterns and locations of hospitals and police departments.
Examples of the detail the official cited: midweek pedestrian traffic counts of 14 people per minute on each side of the street, for a total of 28 people. The official said he had not seen such extraordinary detail in his 24 years in intelligence work.
Precautions around sites
In New York, police closed several streets in midtown Manhattan on Monday and banned trucks from bridges and tunnels leading to Wall Street.
At the World Bank and IMF buildings, police checked identity cards as employees filed in, and guards swept the underside of cars with detecting devices as they entered the garage.
In Newark, Prudential employees threaded through police and concrete barriers into their offices. "I'm a little nervous given the 9/11 situation, but I'm confident Prudential's doing everything they can to ensure our safety," said Tracy Swistak, 27, an analyst in the international finance department.
Asked how confident officials were of the information, Ridge said Monday on NBC's "Today" show that on a scale of 1 to 10, it rated a 10. "It is as reliable a group of sources as we've ever seen before," he said.
Ridge raised the terror threat level for financial institutions in the three cities Sunday to orange, or high alert, the second-highest level on the government's five-point spectrum. "The preferred means of attack would be car or truck bombs," he said.
It marked the first time the nation's threat-warning system, devised after the Sept. 11 attacks, has been used to denote threats against specific targets.
The specific announcement may be an indicator of a new strategy by the Bush administration to disclose terrorist threats without the sort of broad-based announcements they have used in the past, notably during national holidays. Local officials have frequently complained that nationwide alerts are costly to states and localities, especially when National Guard troops and extra police officers must be put on duty to guard landmarks and public events.
High-profile convention
New York's status has remained at orange, indicating a high risk of terrorist attack, since Sept. 11, 2001. With the Republican National Convention scheduled to begin Aug. 30 in the city's Madison Square Garden, the city is a high-profile target. Tens of millions of dollars in federal security funds are being spent to provide a visible security presence during the convention.
The White House said new intelligence in the previous 72 hours prompted the alerts. 
"The president made the final decision today agreeing with the recommendation of Secretary Ridge to go ahead and raise the threat level in these select areas," White House spokeswoman Erin Healy said Sunday.
Ridge called the Democratic presidential nominee, Sen. John Kerry of Massachusetts, before the announcement, Kerry's campaign said, and Kerry was scheduled to be briefed on the new intelligence. The alert "underscores the need to move aggressively" to put in place the recommendations of the 9/11 commission, said Susan Rice, Kerry's national security adviser.
Bush announced Monday that he was accepting many of the commission's recommendations, some of which he would enact by executive order.
New York Gov. George Pataki said state troopers had increased patrols of the state's borders and that additional law enforcement officers would be riding commuter trains, including those from New Jersey and Connecticut.
New York Mayor Michael Bloomberg said the city would try to reallocate resources to provide security for the targeted locations as well as the Republican convention. Permits for some local events had already been canceled due to limited police staffing.
New York Police Commissioner Raymond Kelly said his department would provide "significant security" at the buildings and would step up both random and targeted searches of vehicles entering the city. In addition, trucks will not be allowed from Brooklyn into lower Manhattan via the Williamsburg Bridge or the Holland Tunnel.
In Washington, the IMF and the World Bank were getting additional security help from the FBI, the Secret Service and local police. World Bank spokesman Damian Milverton said they had not received any specific threats. The IMF was open Monday.
Officials in Washington said additional security was also being planned for the Bureau of Engraving and Printing, where the nation's money is printed, and the Federal Reserve, although those two buildings were not mentioned by Ridge as potential targets.
Officials at Citigroup said they contacted employees via e-mail Sunday to describe increased security.
Police in Newark, armed with assault rifles, set up metal fences surrounding the Prudential building and blocked off two streets. Officials told The Associated Press that a plan to target the building included specific dates.
Five counties in northern New Jersey and all state facilities were elevated to an orange threat level, Gov. James McGreevey said.
Calm urged
While Pataki said the NYPD asked New York companies "to evaluate their current security plans," Bloomberg asked New Yorkers to act calmly: "We also have to, tomorrow morning, get up, get on the subway, go to work and enjoy the freedoms of New York."
Ridge said the affected buildings might be given special buffer zones around their perimeters, additional use of ID badges and digital photos to monitor those entering and leaving the building, more law enforcement officers on the scene and additional security screening of deliveries and vehicles.
He suggested that workers in the affected buildings seek guidance from their employers on how best to prepare for additional security contingencies.
The warning also mentioned specific things to look out for, including unanticipated deliveries or maintenance work, people taking unusual video or photographs and visitors claiming to be lost or looking disoriented. It said bomb threats might be used to evaluate emergency response time.