/ Source: The Associated Press
Oil prices leapt above $72 a barrel Wednesday, settling at a record high for the third straight day after a government report showed shrinking U.S. gasoline supplies and traders fretted about nuclear tensions between Iran and the international community.
Supply constraints in Iraq, Nigeria and the Gulf of Mexico are also pushing oil prices higher, and analysts are predicting more pain at the pump this summer for motorists, who so far appear to be only lightly tapping the brakes on demand.
Light sweet crude for May delivery climbed as high as $72.40 a barrel, before settling at $72.17 on the New York Mercantile Exchange, an increase of 82 cents from the previous day. The contract had risen as high as $71.60 on Tuesday.
Oil futures contracts through July 2009 are now trading above $70 a barrel. "In effect, the market is saying this is going to be with us for a while," said A.G. Edwards & Sons commodity analyst Bill O'Grady.
In its weekly report, the U.S. Energy Department said the nation's supply of gasoline shrank by a larger-than-expected 5.4 million barrels last week to 202.5 million barrels. It was the seventh straight weekly decline, leaving inventories 4.6 percent below year ago levels.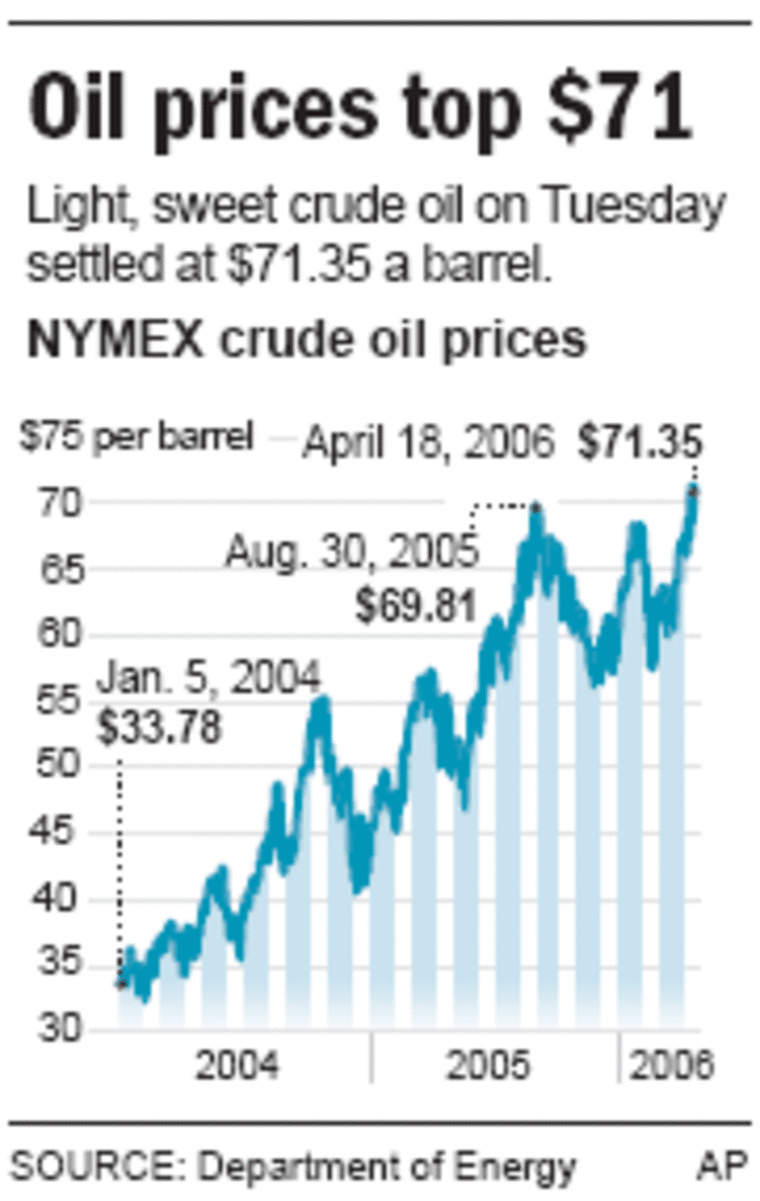 Gasoline inventories typically decrease this time of year as refiners shut down their plants to perform maintenance ahead of the summer driving season. And oil traders typically point to the decreases as reason for concern about summertime supplies, a routine that, more often than not, sends futures prices higher.
That said, there is additional worry about summer gasoline supplies because of the prospect of tight supplies of ethanol, which is needed in increasing amounts as refiners phase out their use of methyl tertiary butyl ether, or MTBE, which has been found to contaminate drinking water.
Oil analyst John Kilduff of Fimat USA in New York said there would be a "painful runup" in gasoline prices as summer approaches, and he said oil prices could rise as high as $80 a barrel by the end of June. Purchased today, crude for June delivery costs $74 a barrel.
However, in a sign that consumers may be responding to higher prices, the Energy Department report also showed that average daily gasoline demand since the start of the year is up 0.9 percent, compared with an increase of 1.4 percent during the same period in 2005.
And the chief financial officer of Wal-Mart Stores Inc., the world's largest retailer, warned Wednesday that the company's lower income customers were likely to curtail discretionary spending this year because of higher fuel costs.
Nymex gasoline futures rose 1.55 cent to settle at $2.2394 per gallon on Wednesday and they are more than 40 percent higher than a year ago.
The average retail price of gasoline nationwide is $2.80 a gallon, though stations are charging more than $3 a gallon in many parts of the country.
The biggest factor underpinning higher gasoline prices is the roughly 38 percent rise in crude oil costs over the past year. On an inflation-adjusted basis, oil prices would have to rise above $90 to exceed the all-time highs set a quarter century ago when supplies became tight in the aftermath of a revolution in Iran and a war between Iraq and Iran.
Analysts said the market psychology would likely remain bullish until there is either a significant dropoff in demand or resolution to a variety of geopolitical uncertainties, particularly the West's nuclear dispute with Iran and output disruptions in Nigeria.
"The worries of Iran won't go away any time soon, and in that sort of environment very few people are willing to be short on oil," said Tobin Gorey, a commodities analyst with the Commonwealth Bank of Australia in Sydney.
Traders are anxious that U.S.-led efforts to stop Iran, OPEC's second-largest member, from pursuing a suspected nuclear weapons program could lead to a disruption in Persian Gulf supplies.
Diplomats said Wednesday that the United States may turn to the U.N. nuclear watchdog agency to exert more pressure on Iran out of frustration with Russian and Chinese opposition to firm Security Council action. On Tuesday, President Bush said he would continue to focus on diplomacy but that "all options are on the table" to prevent Iran from developing atomic weapons.
Fanning the flames of a red-hot oil market, President Mahmoud Ahmadinejad said Wednesday that record crude oil prices were still below their "real value," though he stopped short of saying Iran would use its vast resource as a weapon.
Oppenheimer & Co. oil analyst Fadel Gheit said he did not believe Iran was likely to cut off its oil supply to snub the West because it is the lifeling of the country's economy.
In other Nymex trading, heating oil futures rose 1.15 cent to close at $2.0623 a gallon, while natural gas futures rose 15.2 cents to $8.16 per 1,000 cubic feet.
At London's ICE Futures exchange, June Brent crude fell 9 cents to $72.42 a barrel.