"The Republican Party has to realize that it cannot be lily-white any longer," Armstrong Williams, the black conservative commentator, said in January 2003. "Change must come about, and it must start within our house."
Williams made that statement after a meeting with Senate Majority Leader Bill Frist, then-Republican National Committee Chairman Marc Racicot and several black conservatives. The mission: to increase outreach to black voters and to challenge the longstanding perception that black Americans are a lock to vote Democratic.
Numerous challenges
Republicans point to their party's historic relationship with blacks, and policies of the Bush administration, as proof of progress in making the GOP the "big tent."
But the party's pledges have sometimes had to confront administration policies that have alienated black voters, and policy statements that blacks have interpreted as both antagonistic to their aspirations and insensitive to the legacy of civil rights — no doubt among the reasons why .
This apparent disconnect between blacks' perception of the GOP and the GOP's perception of itself is especially nettlesome for the Republicans on the eve of what's thought to be a close presidential election.
'Significant progress'
Republicans have tried to position themselves as an alternative to the Democrats, painting the Democrats as a party that, by coincidence or design, takes black voters for granted. In recent interviews and public appearances, Republican leaders have pointed to ways their party has moved the ball on its relationship with black Americans. In most of their comments, the operative word is "progress."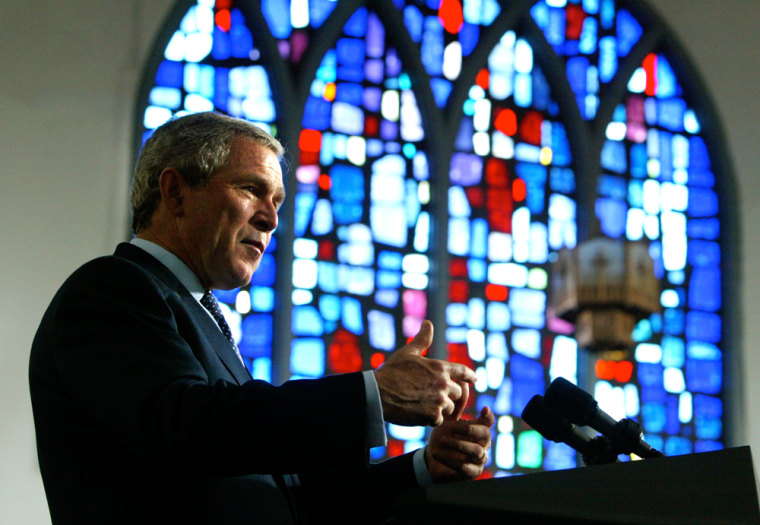 In the Oct. 5 debate, Vice President Dick Cheney said the administration's No Child Left Behind law, which sets stricter accountability for academic results and more options for parents to find schools that work, had narrowed differences in scholastic scores between black and white students.
"We're making significant progress," Cheney said. "We're closing the achievement gap. The results coming in from a number of studies show without question that on math and reading that, in fact, our Hispanic and African American students are doing better."
Cheney said the administration also had made progress in addressing AIDS infection rates among black Americans, citing "a combination of education and public awareness, as well as the development ... of research of drugs that allow people to live longer lives. ... Obviously we need to do more of that."
Cabinet's complexion
In an interview with MSNBC.com, Racicot pointed to the Bush Cabinet itself as clear evidence of change.
"Have we made progress? We've made significant progress. This president has the most diverse Cabinet in the history of America and has relied on the competence of a talented group of African Americans in that Cabinet from [Secretary of State] Colin Powell to [HUD secretary] Alphonso Jackson to [National Security Adviser] Condoleezza Rice and others."
Racicot, who was tapped by President Bush in June 2003 to direct his re-election campaign, outlined a series of policies Racicot said were geared to aid African-American entrepreneurship, from efforts to increase home ownership to plans to assist historically black colleges, to tax incentives to encourage reinvestment in urban neighborhoods.
"Those are the kinds of demonstrations that mean something to people in the African-American community," he said. "It doesn't mean we've accomplished everything. It won't be complete by this election, but we're making steady progress in proving our case."
Williams, the commentator, listed a series of GOP measures on behalf of blacks, some more symbolic than substantive:
Williams pointed to the increase in internships for black youths on Capitol Hill, the rise in the number of black delegates at the Republican National Convention, and efforts by House Speaker Dennis Hastert and other Republican leaders to gain funding from Congress to complete renovation of the Washington, D.C., home of Frederick Douglass, the  abolitionist and orator.
Lock for Democrats? Not necessarily
Williams, a former aide to the late Sen. Strom Thurmond, said the longtime reflex of expecting blacks to vote for Democrats was subject to change.
Some black conservatives, he said, "feel the NAACP has lost its moral authority — that it's become the left wing of the Democratic Party. Polling data shows that more blacks are willing to vote for Republicans. Young blacks are more open to giving the Republican Party a chance."
Williams said black conservatives — a range of independent organizations and privately funded think tanks, contrarian business executives, commentators like Alan Keyes, columnists such as Glenn Loury and Shelby Steele, and academic figures like Ward Connerly — "don't see [NAACP president and CEO Kweisi] Mfume and [NAACP Chairman Julian] Bond speaking for them. They don't feel the NAACP has any real issues to rally around.
"They still remember President Bush repudiating Trent Lott. They know Bush is not a racist, that he's not wearing a hood. They understand what is inherently wrong with affirmative action. They believe affirmative action should be tweaked. They care about home ownership, about tax cuts and capital gains, they care about jobs. They don't have the baggage about racism and bigotry; it's different for them."
Why aren't things better?
Considering the number of changes the GOP trumpets on behalf of black Americans, the question's inescapable: Why haven't these signs of "progress" resonated with more black Americans?
Racicot was forthright about the party's rocky past and present relationship with African Americans. "I think presumptions and traditions apply, regardless of ethnic background or cultural identity," he said.
"Are there still continuing challenges we have to address every day? The answer is yes. There's been a long period of history where we were not as careful and sensitive as we could have been as a party," he said. "As a consequence, the relationship between black Americans and the Republican Party did not grow and expand.
"But we're taking a multifaceted approach to make certain every American has the opportunity to live the American dream."
Upbeat, downbeat
Some aspects of Republican philosophy do register broadly with black Americans. A 2003 poll by Black America's Political Action Committee, a Washington-based black conservative think tank, found that 65 percent of African American voters believe affirmative action should be reformed. Forty-three percent of blacks feel the Democratic Party has taken them for granted.

But other data underscore the GOP's challenge to breaking through. The poll, the most recent available, found that black voters gave Bush a 33 percent overall job approval rating — down from 41 percent the year before, in the wake of Sept. 11.
Only 22 percent of black voters polled approve of Bush's handling of the economy, and 48 percent back his prosecution of the war on terrorism.
Separate from snapshot polling figures, there's the more enduring practical matter of jobs on Capitol Hill — not as interns, but as officeholders.
"Finding and grooming blacks to run for office — that is a difficult challenge," Williams said. "It's perhaps the greatest task facing the Republican Party. [House Majority Leader Tom] DeLay said that when the GOP is able to help black candidates win, only then will the party begin to regain some authority on the issues of race and civil rights."
Williams nonetheless made a bold election forecast: "I'll predict [Bush] will get 12 to 15 percent of the black vote in November."
His optimistic prediction for 2004's black turnout for Republicans is well above the 9 percent of African Americans who voted for Bush four years ago.
Michael E. Ross is author of "Interesting Times: Essays and Nonfiction." MSNBC's Pat Anastasi in Washington and The Associated Press contributed to this report.