It was an amazing sunrise Friday morning on Pensacola Beach. The day was remarkably calm on this barrier island that was thrashed by Hurricane Ivan's high winds and enormous waves less than 18 hours ago.
Walking on the beach one could see that Ivan deposited tons of new shells on the shore. But, like so many of the homes here, the shells were broken and crushed by the hurricane.
It was also rather eerie. A lone alarm in a partially destroyed home was beeping. Aside from that it was silent.
Holding down the fort at the "Dome Home"
The only people here are the NBC News team, Mark Sigler, the owner of the "Dome Home," and Mike Theiss, a Weather Channel cameraman, who found our secure location after the storm.
Theiss rode the storm out in a building about a mile away. He said it was a miserable night and now he's moved in with us.
I would like to suggest we are roughing it, but relatively speaking, we are not.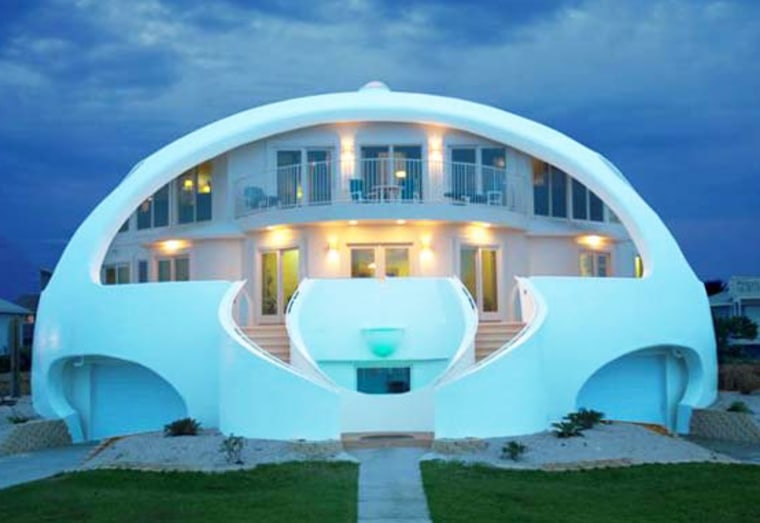 The "Dome Home" has a hot tub inside so we are using that water in buckets to shower. We brought a generator to operate our TV equipment, so we are able to charge a satellite phone to call out. We also have a camping stove - which means we are able to scramble eggs for breakfast.
The major challenge is getting the television stories out. Because our electronic link is not working, we have to get our tapes out "the old fashioned way" and walk them out.
Producer AJ Goodwin trekked a hero's march Thursday in 50 mph gusts in order to hand carry tapes to the mainland.
She made it past downed power lines, spots of quick sand and a sinking sun. The last part of her trip was with an Escambia Sheriff' deputy, who gave her a ride across the 3-mile bridge to Pensacola.
For the moment, that's a one-way trip. Once you leave, you can't come back. 
Newer building standards seem to have stood test
A Coast Guard chopper just flew by. It was the third chopper to fly by Friday morning. No doubt teams are trying to access the extent of damage and if there are survivors who need emergency help.
In Pensacola three hospitals were damaged. Roofs were ripped from homes and hotels. A bridge over Escambia Bay was cut in two and a tractor-trailer dangled over the break.
But for those residents who live near the beach and want to come back, I can report some good news: it appears the homes built to the newer hurricane standards fared well. 
The stairwells to the stilt homes washed away as intended, and some of the shingles ripped off, but the interiors should be intact. The shutters held. The foundations did not wash away.
It appears that when building standards are set and followed -- the damage from a storm like Ivan can be minimized.