/ Source: NBC, msnbc.com and news services
"America has spoken," President Bush said Wednesday as he claimed a second term and appealed to voters — even those who opposed him — to back his agenda.
"I'm humbled by the trust and the confidence of my fellow citizens," Bush told hundreds of Republican supporters who gathered two blocks from the White House after a long night of poll watching and uncertainty. "With that trust comes a duty to serve all Americans. And I will do my best to fulfill that duty every day as your president."
Bush tried to reach out to the 55 million voters who chose Democratic Sen. John Kerry instead of him. Many of those voters said they were not so much enthusiastic backers of Kerry as rather strong opponents of the president's policies, including the invasion of Iraq.
"Today, I want to speak to every person who voted for my opponent," Bush said. "To make this nation stronger and better, I will need your support, and I will work to earn it. I will do all I can do to deserve your trust."
"A new term is a new opportunity to reach out to the whole nation," he added. "We have one country, one Constitution and one future that binds us. And when we come together and work together, there is no limit to the greatness of America."
Kerry throws in the towel
The president had waited many hours to give the speech he had hoped to deliver Tuesday night, and he wasted little time proclaiming his victory less than an hour after Kerry conceded defeat Wednesday morning.
Kerry told supporters in an emotional campaign farewell in Boston that "we cannot win this election."
"In America, it is vital that every vote count ... but the outcome should be decided by voters, not a protracted legal fight," Kerry said, referring to an earlier option of contesting the race in Ohio and the fact that Bush was 3 million votes ahead in the popular vote.
"I would not give up this fight if there was a chance that we would prevail," he said, but "there won't be enough outstanding votes for us to win Ohio, and therefore we cannot win this election."
Speaking at Faneuil Hall in Boston, where he launched his quest for the White House more than a year ago, Kerry said he had telephoned Bush to congratulate him on his victory.
Yet Kerry's public remarks contained an element of challenge to the president.
"America is in need of unity and longing for a larger measure of compassion," he said. "I hope President Bush will advance those values in the coming years."
Back to work
When Bush went to bed about 5 a.m., it was not clear that he had won. He awoke at 7 a.m. and arrived in the Oval Office about an hour later with his father, the former president. He visited with his senior staff and made congratulatory calls, including one to Rep. Jim DeMint, R-S.C., who won his race for the Senate.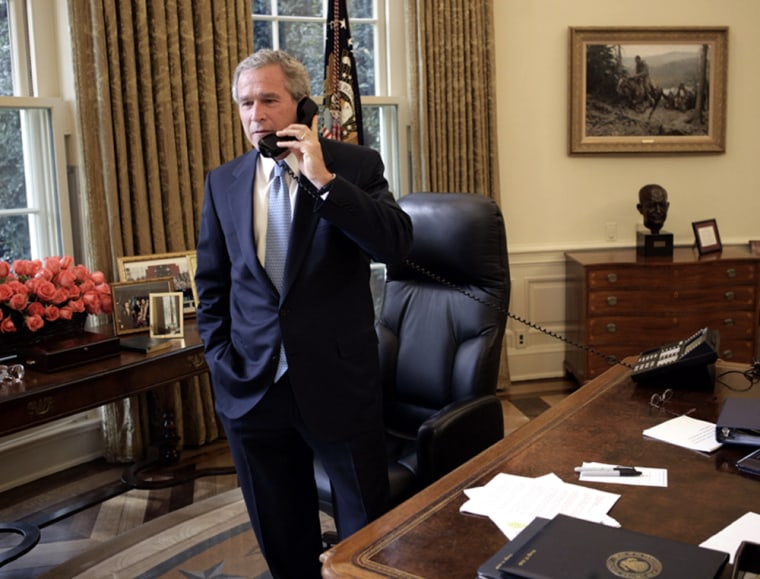 "Now's the time to get it done," White House press secretary Scott McClellan quoted Bush as having told DeMint, in a reference to the president's second-term agenda.
The victory gave Bush four more years to pursue the war on terrorism and a conservative, tax-cutting agenda, as well as the probable opportunity to name one or more justices to an aging Supreme Court. He also will preside over expanded Republican majorities in the and the .
Time to celebrate
En route to his victory rally, Bush's motorcade was extra-long at more than two-dozen vehicles. Several hundred people lined the streets, almost all of them clapping and cheering, many holding Bush-Cheney signs. A lone demonstrator held a sign that read, "More Bush, more lies."
The president appeared on stage with his wife, Laura, and their twin daughters, Barbara and Jenna, by his side. Vice President Dick Cheney, his wife, Lynne, and their daughters were there, as well.
Cheney reintroduced the president to the nation and sounded the refrain sure to become a mantra for the new Bush White House. He seized on Bush's popular vote majority and claimed for the president the mandate he failed to win in his disputed 2000 victory.
"The result is now clear: a record voter turnout and a broad, nationwide victory," Cheney said. "President Bush ran forthrightly on a clear agenda for this nation's future and the nation responded by giving him a mandate."
But Bush sketched only the barest outline of a second-term agenda Wednesday, talking of reforming an "outdated tax code," overhauling Social Security and upholding the "deepest values of family and faith."
And there was no mention of the indignities that re-election spares the president: He will not repeat his father's failure to earn a second term in the Oval Office, and he will not become the nation's first wartime president to be booted from office.
Dispute over Ohio
Unlike during the 2000 election, Bush was carrying the popular vote. With 99 percent of precincts reporting nationwide, the president was polling 51 percent to Kerry's 48 percent — about 58.7 million votes to 55.1 million.
In the Electoral College vote, Kerry won big states with large numbers of electoral votes, but Bush piled up victories in smaller states, as well as Florida and, according to NBC News projections, Ohio. That gave him 274 Electoral College votes, four more than he needed for victory to win.
Kerry was reported to have weighed several options, with his running mate, Sen. John Edwards of North Carolina, counseling him to fight on until all the votes were counted in Ohio, a process that might not be complete for almost two weeks. But in the end, Kerry told his supporters, "we cannot win this election."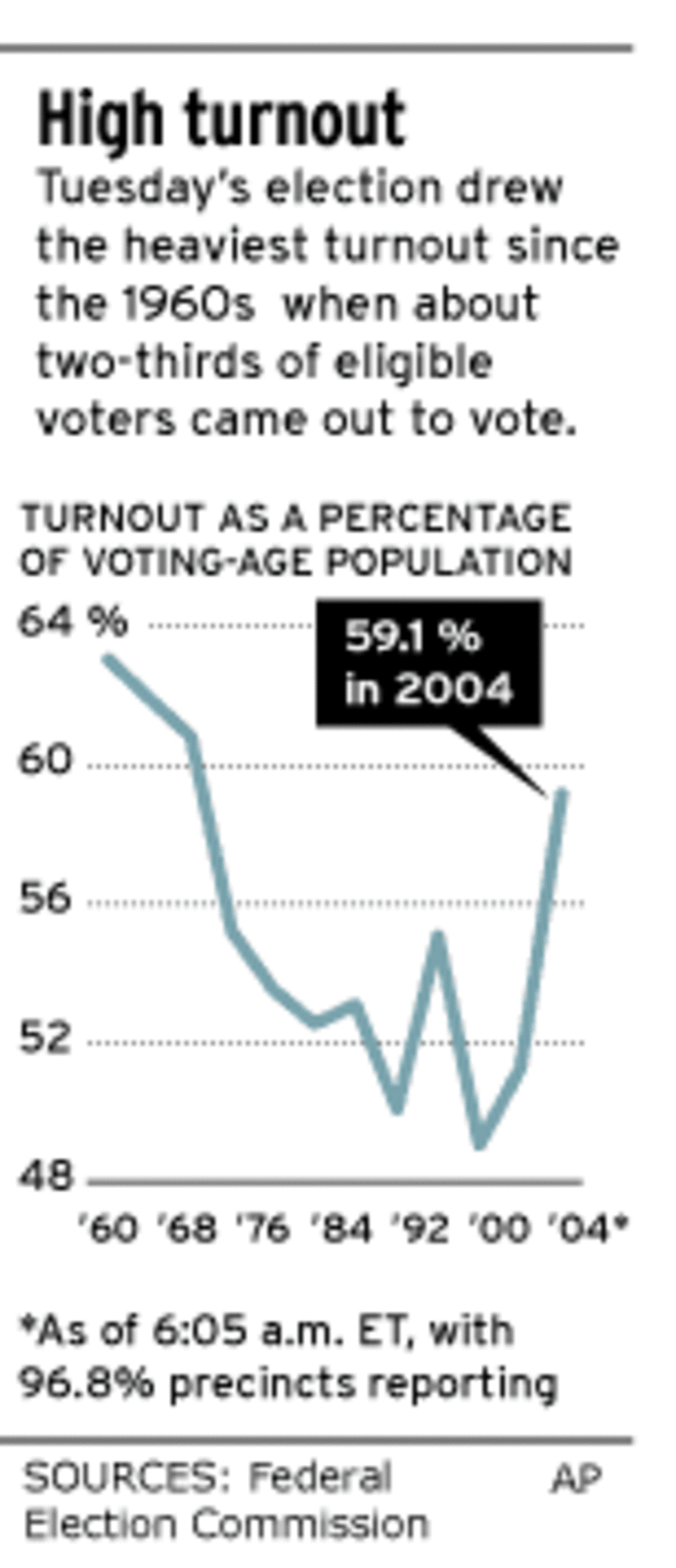 Independent candidate Ralph Nader, whom many Democrats blamed for Al Gore's Electoral College defeat to Bush in 2000, was a non-factor this time around. He was winning no more than 1 percent of the vote in a handful of states and had barely 390,000 votes nationwide.
Unusually large numbers of voters turned out in an election that ran much more smoothly than anticipated. Florida, the ugly stepchild of 2000, was largely a dream.
In the end, Ohio was the fulcrum, and suggested that it was older voters and white evangelical Christians who clinched the deal for Bush. The president won 56 percent of the vote among voters ages 60 and older, and he took three-quarters of white evangelical voters, who made up 25 percent of the state's electorate.