/ Source: NBC, msnbc.com and news services
Attorney General John Ashcroft and Commerce Secretary Donald Evans resigned Tuesday, the first members of President Bush's Cabinet to leave following his re-election.
The resignations were announced by White House press secretary Scott McClellan, who said Bush had accepted the decisions of both secretaries.
"The objective of securing the safety of Americans from crime and terror has been achieved," Ashcroft wrote in a five-page handwritten letter to Bush, adding that he believed that the Justice Department "would be well served by new leadership and fresh inspiration" and that "my energies and talents should be directed toward other challenging horizons."
Bush said in a statement that Ashcroft had "served our nation with honor, distinction and integrity" and had "transformed the [Justice] Department to make combating terrorism the top priority, including making sure our law enforcement officials have the tools they need to disrupt and prevent attacks."
The letter from Ashcroft, 62, who has been a lightning rod for criticism by Democrats and civil liberties activists, was dated Nov. 2, Election Day, but was not released until Tuesday. In a separate letter to colleagues at the Justice Department, he said he would stay on until his successor was confirmed.
Aides had described Ashcroft as "exhausted" from leading the Justice Department in fighting the domestic war on terrorism since the Sept. 11, 2001, attacks. Stress was a factor in health problems earlier this year that resulted in removal of Ashcroft's gallbladder.
Giuliani says no, thank you
Ashcroft's former deputy, Larry Thompson, who recently took a job as general counsel at PepsiCo, is considered a possible successor, Republican officials have said. If appointed, he would be the nation's first black attorney general.
Others mentioned include Bush's 2004 campaign chairman, former Montana Gov. Marc Racicot, and White House counsel Alberto Gonzales.
Former New York Mayor Rudolph Giuliani had also been on some lists of possible replacements, but he issued a statement saying he "remains committed to sustaining the ongoing success of Giuliani Partners," his consulting group.
Evans chooses to go home
Both Ashcroft and Evans have served in Bush's Cabinet from the start of the administration.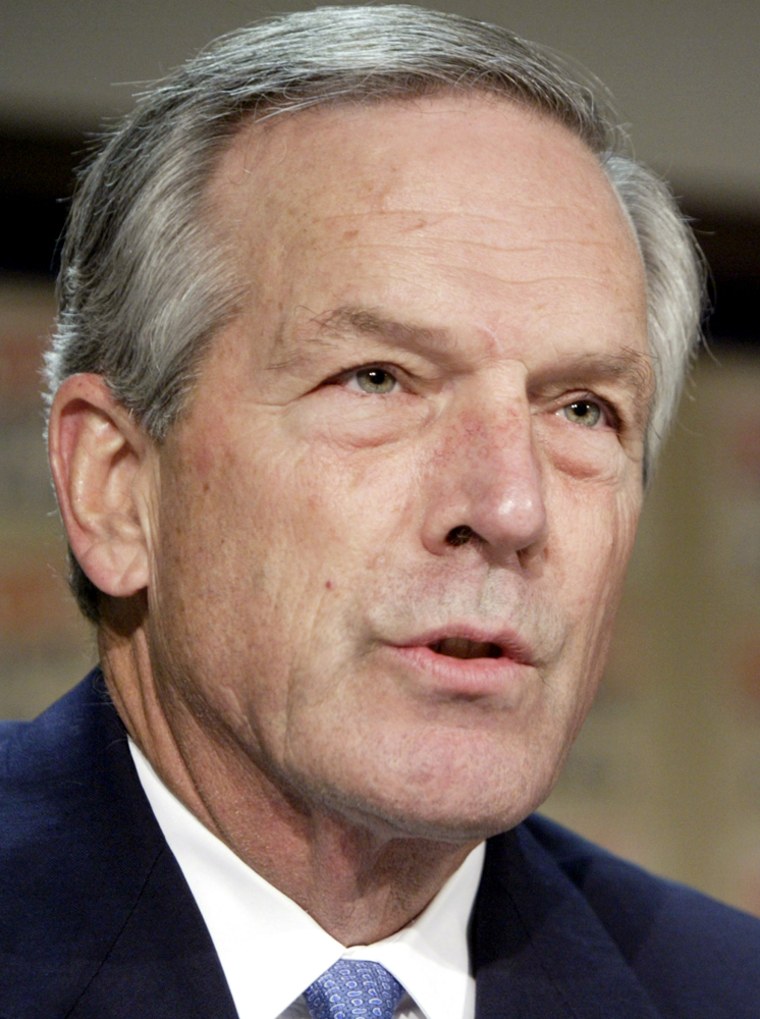 Administration officials have said it was possible that Evans, 58, a close friend of Bush's from Texas, would be in line to succeed John Snow as Treasury secretary should Snow leave. But Evans wrote, "I have concluded with deep regret that it is time for me to return home."
In a separate statement, Bush thanked Evans "for his outstanding service to our nation."
"Don shares my belief that the promise of America means our best days lie ahead," the president said. "Together, we have worked to make that a reality.
A name often mentioned for Evans' job at the Commerce Department is that of Mercer Reynolds, national finance chairman for the Bush campaign, who raised more than $260 million to get him re-elected.
Big changes expected
The moves were announced a day after Bush returned to Washington from the presidential retreat at Camp David, Md., where he spent the weekend discussing what was expected to be a significant shuffling of his Cabinet. White House chief of Staff Andrew Card will stay on for a second term, it was announced Monday.
Health and Human Services Secretary Tommy Thompson, who had earlier indicated that he was planning on leaving after the first Bush term, said Tuesday: "I'm waiting to talk to the president, and I will let you know my decision very shortly."
Secretary of State Colin Powell and Defense Secretary Donald Rumsfeld also have been mentioned as likely to leave, while national security adviser Condoleezza Rice is reported to have told aides that she wants to return to California.
Powell, en route to Mexico City, said Monday night that he had an ambitious travel schedule in Europe in the weeks ahead in hope of patching deep divisions stemming from the Iraq war. He gave no hint about his own plans beyond the meetings in early December, although he is widely expected to leave his job at the end of Bush's term or early in the second term.
Senior aides to Rumsfeld said he would like to remain in the job for at least part of Bush's second term. Rumsfeld told reporters at a news conference Monday that he had not discussed the matter with Bush since the election, and he did not say whether he wanted to remain.
Meanwhile, two other Cabinet officers, Agriculture Secretary Ann Veneman and Interior Secretary Gale Norton, have said they would like to remain on the job, as has Michael Leavitt, who as administrator of the Environmental Protection Agency has the equivalent of Cabinet status.